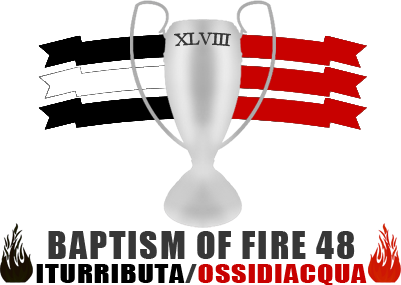 Welcome, to the everything thread for the 48th Baptism of Fire! 54 nations will compete for the honour of becoming the 48th champions of the only tournament in NSSport you only get one shot at, and your hosts are Iturributa and Ossidiacqua. As the puppets of two experienced nations on NSSport, you are in safe hands, and we are both looking forwards to welcoming you all into the NSSport community.
Bid Thread
.
All participating nations are encouraged to post a roster in this thread, and to post their RPs here as well. The results and groups will also be posted in this thread.
With 54 teams, there will be 9 groups of 6 teams each. The first 5 of these groups will be in Ossidiacqua, and the remaining 4 will be playing in Iturributa. The 9 group winners will gain passage to the second round, as well as the best 5 group runners-up. The remaining 4 group runners-up will be drawn into two single leg playoffs to determine which teams will take the final two place in the final sixteen. From there on in there will be a straight knockout to the final, single leg all the way.
You will not know which group you are in until the draw on Friday at 9pm EST, until then you will have the opportunity to post your first rosters and RPs. We will then, as was set out in the bid, sort the teams into two pots - "active", and "non-active" - for the purposes of the group draw. Doing this should in theory allow us to maintain a fair spread of RPers and non-RPers, allowing us to have a better chance of eliminating a smaller ratio of RPers to non-RPers after the group stage.
"What do I do?"
Well, many things. IC (In Character) information about the host nations and the stadiums you'll be playing in will appear in the thread soon, and will also be linked here. The hosts will generate the scores, and they will also appear here.
And what do you do? Well, first of all you are encouraged to post a roster. This is basically a list of the football players in your team, and can include a variety of different information. Player names are the most important, then there are things like shirt number, age, heigh, weight, gender, style of play, formations, tactics, managers, coaches, kits, home stadiums, and much more. Home stadiums obviously won't come into this tournament as you'll all be playing in Iturributa or Ossidiacqua, but it provides nice background information on your nation. Likewise, style modifiers won't be used in this tournament, but if you want to tell us how attacking/defensive your formation is, feel free. Roster will count towards your RP bonus, and rosters before the group draw will count towards how many other RPers end up in your group.
A vast array of different rosters are permissable. Some examples from my own past -
1
2
3
4
You may also notice the permissions list in those rosters, and what these do is basically give permission for your opponents to make up different facts about your team in their RPs.
Choose my goalscorers? Y/N
- Do you give permission for your opponent to determine which of your players scored any goals.
Godmod scoring events? Y/N
- Do you give permission for your opponent to come up with rather more unusual ways in which goalscoring happened - i.e. a meteorite crashing down and distracting your keeper resulting in the only goal of the game being a tap in.
RP injuries to my players? Y/N
- Do you give permission for your opponent to say one of your players was injured? For how long?
Godmod injuries to my players? Y/N
- Do you give permission for your opponent to say your players got injured in a less than normal way? Meteors? Bear attacks? Sudden gastronomic flu attack?
Hand out yellow cards to my players? Y/N
- Do you give permission for your opponent to say your players were given yellow cards?
Hand out red cards to my players? Y/N
- Do you give permission for your opponent to say your players were given red cards?
Godmod other events? Y/N
- Do you give permission for your opponents to RP that any other rather unusual events happened? A flood sweeping half the crowd away at half time? A hawk carrying away the goalposts? The referee becoming a tiger five minutes in?
Remember - If your opponent has said you can't decide his goalscorers, don't decide his goalscorers. Otherwise, this could result in losing RP score. Similarly, contradicting what your opponent may have said in an earlier RP may also do that. Also, remember that these permissions will never change a scoreline, so if you happen to get hammered 5-0, it might actually be a blessing to allow your opponents the chance to say your captain got red carded or similar, might explain a heavy defeat...?
RP
RPing means role play, and in its most basic form is talking about the results that the hosts generate. These could take a huge variety of different forms. From newspaper reports on the team's efforts, to a scathing talk show host slamming your team for a poor performance, to a first hand account of a striker scoring the winning goal, the internal monologues of a coach on the sidelines, the team relaxing in a bar and singing drunken sea-shanties between games... Anything.
For great examples of the type of things that can be RPed, check the threads for the last cycle of the Baptism of Fire and World Cup -
Baptism of Fire
,
World Cup
, and also check the
Guide to Sports Roleplaying
, and the
General Sports Roleplaying Questions Thread
.
So, if that's that, welcome to the Baptism of Fire!
HOST INFORMATION:
Iturributa
Ossidiacqua
GROUP DRAW
A - E to be played in Ossidiacqua
Group A
Apox
Aosta
Northern Sunrise Islands
Earo
Urbis Tractus
Dark
Group B
Leorudo
Mesoland
Wellboneland
Vielha
Oswaldia
Boyznichov
Group C
Danaelia
Zandistan
Balma
Sicoutimont
The nordic land of Skyrim
Kingdom of Phoenixia
Group D
Backyard Sports
Anollasia
Yorobia
Bisim
Redaya
Aqusul
Group E
Timfen
Peripanland
Deep Fried Pickles
Bongo Johnson
Wild Isle
HorusLand
F - I to be played in Iturributa
Group F
Romili
Inthelittlenation
The Scandinavian Islands
Vamprican-Krumbian Confederacy
Catocton
Mashiki
Group G
The New Roman Imperialists
Daydreamtopia
Sundsborg
United Federation of the World
Wihsirmir Taoul di wer Qumadosfan
Malt
Group H
Arcadian Islands
Cosmic Censorship
Vindesby
Remad
Democratic States of Fenbar
Conclespia
Group I
Aexalla
Deadmans
Altito Asmoro
Kerblaekistan
Artsakhestan
Westros
SCHEDULE
Scorination will be done with the most recent version of xkoranate, being 0.3.3, using the SQIS formula. Cutoffs will come first for teams in the Acquan half, coming at 11pm BST (10pm UTC). The cutoff for the Iturributan half of the draw would come three hours later, at 9pm EST (1am UTC).
The schedule is as follows, numbers represent the teams' positions after the draw:
MD1 - 1 v 6, 2 v 5, 3 v 4
MD2 - 6 v 4, 5 v 3, 1 v 2
MD3 - 2 v 6, 3 v 1, 4 v 5
MD4 - 6 v 5, 1 v 4, 2 v 3
MD5 - 3 v 6, 4 v 2, 5 v 1
Fri 20th - Group Draw
Sun 22nd - MD1
Mon 23rd - MD2
Tue 24th - MD3
Wed 25th - MD4
Thu 26th - MD5
Fri 27th - Playoffs
Sat 28th - Round of 16
Sun 29th - Quarter Finals
Mon 30th - Semi Finals
Tue 31st - Final/TPPO