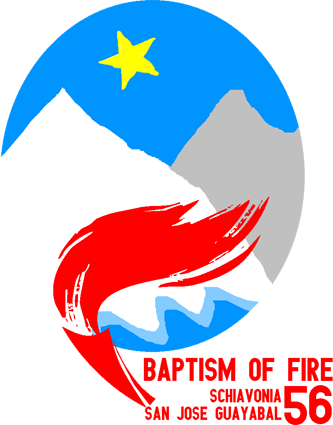 SCHIA

VONIA

&

SAN JOSÉ

GUAYABAL
bid to host
BAPTISM OF FIRE 56
From the sprawling lands of southern Esportiva; to some tiny little island just off the south west of Audioslavia; and all kinds of places in between; the World Cup has had an impact on nations all over the multiverse for sixty-eight editions. And now, the nations of San José Guayabal and Schiavonia are ready to bring this wonderful world to yet another new generation of nations, just in time for the sixty-ninth.
The bid is centred around getting as much involvement as possible in the competition. Not only from the hosts and those competing, but also from established names in the community. There will be more on that later, but first we need to tell you all about us, and what we hope to bring to hosting the Baptism of Fire.
SCHIA
VONIA
Schiavonia returned to the World Cup in the last cycle, after two previous spells in the game (WC26-37 & WC49-52). Prior to WC26, the user behind Schiavonia operated the nations NEWI Cefn Druids and Druida. Indeed, there are tournaments he has hosted that he can't even remember nowadays, but the main roster reads as three World Cups (20, 24, 30) and three Cups of Harmony (15, 18, 20) and one SQIS formula, currently the most popular formula used for scorinating NS Association Football matches. More recently, he has hosted the Garundia Kickball tournament and is currently hosting the first 5-A-Side World Cup.
SAN JOSÉ
GUAYABAL
San José Guayabal burst onto the scene for World Cup 66, and has had a growing presence in the community ever since. There has been a fair few events hosted by SJG and puppet Alianza Albos since then - September Tennis Championships, Copa de La Paz, World Junior Hockey Championship V (all SJG), Copa Rushmori XVIII (with Alianza Albos), five seasons of domestic leagues in both nations, as well as scorinating many friendlies and the AO Hockey Championship final. This would be SJG's first WCC event hosted, but there is plenty of experience there already.
SCORINATION
or "How we'll be generating the scores for you."
We shall be using the latest version of xkorinate (0.3.3) with the SQIS formula (one of these two bidders came up with that formula, so they were hardly likely to use anything else!). Style modifiers from +5 to -5 will be available in order for users to make their teams play a more attacking (+) or defensive (-) style of football. These results would normally rely on rankings, but as there are no prior rankings in this tournament, it will rely solely upon RP bonus - more on that in a moment. The scorination will take place at times convenient for the users behind the host accounts. These will largely be 19:00-21:00 UTC for Schiavonia and 00:45-02:45 UTC for San Jose Guayabal, with Schiavonia's results coming first. However, if any alterations are to be made to this schedule, then as much advanced warning as possible will be made. Because sometimes, RL just gets in the way, but we'll try and keep that to a minimum.
RP BONUS
or "How the chances for one team will be increased over another."
As none of the teams will have a ranking at the start of the tournament, the RP bonus is the most important part of the competition. As a result, there will be substantial RP bonuses available for all participants, awarded at different levels depending not only upon the perceived level of quality (judged by your hosts), but also feature a small percentage for users who interact with others involved in the tournament. Though we will not disclose the details of this fully (we don't want to be inundated with people asking us what bonus they got!) and hope participants will RP more for enjoyment than the reward of winning, it will be of a definite benefit to do so.
FORMAT
or "How we will try and give teams as fair a chance as possible without reverting to the Casaran system."
In a tournament that is primarily designed to encourage people to RP and get involved, it is in the best interests of everyone to keep those contributing in the competition as long as possible. This is why we have such a large RP bonus being offered. However, there is plenty of potential for problems. We believe that there are sometimes good RPers that do not get out of the group stage at the Baptism of Fire, and we want to do our best to lessen the chance of this happening.
Our proposals are that groups should be of a size that gives participants time to get into RPing and build enough bonus to get the most active teams through, though not too long as to become tedious. Groups of six would be ideal, but groups of four would be too small. The draw would then be seeded on anticipated participation. This will be judged on the posting of (and quality of) a roster prior to the draw, other activity on the NS Sport forum, other activity on the NS forums and whether or not the nation involved is a puppet.
However, until we know the exact numbers taking part, we cannot say for sure what the format will be. However, it will most likely have a number of groups that makes it easy to decide which teams go into the next stage (e.g. 8 or 12). If there are not enough numbers to make it up, then we propose completing the draw with uneven groups, and leaving spaces available for teams who may sign up between the draw and the opening matches, just to get as many participants on board as possible. The Baptism of Fire is here to encourage engagement in the NS World Cup, and the more nations that we can do this with, the better.
"HOST" NATIONS
or "How more established nations can get involved, too."
Of course, while the Baptism of Fire is great for newcomers to the NSWC, unless a more experienced nation has entered a puppet into the competition, there is not a lot for them to get engaged with. So, because the Schiavone Football Federation does not feel that their nation would be able to handle the sheer weight of numbers of teams expected to participate, they are offering up hosting rights to other members of the NS Sport community. There is no onus on these hosts to scorinate any games - Schiavonia and San José Guayabal will still be producing results for their halves of the draw - but if we are successful, we propose opening this thread up for nations to submit bids to host a group (and probably a knockout game or two) IC. We, the hosts, will judge the entries submitted to see which we feel would be best suited to the tournament, not least in providing different RP opportunities. This will then introduce new participants to older participants in a way that has not been done before at a Baptism of Fire. (And will hopefully reduce the number of preview RPs in the World Cup RP thread pleading ignorance about new nations!)
Of course, if not enough nations apply, they'll just have to swarm onto Schiavonia's tiny island, or fill out San José Guayabal a little more!
ALL-STAR GAME
or "Another way for our new nations to get involved."
We will also be providing other RP opportunities by selecting an all-star team from the BoF participants' teams, and have them face a combined team from the host nations. This would take place after the final, while the hosts team would be open to feature players from our other IC hosts as well as San José Guayabal and Schiavonia. Selection would be based on player performances / profiles RPed throughout the tournament, with the most impressive making up the team.
OTHER THINGS
or "Things that probably aren't deserving of their own heading, but we still think add things to the bid. Or stuff that people suggested, and we nicked later."
In group play, we need a pre-determined way of deciding which teams finish in which position, just to make sure that we're not making it up as we go along. So our criteria for separating teams in the standings will be:-
1) Number of points;
2) Goal difference;
3) Head-to-head points;
4) Head-to-head goal difference;
5) Goals scored;
6) Head-to-head goals scored;
7) Drawing of lots.
We'll bring you a full IC guide to our nations next. After that, any questions / suggestions / gushing praise / unerring criticism is welcome!