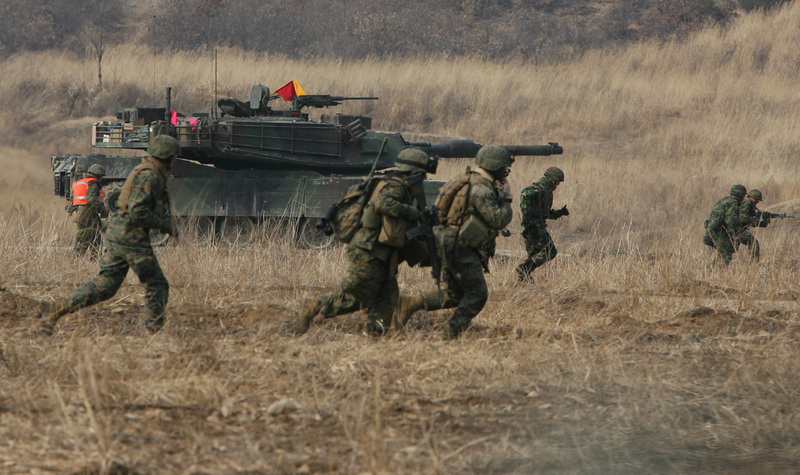 The

Red

Tide
IC
War
War has been a constant throughout history
Empires may grow and fall, but war will always remain
Man has created the ultimate weapon of war, one so fearsome and powerful that they could no longer wage war
They were wrong
On the cold day of March 7th, 1982, the world was again embroiled in war. It started with a small skirmish between an East German police patrol that had accidentally ventured into the Western German region of Hesse on the cold day of February 19th. Western forces engaged the patrol, leaving eighteen soldiers dead and countless more wounded on both sides.
In the weeks that followed, both sides began massing troops. The Soviets began amassing their Armies at both the German and Finnish Boarders, while NATO began digging in, preparing for the worst. A defensive line was established from Denmark all the way to Italy. Finland was largely left open though, as they were officially neutral in the upcoming conflict.
The peace didn't last. For on that fateful day of March 7th, after weeks of uneasy stalemate, the Soviet Union attacked. Paratroopers dropped into Finland and West Germany early that morning, followed by Armor in the afternoon. The small Finnish military was quickly overrun by the superior Soviet military. The only NATO unit close enough was the 4th Combined Arms Company, codenamed "Echo"
---
This will be a squad based RP. You will take control of a squad, tank, or helicopter in the 4th Combined Arms Company. I will control the overall commander and my Co-Ops shall control the Platoon Leaders. I will only give orders every few pages and my Co-Ops shall do the same as to give you some control over what you as a squad leader, tank commander, or pilot do. If you do not have any standing orders you can go on regular patrols or hang around the F.O.B. I will also control the Soviets for the most part, but that doesn't mean you can't control small numbers of them for your RPing needs. But, as I said, keep it minimal. Major battles won't happen often and skirmishes will be the norm. Support from the Artillery Battery can only be called occasionally and only if you remain in range of the Howitzers. Air Support should also be kept to a minimum, seeing as we'll be on our own for a good chunk of the RP. NPC friendly forces will be controlled by me and the Co-Ops and will not be common. Any questions you may have feel free to ask.
1. Thou shalt not disobey the 10 rules
2. Thou shall continue reading this in an old-timey voice
3. OP and Co-Op word be the law of the land
4. Thou shalt not be a dick
5. Thou shall keep those goddaned curse words to a minimum
6. Playing god ain't cool jack
7. Transferring info from the realm of OOC into the land of IC shalt not be tolerated
8. Thou shall not skip number 3 as I have
10. Thou shall notice I skipped 9 instead of ten and is now grinning like the town fool
---