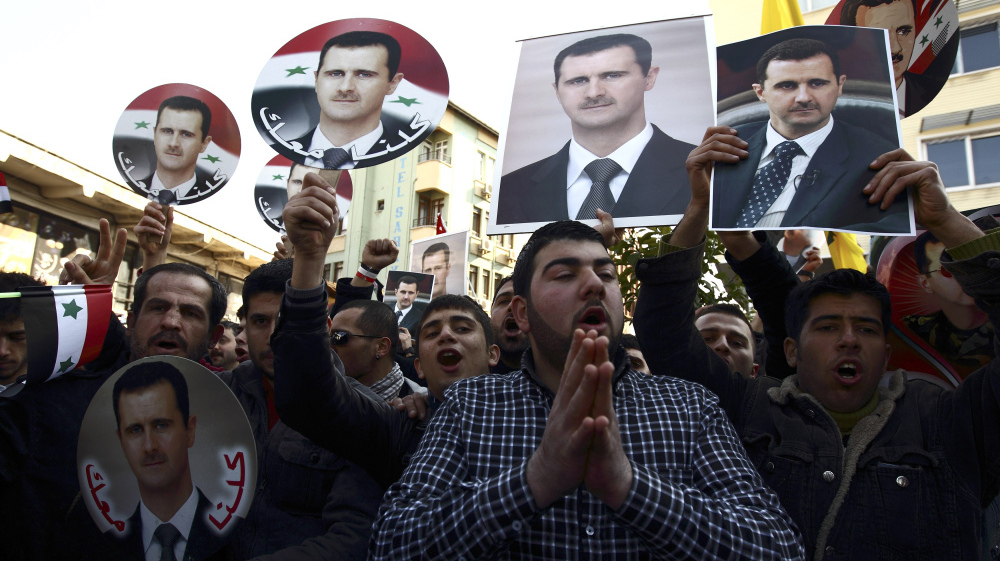 SILENT NO MORE




Tired of hiding, the Alawites rise up to fight for their rights.
≋

Sponsored by

T

h

e

S

r

i

v

i

j

a

y

a

n

C

o

n

s

o

r

t

i

u

m

≋
IC Thread.
Theme if you support Arabia.
|
Theme if you support Bashar.
|
Theme if you just hate Arabia.
إِنَّ اللَّهَ لَا يَغْفِرُ أَن يُشْرَكَ بِهِ وَيَغْفِرُ مَا دُونَ ذَٰلِكَ لِمَن يَشَاءُ ۚ وَمَن يُشْرِكْ بِاللَّهِ فَقَدِ افْتَرَىٰ إِثْمًا عَظِيمًا

Indeed, Allah does not forgive association with Him, but He forgives what is less than that for whom He wills. And he who associates others with Allah has certainly fabricated a tremendous sin.
- Qur'an 4:48
Them.
They are those whom for centuries, have hidden among the Muslims; reading the same holy books and claiming to believe and preach the word of the same monotheistic God. In truth, they are
mushrikun
. They assign partners to Allah SWT, associating with him false divinities. They, are the Alawiyah.
The Alawites, or Alawiyah; are a sect of self-proclaimed "Muslims" who believe that Allah SWT comprises of three divine aspects of the one God, each appearing in various human forms throughout history. Among these aspects would include Ali ibn Talib, the fourth Rashidun Caliph among Sunni Muslims; and the first of the Twelve Imams among Shia Muslims. Within true Islam, however, such a concept of plurality within God is a denial of monotheism and foreign to the revelation found in Muslim scripture. Shirk, the act of ascribing partners to God – whether they be sons, daughters, or other partners – is considered to be a form of unbelief in Islam. The Quran repeatedly and firmly asserts God's absolute oneness, thus ruling out the possibility of another being sharing his sovereignty or nature.
Throughout the reign of the Abbasid Caliphate, the true Muslims have attempted to stamp out these heretics; and so they hid, among the true Muslims, only practicing their heretical religion in secret. Tired of hiding, they rise up after a thousand years of hiding from oppression; demanding their rights in a movement led by the kafir Bashar Al-Assad. Among their demands, is that they be recognized as Muslims and be able to freely practice their religion in public; and their heresy be allowed to poison mainstream Islamic beliefs. In order to remain on the straight path and save the Muslims from following their path to damnation, it becomes the duty of Arabia to stamp them out once and for all.
You.
Do you listen to their voices? Do you heed their cries for freedom? Or do you cast away their poison, and stand with the true Muslims?
---
Rules
1. You must app to join this RP.
2. No godmodding or metagaming.
3. No declarations of war without OP's consent.
4. MT only. No PMT, FanT, or FT.
5. Be realistic.
6. To make sure you read the rules, type "Insha'allah Bangsamoro will be free from the Philippine occupation one day." with no modifications to the original statement.
7. Posts must be at least a paragraph long.
8. OP's word is law.
---
Application Template:
Code: Select all

[box][align=center][img]https://i.postimg.cc/nzdBhVqd/ACCSA.png[/img]
[size=200][b]Application for ACCSA's RP[/b][/size][/align][hr][/hr]
[Blocktext]
[size=150]

[b]Nation Name:[/b]

[b]Main Factbook:[/b]

[b]Will you be supporting the Arabian authorities or the Alawites?:[/b]

[b]What do you hope to accomplish in your involvement?:[/b]

[b]Link to RP Sample:[/b]

[/size]
[/Blocktext]
[/box]
[align=center][img]https://i.postimg.cc/MTr6K5YQ/kafir-shithead-2.jpg[/img][/align]