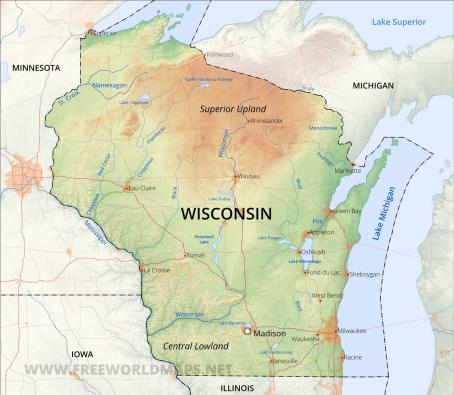 Marksville was a rural town in the Western portion of the state of Wisconsin known for its vibrant farming community, its farmers were renowned for their milk, poultry, beef, corn, other crops and live stock. However it was now the target of an insidious eminent domain program devoted to the propagation of a new vibrant emergent technology.
It was a normal day in the life of local farmer Jim Robertson had been farmer all his life inheriting his farm from his dad who got it from his grandad and would one day belong to his kid, he was milking his cows preparing fresh batches of milk, carrying the buckets over to a fridge he quickly noticed something a black SUV had pulled up to his propety. He quickly walked over to see who the SUV belonged to and quickly noticed it was a Government tag, the man revealed a badge for some alphabet soup agency and quickly informed the man that a large part of his land was being taken for eminent domain. "Mr. Robertson, we are going to take some of your land for our new 5G network." an arguement ensued and Robertson realized he could do nothing about the enroachment on his land.
A month later the 5G tower had been built and his cows were starting to exhibit tumors, caused by cancer. Jim's son quickly did research on his computer finding out that 5G causes cancer. The farmer greatly angered began a defiant protest and set up a flag pole close to the Tower, waving a gadesen flag that boldy proclaimed 'Don't Tread On Me!' this was in violation of Government property with the state ordering Jim to remove the flag or be prosecuted for vandalism. Jim refused and began monkey wrenching the 5G tower, placing dynamite on it and destroying it, in other areas of the town where 5G was being developed protestors arrived in mass to support farmer Jims right to his land and to protest against 5G which was they beleived was giving local animals cancer and had the potential to give humans cancer. They began monkey wrenching the 5G towers with explosives in a pro-human rebellion.
A week went by and the situation quickly attracted a big tent following that went beyond the political spectrum and certain former Professor from the University of Texas Thomas J. Kerensky quickly took to action in support of the farmer. Thomas J. Kerensky was controviersal figure he was what many described as a neo-luddite, a social conservative and an agrarian. He was profoundly opposed to much of emergent technoligies which he claimed would give the controlling elite power to enslave the public. He beleived that the only way to avoid such enslavement was revolution against the technological system but armed cadres of Neo-Luddites. He formed a new organization 'The Sons of Freedom' to quickly support Farmer Jim and this is where our story begins!