2416: The Escape From Earth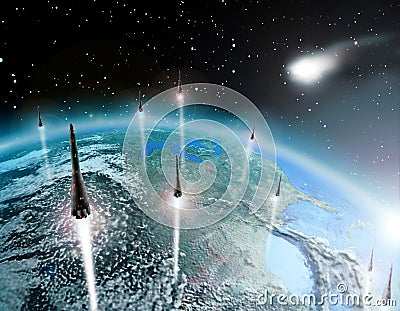 Welcome to this RP,
Escape from Earth,
the first part of my nation's history. I don't intend for it to be particularly guided, but I do have an end goal. This RP will be taking place from the year 2415 to the year 2514. Prior to 2415, 90% of the world's population of around 300 million has been sheltered in thousands of city-sized fallout shelters, which shall be henceforth referred to as fallout cities, after the worst part of a 500-year-long nuclear winter. Now, the nuclear winter started in 2112, after World War III; I will assume that the nuclear war was not conducted with enough weapons to, as Ray Bradbury said, "not only kill but bury ourselves", if that's acceptable. Anyways, in 2515, humanity's scattered remnants will rediscover one another, and, eventually, escape from Earth and colonize the Solar System- and finally, escape from the grasp of Sol to colonize the stars by 2514.
You will be playing as any given number of residents of a fallout city, and you will also be responsible for your city's actions. You can play as many as you like. When there are at least ten cities from each of the world's inhabited continents (or anywhere else, if you have a good explanation), the IC part of the RP begins.
Now, the technology here is described as FT, as it's essentially the end goal. However, you can be MT, PMT or FT. No fantasy tech or nonhumans allowed- nonhumans here being nonhuman sapient species.
Here's the app for your city:
Code: Select all

Fallout city name:
Country and continent (I may need clarification):
Nearest modern-day city:
Physical description (pictures acceptable):
History:
Other:

Your character. (Repeat this as necessary with increasing character number.)
Code: Select all

Name:
Gender:
Appearance (pictures acceptable):
Biography:
Personality:
Anything else?:
Here are some ground rules.
1. Nobody has space-capable gear at the start, so don't say you do. (But you can be close to acquiring it, requiring one last component that your city lacks, but another has.)
2. Nobody will have FTL technology until 2514.
3. There will be no use of nuclear weapons.
4. Do not godmod or present yourself with overwhelming military, economic or demographic power. (I will try not to do this as well.)
4a. "Demographic power" means your city has any more than half a million residents. Your city can be very small, but it can't have 1/300 of the world's population by the time of the start of this RP.
5. If you have other concerns, telegram me.
6. Do not post on the IC if you do not have an application here that I've accepted.
7. Break any of these rules enough, and I'll boot you from the thread and have someone else take over your city and character.
8. I may not be able to post for long periods of time. In that case, a co-OP will be named to take my position.
9. Some added rules.
9a. By 2514, the UCE will have been created and will launch a mission to another star.
9b. Dead human bodies moving around is a dumb idea. Yes, it has entertainment value and may even be useful as a commentary on modern Western life. But here,
NO. FUCKING. ZOMBIES. IN THE RP.
9c. Unmanned military vehicles are permitted. But if you have them, well, the more foreign the tech to modern warfare, the fewer numbers of said vehicles are permitted.
10. After Sydney, New York, Los Angeles...if your fallout city is near a world-famous city, well, you will have to change that.
Well then, I hope there's good fortune in this...let's get started.