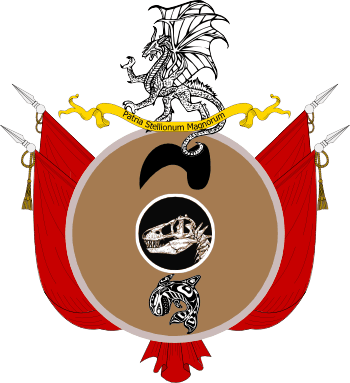 In recent years, the Saurisian government has decided to end the years of diplomatic isolation and extend a warm hand towards those favorable or at least neutral towards Saurisia. We welcome those from all over the world willing to establish relations with our fair nation. Most embassies will be established in our ancient capital, Saurus City, or on the outskirts of it.
May Maia bless you eternally and may Saur protect you.
Summary of Saurisia
Saurisia is a prosperous country centered on a series of large continents located primarily in the tropics, boasting a powerful economy, a good-sized military with decent experience, and a rich history. The nation is dominated by sapient Dinosaurs, who represent the majority in both government and general society, and are a very proud people with a martial culture. The citizenry enjoy considerable individual freedoms and the government intervenes little in society and the economy.
Saurisia has only recently come out of a semi-isolation, some thirty years ago, and now seeks to establish relations with the wider world. Still, the government is doing this cautiously for they do not wish to be pulled into a pointless conflict that would result in brave Saurisian soldiers wasting their lives over petty foreign and political disputes. Saurisia itself is a multispecies society with a few issues here and there, especially regarding those Humans who believe themselves to be better than the non-humans as well as the Canids, who have always generally been arrogant and self-righteous.
The country is dominanted by the Dinosaurs First Party, which has been in power for nearly 130 years. Originating in the political group that was formed in the 1870s in opposition to Peter Brooks' corrupt social democratic regime, the Dinosaurs First Party was formed as a means of forwarding the effort to reinstate the old government, especially in the wake of the failures of the new Democratic government. It was the DFP that led the coup which ousted Brooks' corrupt regime in 1886. They have continued to rule ever since, though having undergone a minor period of mild authoritarianism in the 1920s and 30s, spearheaded by political demagogue Oscar Moore. After the Summer Revolution and the ascension of the Hayworths to power, the Party has become more moderate, which is generally the way it is today. However, there still remains a fringe which supports more authoritarian policies, led by now-retired Oscar Moore.
Ideologically, Saurisia is very capitalistic and it has always served the country well and thus, all other economic ideologies are simply ignored here (though they will respect friendly foreigners' regard for said other economic systems). The public preaching of Communism, National Socialism, and Human Supremacism are all frowned upon due to serious issues with the followers of those ideologies in the past. Socially, the country for the most part follows a blend of conservatism and libertarianism which has served society quite well.
Districts
Rules and Regulations
Most recreational drugs, excluding alcohol, nicotine, and caffeine, are illegal and such items will be confiscated upon detection
One must be at a minimum age of 18 to smoke tobacco and 21 to drink alcohol
The only true gun laws are that one must not have any significant criminal background that involves weapons in order to acquire weapons, with citizens allowed to purchase any they're able to afford, from pistols and knives to machine guns and tanks
LGBT activities are illegal and thoroughly discouraged in Saurisia
Human nudity is punishable by fines but non-Human nudity is legal... within certain boundaries of course
Public sex is frowned upon for cultural (and hygienic) reasons
Certain interspecies relationships are illegal and discouraged (i.e. a relationship between a Reptile and a Mammal or any non-human and a human)
Most military vehicles, excepting armored cars, are disallowed for foreign ambassadorial teams to allowed
Certain religions involving practices considered barbaric, such as sapient sacrifice, slavery, pedophilia, etc, are discouraged
Basic Info
Full nation name:
National leader's name:
Views on Saurisia:
Views on the Dinosaurs First Party:
Views on Dinosaurs:
Views on Sapient Reptilians:
Ambassador's information:
Full ambassador's name:
Citizenship:
Age:
Gender:
Species:
Family:
Languages spoken:
Criminal record:
Background:
Embassy information:
Number of embassy staff:
Number of security staff:
Vehicles used (and number of each):
Firearms used by security:
Embassy size (in square yards):
Declare any items of note that you will be bringing (Plants, animals, etc.):
Special requests: