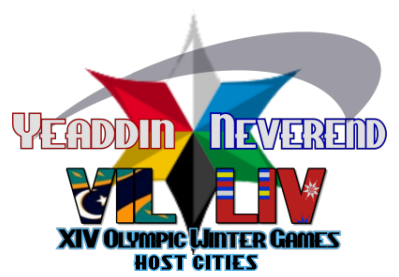 | RP Thread | Results | Rosters | OOC Discussion |
---
This is the official Rosters thread for the 14th Winter Olympic Games. In this thread, Please post the expanded roster information for your Delegations entries into the TEAM EVENTS. As a guide, the expected roster size for select team events is as offered below. In general you should follow these guidelines unless there is a (to be) documented IC Reasoning for a deviation from the expected:
Bandy
Curling
5 Athletes Per Team


(4 + 1 Alternate)
Ice Hockey
25 Athletes Per Team


(22 Skaters + 3 Goalies)

Starting Lineup


(3 Attackers + 2 Defenders + 1 Goalie)

Note any projected Penalty Shot / Shootout Takers
Snow Volleyball
4 Athletes Per Team


(3 + 1 Substitute)
This thread is also for any IC information that might not fit in the RP thread such as national anthems, traditions, flag bearers, officials, judges and other prominent characters from your nation(s) that are not competing as athletes.
---
Competing Delegations
Amuaplye (AME)
Benjamin Mark (BNM)
Cocoabo Forest
(CFT)
Commonwealth Games Federation (CWF)
Darkmania (DMN)
Darmen
(DAR)
Diarcesia
(DCS)
Electrum (ETM)
Free Republics (FFR)
Fujai (FJA)
Gryphonian Alliance (GRY)
Ioudaia (IOU)
Kelssek
(KSK)
Ko-oren
(KOR)
Kriegiersien
(KGS)
Liventia
(LEN)
Main Nation Ministry (MNM)
Mattijana
(MTJ)
New England
(CNE)
Peoples Republic of Xabia
(PRX)
Reçueçn
(RCN)
Saintland (SNT)
Savojarna
(SVJ)
Taeshan
(TAE)
Tara and Cambray (TCM)
Teremaran Unified Team
(TRM)
Unified Beretania (UBT)
Valanora (VAL)
Vekaiyu (VEK)
Vilitan Union
(VLT)
West Phoenicia
(KWP)
LINKS
Olympic Games Discussion Thread (OOC)
Olympic Announcements Thread
Host Bid