Letter from the CEO of Clányad Air, Caren Cecáðéit Veroi,
Published 03/05/2015
What a year so far, eh? It has been a few years since the foundation of Clányad Air, back in March of 2011, and we're already going international. I have to say, I did not expect it to be this soon. But, consumer demand has been high enough as to push for an international airline within Clányad, and we seemed to fit that bill. With some government funding, we are finally at that stage.

Since our foundation, we have catered in high capacities to the entirety of Clányad. We have become a household name and a regular sight for citizens all over Clányad. We pride ourselves on offering effective, affordable and safe travel, both domestically, and now abroad. Since our inception, we have safely delivered over 300 million passengers onto domestic flights, and have not had a single fatal crash. We are proud of our success record. We have served passengers and patrons in economy, business and first class, and have been awarded the Green Star for Best Commercial Airline (2014), as well as the Imperial Seal of Excellence, with many others.

Our success has made it that we have been commissioned to begin running flights abroad. So, without further ado, welcome to the Clányad Air family.




IACO:

CLA


Founded:

6 March, 2011


Callsign:

CLÁNYAD AIR


Hub:

Lánscus International Airport (LIA)


Fleet size:

15


International Destinations:

0


Domestic Destinations:

47


Headquarters:

Lánscus, Clányad


CEO:

Caren Cecáðéit Veroi


Company Slogan:

Enjoy Flying




Revenue:

$2.137 billion
H
ISTORY:
The Inner Clányad Aviation Service was founded in June of 2009 by the Túagábec family. It was a small domestic airline, beginning with one route - the still popular Lánscus to Céorceron route, then run by two DHC-8 400s. It soon began to fall flat, as a lack of funds as well as pressure from larger businesses began to sink their resolve. In January of 2011, preparations were made to sell the airline. It was bought by Clányan business tycoon Caren Cecáðéit Veroi for ten times the amount the airline was originally worth. In March of the same year, he changed the name to
Clányad Air
, the name which is now more familiar to patrons.
After the purchase of the airline, Caren made preparations to expand the fleet, buying five Boeing 737s for the use of the airline. He also opened a number of new flights, notably Lánscus to Réigdéi, Lánscus to Mántréigen and Céorceron to Réigdéi.
Clányad Air
soon became the most used airline in Clányad, surpassing the former-most popular airline, Cele-Air. It opened a new line of Suite flights, higher quality aircraft and service, as well as having first class and business class sections on nearly all of its other flights. Such innovations led to
Clányad Air
winning the prestigious Green Star Award in 2014.
F
LEET:
The following aircraft make up the
Clányad Air
fleet:
24 DHC-8s
The oldest aircraft type in the
Clányad Air
fleet, the DHC-8 400s have been going since the very first flight between Lánscus and Céorceron. With twin propellers, these flights have been the staple of
Clányad Air
travel.
(Source: https://en.wikipedia.org/wiki/Bombardier_Dash_8)
14 Boeng 737s
The second oldest type of aircraft in the business, the 737 has been another staple of the fleet. With a maximum capacity of 215 passengers, it is used for the slightly longer flights around Clányad.
(Source: https://en.wikipedia.org/wiki/Boeing_737)
A DHC-8 400
2 Boeng 747s
Primarily used for the long-haul flights overseas, the 747 is another major aircraft used by
Clányad Air
. Both can accommodate 416 passengers on long flights away from or towards Clányad.
(Source: https://en.wikipedia.org/wiki/Boeing_747)
4 CJ2s
Some suite class flights use Cessna CitationJets, to expand upon that first class experience which just says "
Clányad Air
". Accommodating for 8 passengers, as well as one serving crew member, it is the height of luxury.
(Source: https://en.wikipedia.org/wiki/Cessna_CitationJet)
Clányad Air
does aspire to continue expanding its fleet. As such, this is a working list, and it will be added to in time.
S
ERVICE:
Suite Flights™
Only available on our CJ2 flights, the Suite planes are decked out to give the best service experience to all passengers. From the black leather seats to the tables between them, these flights offer each passenger with a flight in luxurious comfort to their destination. Five-star Clányan cuisine always served on board, with a menu selected from the dishes of the finest chefs around the country, and a selection of only the finest brandies, wines, champagnes, spirits, cocktails and ðád, a popular alcoholic beverage from Clányad itself. Non-alcoholic drinks, such as mocktails, soft drinks, tea, coffee and water are also served. When you fly on a
Clányad Air
Suite Flight™
, you know that you are flying in quality.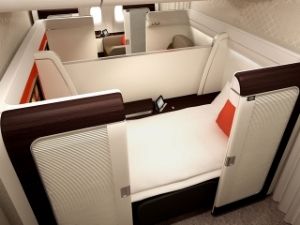 Compartment Class
Available only on select flights, compartment class offers a deluxe compartment for the passenger to stay in. Separated by a wall from the rest of the cabin, passengers can choose to travel with pets in this compartment, as well as travel as a couple. Compartment Class is fitted out with beds and a large television for easy viewing.
First Class
Available on most flights, First Class offers a new experience for the passenger. Extended seating room and a superior entertainment system both mean that First Class is the optimal flying experience. With a suite separating you from the rest of the cabin, and a comfortable bed to aid in sleep, this luxurious flying experience is set apart. A menu selected from some of the highest calibre chefs in Clányad means that you dine in style and comfort while you fly.
Business Class
Available on all flights, business class flights offer extended seating room to what most aircraft can offer, as well as better service. More affordable than first class, but still with that quality which you can only get from a
Clányad Air
flight. Choose from a range of classic Clányan meals, which are sure to satisfy, and from a range of drinks larger than any other.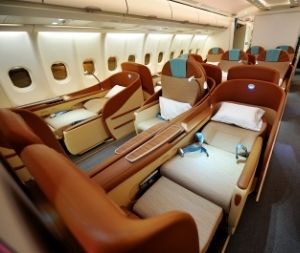 Economy Class
Many airlines consider economy class to be 'cattle' class. Not so on a
Clányad Air
flight. With extensive legroom, a state-of-the-art entertainment system and a menu filled with homely food for anyone to enjoy, you know that when you fly in
Clányad Air
's economy class, you are flying in style and comfort.
Services
High-quality

meals

catering for whatever time you are flying

Drinks

to cater to even the most refined palette.

Warmed towels

handed out hourly to passengers.

Bedding

to provide a decent night's sleep on long-haul flights.

The Green Cross™

high-quality entertainment system.
Friendly and approachable

cabin crews

for every flight.
Menus
Dinner
Choose between

Prawn and seafood pasta with marinara sauce

or

Pork or lamb roast with potatoes

or

Egg and spinach śíboc (a savoury tart made around the Lánscus region)

with choice of

Salad or vegetables

and

Choice of pea or chicken soup

and

Gorat, bread and pâté, with a dessert of Butter-cake pudding, date tart or Clányan Rice pudding.
Lunch
Choose between

Grilled salmon with anchovies and capers

or

Chicken and salad sandwich on Gorat (a fried Clányan bread)

or

Vegetarian śofeŧ (like a Quesadilla)

or

Cheese, egg and bacon śíboc (a savoury tart made around the Lánscus region)

with choice of

Salad or vegetables

and

Choice of pea or chicken soup

and

Gorat, bread and pâté, with a dessert of biscuits, mini-tarts or Clányan gingerbread
Breakfast
Choose between

Bacon and spinach quiche

or

Gorat (fried Clányan bread) with jam or honey

or

Vegetarian śofeŧ (like a Quesadilla)

with choice of

Cereal or toast

and

Choice of pea or chicken soup

and

Gorat, bread and jam, with a dessert of biscuits, mini-tarts or Clányan gingerbread
Beverage list
(Non-Suite Flights - suite flights have a much more extensive range)
Alcoholic:

Wine (white or red)

Đád (Clányan spiced alcoholic beverage made with peaches)

Beer (or lager)

Champagne

Sherry

Brandy

Non-alcoholic:

Coke

Lemonade

Spiced Lemonade

Cherry-ade

Sprite

Mock-Đád (non-alcoholic Đád)

Water

Soda Water
The Green Cross™ Entertainment System
The Green Cross™
Entertainment System is one of the most advanced in the skies, and is one of the proudest achievements of
Clányad Air
.
With a database of over 100 movies and TV shows, one can never be bored in-flight.
It also contains a database of over 1000 songs from many genres, as well as games, short Language-learning courses and a live television stream.
P
OLICIES:
Tickets:
As of March 2015,
Clányad Air
has offered online and in-terminal booking for tickets, but the tickets will need to be picked up in-terminal. Online, one will need to print out their ticket receipt which will have been e-mailed to them automatically upon booking, and present it at a check-in gate.
Baggage:
Depending on what
Clányad Air
service you are flying with, the baggage allowance may change.
First-Class and Compartment-Class: 45kg
Business-Class: 40kg
Economy-Class: 35kg
The baggage weight allowance may change depending on particular flights or services. Always read flight guidelines once booked.
Overweight baggage will be subject to a flat rate of Ś10 per kg over.
Suite Flights™
have a baggage allowance of 50kg, due to the lower number of passengers.
Animal Policy:
Here at
Clányad Air
, we are deeply concerned with the welfare of animals. That is why we have a separate area for them at the rear of the craft, where pets travelling in crates can be cared for by specially trained veterinary staff. Meals for dogs, cats and equine species of all varieties are provided, but at no disturbance to other passengers.
Clányad Air
also offers the chance for passengers travelling in
Compartment Class
to travel with pets if they wish. Patrons are requested, however, to keep a close eye on their animals so that they do not cause any disturbance to other patrons.
A
PPLICATIONS:
Flights can be operated to or from Lánscus International Airport only at the present, but plans are underway for building a new international airport in Céorceron. More on that later.
Please note - though our fleet is presently small, we are expanding, and are hoping to receive a shipment of planes very shortly. In the meantime, please do not let this impact on your decision to allow us to fly to your nation. If we cannot do it yet, then we
will
do it later.
Code: Select all

[pre][align=center][img]http://i1197.photobucket.com/albums/aa432/Felbah/Logo%202%20Transparent_zpseq7vd522.png[/img][/align]

[align=center][b] [i][color=#008000]DESTINATION APPLICATION FORM[/color][/i][/b][/align]

[b]Name of Airport:[/b] [i](in your nation, with link if possible)[/i]

[b]Name of the Airport:[/b] [i](in our nation)[/i] Lánscus International Airport

[b]Frequency:[/b]
[i]Please enter the number of flights per day
For example if you want 2 flights on Monday fill "MON [2]"[/i]
MON []
TUE []
WED []
THURS []
FRI []
SAT []
SUN []

[b]Location:[/b] [i](Where is your country?)[/i]

[b]Are you willing to code-share?[/b] [i](i.e: Have some flights operated by both of our airlines)[/i]

[b]Aircraft:[/b] [i](List number and type)[/i][/pre]
T
HANK YOU FOR FLYING WITH
C
LÁNYAD
A
IR.