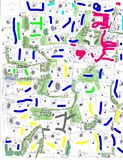 Deep Blue are loyalists
Teal are Neutrals
Gray is Anarchy
Green is Prince Zellendis' forces
Yellow is Neukinia
Red is Prince Zelsarion's Forces
At the secret base under the Imperial Banner, Zellton City, Zellatia Proper, Zellatia
Zellan paced back and forth until a shadowy man stepped out of the shadow. "Prince Zellan?" he asked as he stepped forward.
Zellan nodded and questionably asked, "You're Code Twelve? I thought-"
The man shook his head and replied, "No sir, Code Twelve is not an initiative, it's me."
Zellan's eyes widened and he looked down, "Now what?"
The man chuckled familiarly, "Sir, we get you the hell out of here and into Garrisson. Now."
Zellan's eyes finally adjusted to the darkness and he realized the man was wearing a mask. He asked, "Why don't you take off the mask?"
The man visibly frowned, "You cannot know who I am sir, your father's orders."
Zellan calmed down as a door opened seemingly out of thin air, "So that's our way out?"
The man simply said, "Yes sir, that it is," as they both exited the building under the cover of an explosion.