Sir, My Brother,
I pray that this missive finds Your Majesty well and contented. I write to Your Majesty concerning the decline in the prestige of the institution of the Monarchy world-wide. Both as a result of slanderous assaults by persons hostile and uneducated about the nature of our system, as well as the mismanagement and bumbling of a few misguided Sovereigns both past and present, there exists a great ignorance of and ambivalence towards this most ancient institution.
We have therefore seen it fit to outstretch the hand to Your Majesty as well as to any other legitimate crowned head of state for the purpose of convening a summit whose purpose will be to draft a resolution which shall take steps towards the defense of our rights and traditions and to form an alliance or organization to enforce the same.
While there are organizations and alliances whose goals may be or have been similar to this, our Brotherhood of the Crowns, such organizations are deeply rooted in the other foreign policy considerations of their member nations. We instead attempt here to be singular in purpose and steadfast in our resolve to this our common goal.
As always, if Your Majesty wishes to correspond with me directly, such letters are best addressed to the Prince Regent, Alexandre-Napoleon de Bernadotte. If Your Majesty's Household wishes to communicate with Our Household to confirm Your Majesty's attendance and arrange for suitable accommodations, such letters are best addressed to His Emminence, the Grand Chamberlain. We anxiously await Your Majesty's reply in either regard. Whereupon I pray God that he have you in his Holy and worthy keeping.
Given this Second day of February, in the first year of Our Reign, the year of Our Lord 20XX, at Our Imperial Palace at New Geneva.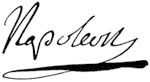 Napoleon V, By the Grace of God Emperor of Greater Prussia, King of Reichskamphen, Arch Duke of Burgundy, Protector of the Free Cities Alliance, Grand Master of the Legion de Valeur, Defender of the Faith, etc. etc.
OOC: This is open to any Crowned heads of state, either Absolute or Constitutional. After you post your initial reply, you are welcome to RP your arrival into New Geneva International Airport