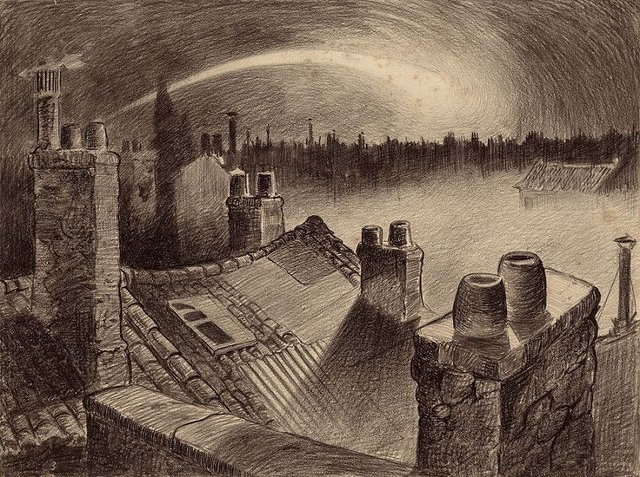 Kråkmo, April 1940
Oskar Aaberg and his son huddled around the radio in their tiny, one-room cabin. Outside, a snowstorm was starting, huge snowflakes hammering the cabin. The room was lit up by a small fireplace, wood crackling as the flames consumed them. It was a scene fit only for Christmastime.
Yet, the mood in the room was far from jolly.
"... German forces have seized Oslo and are marching Northward. The Royal family has fled to London to escape the Nazi threat..."
Oskar sighed and glanced at the fire. "Boy, go and get some more firewood." Tobias nodded and went out the door.
Tobias crunched through the snow toward the nearby treeline, his breath making clouds in the air. The sound of the radio faded as he made his way toward a small log pile nearby. They would have to go into the woods soon and chop some more.
As he hefted a bundle of logs and turned back toward the cabin, he was blinded as an intense light flew past with a boom. Tobias screamed as he felt his back being burnt, yet he was deafened by the sonic boom it made as it soared over the mountain.
Across an area of 50 kilometers around Kråkmo, similar scenes played out. Some were shielded by the mountains and fjords. Some, like Tobias, were not.
Yet, for those who could still hear after the meteor went out of sight, they were treated to another boom from over the mountains, and the sight of a magnificent, kilometers-tall cloud stretching across the sky.
However, with the German invasion and the fall of Oslo, the event barely attracted interest from those outside of the area of effect. However, that would change very rapidly.
Even as the Germans advanced across Norway, they would soon face a threat unlike any they had seen before, one that would shake the very foundations of human society...
---
(LOOKING FOR A BETTER NAME FOR THE RP. TG ME FOR SUBMISSIONS.)
Welcome! As you can infer, this is to be an alien invasion scenario set in the heat of World War II. Our "friendly" aliens will be less a stereotypical FT empire and more a War of the Worlds style alien to keep things relatively balanced between the two sides. Speaking of which, you will have the choice to pick from any of the IRL nations in the world (I suggest picking one of the remaining European countries first), including the so-called neutrals. Yes, that includes Switzerland. To keep things simple, the role of the invaders will be filled by myself.
IC
---
Signups:
Code: Select all

Claim:
[align=center][size=150][NATION CLAIM HERE][/size][/align]
[b]OOC Nation:[/b]
[b]IC Nation:[/b]
[b]Allied or Axis?[/b]
[b]Leader:[/b]
[b]Brief description of government, military, etc.[/b]

Reservation (reservations will be canceled after a week without a claim):
Code: Select all

[align=center][size=150]RESERVATION: [NATION RESERVED HERE][/size]
[b]OOC Nation:[/b]
[b]IC Nation:[/b]
[b]Allied or Axis?[/b][/align]

---
Claims:
Reservations: