THE OUTLINE:
Perhaps in a other timeline, another universe, Syrvania wasn't in this situation. Syrvania was rapidly collapsing, the Federation cracking under the pressure of a nuclear detonation. Groups have already begun making moves against the SFA, and full blown conflict is only a matchstrike away. Who shall reunite the broken Federation? From Monarchists to the Independence wishing Leersog Republic. The fighting between the warlord factions was brutal and incessant. Civilians were caught in the crossfire, and many were forced to flee their homes. Resources were scarce, and the economy was in shambles.The Syrvanian Empire, emboldened by its numerical advantage, attempted to assert its dominance over the other factions. However, the Akrovian People's Republic saw this as an opportunity to expand their own influence admist the chaos of the collapsing Federation, and began launching offensives against the "Empire".
THE FACTIONS:
Note from me: I've organized this in a way so that it's not SUPER confusing. Do note that unlike Syrvanian Federation or Syrvanian Empire, Independents are not under the control of the Syrvanian Federation/Empire, thus not allies.
SYRVANIAN FEDERATION:
Syrvanian Federation
Syrvanian Antarctic Claim
Akrovian Military Mandate
Federal Commission of Lavina
HOLY SYRVANIAN EMPIRE:
Holy Syrvanian Empire
OFFICE OF CIVIL INTEREST:
Office of Civil Interest
INDEPENDENTS:
Leersog Free Republic
Republic of Lavina
National Reclamation Government of Hetland
National Republic of Esera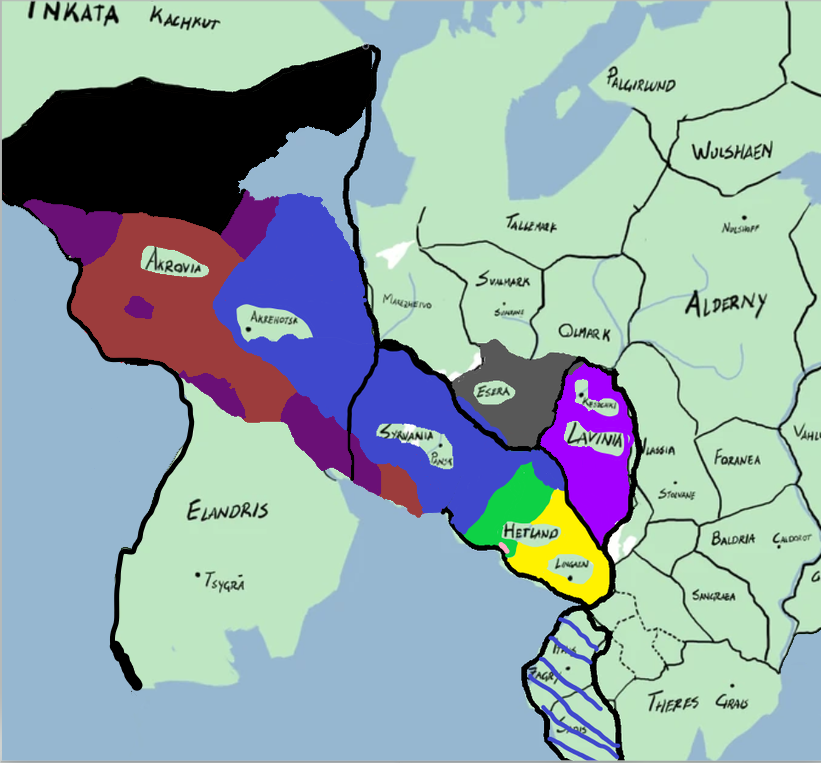 (Will fix the map at a later date just to give an IDEA of what borders are)
BLUE= Syrvanian Federation/Syrvanian Mandates
DARK RED= Office of Civil Interest
GREEN= Leersog Free Republic
PURPLE= Republic of Lavina
YELLOW: National Reclamation Government of Hetland
GRAY= National Republic of Esera
BLACK= Anarchy
PINK= Civil Territories of Saint Iyvan
DARK PURPLE= Holy Syrvanian Empire
RULES:
1. Nations may not be beyond PMT.
2. OOC Grudges should remain out of this.
3. Size limit is 250,000 troops total, exceptions will be made for reinforcement units. (In the effort of fairness so that the Warlords can have a
chance
)
4. Please refrain from godmoding or you will be warned.
5. No one liners, they just clog up the thread.
6. All nations receive 3 warnings before you're out.
7. Reinforcement ORBATs can be made one per OOC week. The upper limit is 50,000 on Reinforcements.
8. After the Anarchy Period starts (2 Months of real world time) nuclear weapons can be used. Yeah they can be used now...
APPLICATIONS
Code: Select all

Official Nation Name:
Reason for Intervening:
Side Intervening on:
ORBAT (Initial Force):
Are you a puppet:
Have you had any prior RP experience:

REINFORCEMENT ORBAT
Code: Select all

Official Nation Name:
Reinforcement Orbat:
IC Link