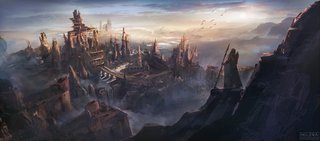 The sun rises on a new world- a world not like that you may know. Shattered by a catastrophic impact not long after the extinction of the dinosaurs, Earth is not as it should be. This impact, a star falling to earth, changed not only the shape of the world, but also her content; this star bore strange light and eldritch crystals, warping and altering the planet where humanity slowly arose. Continents were broken, minds shattered, even animals and plants twisted and changed. It is a different world, one in many ways hostile to humanity.
But in the end, it is
your
world.
You stand forward as one of the leaders of a great city of men. It has been many centuries now since the first tribes emerged in the impact of the Cataclysm, family groups formed from scattered wanderers and survivors, and now civilization in earnest is rising from those embers. Men ply trade upon the waves of the sea, either propelled by oars and scarred backs, or the might of sails. Caravans roam savage lands, making fortunes for their owners if they are not devoured by ferocious beasts. The first priests, and god-kings, and republics lay claim to the passages of the world beyond the sight of their doorways, and bronze-armed warriors march across the hinterland. Men declaim poetry, and gaze at the stars, wielding magicks both powerful and dangerous.
To be a leader in such times is to be given glorious potential, but also enormous responsibility. Civilization is fragile, and dark things lurk both in the hearts of men and in the wilds of the world. Will you rise to greatness alongside your kinsmen, or will you falter and be forgotten? Come, and tell the tale of the Age of Heroes.
---
---
A lovely little RPG, welcome all.
All players begin with a single settlement, and I am accepting a maximum of six. You may (and most likely will) want to erect more holdings across your lands, and claim new vistas for your people, for in growth is the security of one's lineage.
You should expect to make an IC post once every 48 hours or thereabouts IRL, but more will be encouraged. A nice simple straightforward expectation, no strings attached. These posts correspond to the passage of two year's time, in-character, and will resolved by yours truly to chart the course of your civilization.
New city-states will begin with four "local resources", uncommon materials that will be tracked as vaguely important in the "region" where they live. You will be allowed to choose one of these resources, but the rest I will generate. These don't include generic materials like flint, stone, mud, trees, and so on, but keep your assumption of what is generic reasonable- copper, for instance, is a resource, not something you can just assume your city-state has.
Your civilization will need many things, foremost warm bodies to accomplish her aims and fill her homes. For ease of use, these citizens are grouped together in units of 100, who populate your city-state and her surroundings. They will need to be fed, sheltered, and defended, but they are the life-blood of your civilization. Every new city-state starts with four hundred inhabitants. The full mechanics of this age will be explained in a following post.
So there we go! I have room for six city-states at present, potentially more. Feel free to slap down an application if this interests you, or just an interest post to follow things.
Code: Select all

[b]City State Application[/b]
[b]Name:[/b] (What name do men and maps know you by?)
[b]Leader:[/b] (Who rules your glorious realm?)
[b]Short History:[/b] (Where did your people come from, traveller? And where are they going?)
[b]Starting Location:[/b] (What are your settlement's immediate surroundings like?)
[b]Advantage:[/b] (Your starting resource.)

---
Players
The Hao Dynasty
|
Novas Arcanum
Sprawled across the Yu river valley like a great, indolent cat, the Huang are masters of everything the light touches. Theirs is a happy and diligent kindred – and they rule with pride from the bastion of their people – the tribal capital of the Hao. Up and down the lush banks of their mother river, patches of wild rice fill many bellies – and in several of her lesser tributaries, pale, gleaming tin – soft and pliable – gleam invitingly. Farther inland, humble stands of medicinal herbs vie for space with croppings of pale, precious rock-salt. North of the Hao, their river turns west as the lands rises into tall, pine-studded mountains, while to the east, plains and mountains vie for supremacy with a distant, gleaming coastline. Westwards, a tributary of their mighty river rolls on, wide and muddy, into a sea of grassy plains as far as the eye can see - a view mirrored likewise to the distant south.
The Valdani Hierarchy
|
G-Tech Corporation
By the roar of the River of Kings, that mightiest of streams, stands Valda – home of the Valdani. With their nomadic past behind them, these now-settled kindreds have made the homes of their foes their own – and are better for it. Veins of iron glisten in the nearby foothills; and stands of pale-yellow sand-spuds too. Good for eating they are, despite their appearance – especially when roasted by an open fire. The local goats are especially fond of them, and the old staple crop of fallen Suzer too – wheat. Coarse and oaty, waving in the breeze. North of Valda, the foothills of the Star Mountains vie with rolling plains - flat and fecund, while to the east stretches the many leagues of the Dreaming Wood - green and ancient. South, as the river flows - and eastwards also - woodlands and hilly crags give way to yet more plains.
The Alikos
|
The GAmeTopians
The Alikos are the guardians of Godhome – keepers of the mountain path that leads to Akroas' sacred peak – and they are justly proud for it. Their city, perhaps, reflects this – raised as it is astride the gods' own river. By its banks their generations have prospered – and learned well to appreciate the gleaming opals that fleck its stream. Veins of iron, fat and deep, cross the nearby foothills, and skittish flocks of red deer graze sparingly in the shade of tall, majestic cedar trees. Life, for now, is kind – as will it ever be. Surely. North of Alikos, the land rises steeply into the mist-shroaded cargs of the Godhome. West, where the sun rises, flat fields roll gently into sun-scorched steppes - while East, the foothills of yet more mountains line the horizon, dark and forboding. Soutwards, the gods' own river widens into flat, green plains.
Xcotl
|
Ralnis
From their river-girt sanctuary, the Xcotl rule their island stronghold and their marshy environs with fear and tredpidation in equal measure. Speckled as it is with great, trunk-thick bones of fallen giants – this is a fitting place indeed. Their gods, the Muxipei, have smiled on them, as have their sovereign, Xantipak. Their kindred feast well on delightful stands of pricklepears and wild plums, and in the marshy shallows – brazing bulls grow fat on tufty marsh-grass. They and their masters know peace and plenty, and this is as it should be. Both to the the west and to the south of the Xcotl's marshes, the land rises - at least in part - into dry, flat plains where endless grasses weave in the gentle breeze. In the north, similar plains give way to rolling foothills which rise steeply into the peaks of a vast, brooding mountain range - a sight almost as impressive as the gleaming coastlands and wide ocean to the east.
The Tachi-na-Vao
|
Lazarian
On the hilly banks of the Blood of Ishizuki, the Tachi-na-Vao have made their homes. They share these environs with the great, shaggy herds of Lac-horses - companions animals and erstwhile beasts of burden. Yet they are not alone. Sullen herds of longhorned cattle can also be found grazing in Ishizuki's shallows. They are particularly fond of psarmelons, rich and plump, groves of which dot the landscape. Farther inland, fizzures in the foothills reveal deposits of a strange, grayish ore with the tone and color of a rainy afternoon. North of Nha Tachi, the Congvao mountains rise - tall and majestic. Their foothills can be seen stretching for some distance into the east also, where they give way to grassy flatlands. Southwards, the Blood of Ishizuki widens into a grassy plains and rolling, wind-swept steppes - while to the west, similar flatlands rise once more into the wooded foothills of the Congvao. Tall and mighty.
The Aederfolk
|
Elerian
Led by the scions of the House of Gwyr, the Aederfolk braves have made their home on the shores of the Bay of Dagonach. The coastal plains that surround them are home to many wonders – including errant herds of great, gray oliphaunts. Stands of swarthy stone as black as night dot the landscape here and there – and along the shore, pools of sweetkelp prove the truth of its name. Farther inland, fields of wild sugarcane hold some interest also. North of the Aederfolk's city, the coastal plains give way to rolling hills. Westwards, fertile grasslands stretch on into the horizon – while to the east, the coastal floodplain is crisscrossed by a long gleaming river. To the south, along the coast, coniferous woods grow surprisingly thick – a welcome barrier to the wind blowing in from the sea.
The Ravarii
|
Ovstylap
Flavored in equal part by the hills of their homeland and the favor of their merciful gods, the Ravarii are a kindred composed of accomplished seal-hunters and prudent homemakers in equal measure. Theirs is a fine city, Ravar, nestled by the banks of the River of Rest. Copses of pale-pink cherry trees are in evidence here; and great flocks of tawny-faced river-seals converge each spring beyond the shallows. Veins of copper make likewise an appearance, in between tall stands of rock as pale as mother's milk. North of Ravar, great mountains loom into the skyline – and to the east and south the River of Rest winds onwards through a land flat and grassy until it empties into the great, blue sea. West, beyond the river's banks, great, green woodlands spreads beyond the ken of mortal men.
---
Non-Player Cities & Kindred
The Heirs of Khetarata
Mujand
Mujand, fair and forlorn, was the last seat of the once-mighty Khetarata. It is said that after a summer of particularly vicious in-fighting, the empty avenues and silent squares speak only sparingly of what once was. These wounds have now begun to heal - if only sparingly, and travellers report much life and levity is to be had in the great, spawling townships that have sprung up on the city's western approaches. Its stone walls, through crumbling in recent years, are reportedly undergoing fresh repairs. From the Khetarch's Tower, brave ships are still guided home by its unblinking light – and in the souks and gardens, painted sorcerers still practice the burning glyph-magic of the Khetarch-That-Was. If there ever was a city that claimed for itself the seat and glory of 'Master of the Sea of Helkarx', Mujand is surely that city. Whether that is a claim that shall ever be challenged remains to be seen.
Balbènon
As the oldest and, some say, the strongest of the heirs to fallen Khetarata – Balbénon is a city both wide and wealthy. Behind mudbrick walls so wide that three men might walk along them, shoulder to shoulder, the Great Vizier Wadi-Maru have raised his court, planted high his ropegrass banners, and proclaimed himself the master of all he surveys. Facing as it does the bay of a mighty ocean, Balbénon's main income is seaborn trade. A close second is the trade in living flesh – for Balbénon's outriders are ever keen to scour the southern hinterlands – or make deals with those that might hawk their neighbors into bondage.
Nirat
Between the twin rivers of the Great Mother and the Tap lies the fertile garden-city of Nirat. A vital link in a once vibrant kingdom, these upstart heirs to fallen Kheterata are ruled by a self-styled Vizier. Fed by fecund mud from the rising of its two mighty rivers, it should surprise no one that life and greenery is plentiful. Stands of ropegrass wave in the wind here, neck to neck with patches of wheat – wild and golden. These are turbulent times for the people of Nirat. The realm of which they once were a vital link is shattered - yet wise men and clever crones all speak of a reforging. Or at least war, or rumours of war. Wether Nirat, wild and fecund, shall come out on top in all this, remains to be seen. Her sister-cities are, after all, as keen to wear a Khetarch's crown as she is - and that honor is not one they are likely to share.
Other kindred, wild and free
Bari
From the hilly promotories of their highland sanctuary rule the Bari. Proud are they, and justly so, for they have survived many trials and tribulations to call these lands their home. The eyes of these kindreds are black as olives, their hair dark and tangled, their skin a swarthy gold - like burnished copper. Bleating flocks of sheep are a common sight amongst these people - fat and happy for the most part - a sure source of both wealth and sustenance. They, and their keepers also, regard outsiders with wary curiosity, but not outright hostility. Bari are said to hold the wisdom of their elders in high esteem, and a Council of Elders gathers to discuss matters of great import where their flocks and clans are concerned. Travellers should be wary of disregarding these kindreds as nothing but friendly shepherds, however. The Bari are prickly of their honor - and should any question it, a copper-shod cudgel is a blunt, if effective, final argument.
Kah'lo
The kindred of this mighty city are a fortuitous lot indeed - for they are the ones upon whom the gods smile. Kah'lo, the city by the sea, has ever been a place fiercely proud of its divine heritage - and in Kah-lo, commerce and prayer go hand in hand. Protected by mighty walls of stacked stone, this port-city's most noteworthy feature is the domed temple complex that straddles a trio of islets just off the shore. From here, a fiercely competitive priesthood of so-called 'Holy Factors' conduct the city's day-to-day business; be it from the Ritual of Exchange to the Tallying of Earnings and Expenses. Its fleet of red-sailed merchant galleys are a common sight up and down the northern coasts - and for many a humbler kindred, a visit from these gregarious traders and erstwhile explorers offer their first wider glimpse of the world.
Saywend
From their mountain homes in the Heimar Vale, the Saywend see all, rule all and know all. Or so, at least, they would have one believe. This normally insular, mountain-born kindred are at their safest when at home in their mountan meadows - and tend to brook little interference from other peoples. Recent years have seen an unfortunate series of floods disturb the Saywend way of life, however. How this mountain kindred will respond to these circumstances - and how far their Magistrates will go to stave off the spectre of starvation - have been up to debate. In the 120th Year of the Star-Count, travelers report that a series of reforms of the Saywend's customary laws have named them a republic. The stony tiers of their senate is now ruled by a mess of political factions - the Ember-Reds, Glimmer-Greens and Sky-Blues are the most prominent - no doubt to the chagrin of their once omnipotent Magistrates.
Chimula
The Chimulans were a scourge. Said to hail from the foothills of the Star Mountain and east of the Sea of Helkarx - their roving clans had no known cities or even long-term settlements, and lived their lives as itinerant hunters, skin-takers and, more often than not, raiders. As a most fierce and war-like kindred, these plainsmen were coarse of skin and dark of hair - both running from burnished bronze to freckled brown. And, rumor claimed, blood - for the practice of consuming human flesh was common and accepted amongst the Chimula. Rumor further claims that it was the Chimulan's exposure to the blood-cults of Old Suzer that turned them from a race of rowdy nomads into the force of blood and villainy they were in later years. Others, however, insisted that Suzer and its blood-stained ghosts could hardly take all the blame. Suzer calloused the Chimulan's fists, perhaps - but they did not file their teeth. In the end, the Chimulans raised a fortress-settlement upon the Star-Mount to avait the coming of a new god. They were ended, in blood and fire, by the might of Valda the Rampant.
Oc Ocara
A city of great earthen mounds on the edge of a vast forest, with a stout palisade of felled logs that protects it from evildoers. Its people, the Ocarans, wear polished stones of jet and amber in their ears and noses, and are known to paint their skin with herbal ointments in ways both beautiful and strange. The art of song is most treasured amongst them - even to the point of being used to settle legal disputes. In build and countenance, their faces are oval - with hair as black as pitch and skin the color of sunlit wood. Their greatest claim to fame, or infamy, is their relationship with a race of great, sentient spiders-creatures - nests of which are said to lie under the Grand Mound at their city's heart. A council of masked oracle-priests confers with a spider matriarch - She Of Many Eyes - on matters of import. It is perhaps because of this that vile tongues name the Ocarans 'spider-slaves', and a misbegotten people that surely tremble under the yoke of monstrous overlords. The Ocarans, for their part, seem content with their lot - blessed, even. After all, while other kindred pray to invisible gods in empty temples - the Ocarans have their very own divine guardians living in their midst.
Oghun Seven-Peaks
From the mountain plateaus of the central Spine rule the Oghun. This mountain-born kindred is largely known only through second-hand accounts, and from what can be gleaned by these - it appears that political upheaval has recently seen them oust their traditional monarchy. What words might accurately describe the Oguns countenance, or what traditions and customs mark their way of life, no man can yet say with certainty.
Tondak
The eponymous Tyrant of the West; Tondak is an old city - and has existed on its hilly promontory overlooking the great, green Bay of Tondak almost since before man's reckoning. While it has worn many different faces for many different ages - in this day and age, Tondak is ruled - some would say most unfairly - by the hand of its aging king, Gadrigo - and his squabbling brood of baseborn lackeys and sycopants. Unkind rumors often will it that the reason why Tondak is so effectively ruled - or why, at least, internal ire is so effectively quashed - comes down to a network of brutally efficient whisperers and informers. Indeed, so wary are Tondak's people of even
breathing
dissent - to inform on someone is supposedly captured by the term 'to Tondaki', or even just 'to Tondy' someone. In martial matters, the authority of King Gadrigo is maintained by roving bands of heavily armed and armored cavalrymen - a rolling tide of hooves and iron; doom on the gallop.
Quathoy
The Isle of Quathoy, also known as the Isle of Sorcerers, is a far, green island near the western edge of the wine-dark sea. Home to a blond, feather-haired kindred - the eponymous Quathoy are known in part as scofflaws, part as superstitious sailors and third-parts as sorcerers and spirit-callers.
The Maquy
A war-like hill-people of the distant north and west, the Maquy raise their camps and stake-towns near the banks of the Thunder River. They are uncouth men and keen-eyed raider-women who daub their shields with blackest pitch - and take their councils from their warrior-shamans. The flesh of the Lac-horse - seared brown and bloody above an open fire - is a particularly favored dish amongst them. Rumors claim their captives are consigned to a vast, lightless mine-network called the 'Red Pit' - worked there to harvest the bones of the earth until death and misery take them. In recent years, the Maquy have become inveterate foes of the Tachi-na-Vao. Where this mounting conflict takes them remains to be seen.
The Hue
In a dell by a vast and muddy river live the Hue. These refugees from a distant calamity have set their stakes here, for better or worse – and they have thrived. Deposits of copper dot the landscape here, and plinths of granite too; a fact of no little note for enterprising souls. Odd stands of majestic cedars likewise make an appearance. At night, these trees resound with the buzzing insect-chitter of great, moon-pale creatures that wing their way across star-lit skies – said to emerge from hollows in the earth. What can rumors make of such a people? Said to cavort with bats, sing to cedar-trees and blame both good fortune and ill luck on the whimsy of mighty 'demons'? Much and more, probably. But regardless, the Hue are as they are - and no man should discount them.