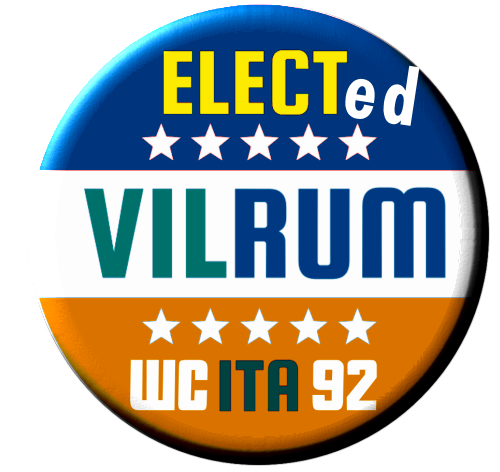 Scores :: Roleplays :: Rosters :: Discussion
Reference:
Signups
|
Guide to Sports Roleplaying
|
BoF79
|
WC91
|
KPB Rankings
|
NSWC FAQs
|
NSWC History
|
NSWC Announcements
Roster Information
You will earn Roleplay Bonus points for submitting a roster, and a more detailed and well-presented roster can be worth more points. Detail can include Player Bios, Graphical Depiction of Team Kits, Historical Records and Team Background (Such as a nickname). A Standard roster should include 11 Players as starters and a series of substitutes for a total of 23-26 players. There is, however, no limit to the number of players and some nations will use a "player pool" approach while naming specific starters for each match in their RPs. Other useful information includes information about the coaching staff, set pieces takers, likely scorers and at least one home field for where your home qualifying matches will be played. Check out the
Roster Thread from Last Cycle
for some examples.
If you are copying a roster from a previous World Cup this is a reminder to update the edition # to reflect the current cycle which is

World Cup 92

.
Style Modifiers
You may provide a Style Modifier, any number between
-5.00
and
+5.00
, with your roster that determines how defensively or aggressively your team plays. A -5.00 team is ultra-defensive, a 0.00 team is balanced, and a +5.00 team is hyper-aggressive. All nations are entitled to ASK to change their style modifier 1 (One) time throughout the duration of the tournament, by communicating said change via RP and by TGing both host nations [
Vilita
&
Electrum
] to confirm.
RP Permissions
Best practice includes the following permissions box that gives other competitors guidelines for how to roleplay your matches.
We also request you stick your Style Modifier at the bottom of this box for ease of reference
(even if it also exists elsewhere)
Code: Select all

[pre]
My opponent, if they RP first, may do the following:

Godmod scoring events: Y/N
RP injuries to my players: Y/N
Godmod injuries to my players: Y/N
Give red cards to my players: Y/N
Godmod other events: Y/N

Style Modifier: +/-
[/pre]
Other options you can consider are setting per-game maximums for injuries and cards, listing which of your players are most likely to score a goal/get injured/earn a card, or any information you think would be useful for your groupmates.
---
95X
Abanhfleft
Acastanha
Adab
Al Qurija
Aleirave
Ancherion
Arjunnagar
Astograth
Atetancillo
Atheara
Audioslavia
Baggieland
Banija
Bears Armed
Bongo Johnson
Boring Paradise
Brenecia
Britland
Britonisea
Brookstation
Cabo Azure
Canadian Dominion
Cap Nord
Captina Island
Cardenao
Cassadaigua
Ceni
Chartistan
Cheetahs and reptiles Coalison
Chromatika
Civia Welephilostopia
Coconut Isle
Commonwealth of Baker Park
Damukuni
Darkmania
Darmen
Delaclava
Delte
Drawkland
East Murbley
Eastfield Lodge
Efnakia
Elmyia
Equestria
Eraman
Eshialand
Estorvipa and Estorpiva
Eura
Euran Oceania Territories
Farfadillis
Flavovespia
Ganes Ame
Garbelia
Garifunya
Geektopia
Gnejs
Gortolekua
Graintfjall
Great Korvax Empire
Gyatso-Kai
Hapilopper
Harmonia
Hopal
Huayramarca
HUElavia
Independent Athletes from Quebec
Indusse
Ingont
Jeruselem
Juvencus
Kandorith
Kelssek
Kethsi
Kimi-Suomi
Ko-oren
Koronavia
Krytenia
Kuraita
Legalese
Lisander
Loyo
Macbon
Mercedini
Mertagne
Milchama
Montaña Verde
Mystylands
Mytanija
Natanians and Nosts
Nephara
New Eestiball
New Gelderland
New South Yukon
North and South Vietnam
North Cassadaigua
Nyowani Kitara
Oberour Ar Moro
Ochre Islands
Olastor
Omerica
Pasarga
Pemecutan
Pluvia and the Saxean Isles
Poafmersia
Polkopia
Pyazhnaya
Qasden
Quakmybush
Ranoria
Reçueçn
República Guanacasteca
Rouyoute
Saint Eleanor
Sajnur
Saltstead
Sannyamathland
Sargossa
Sarzonia
Saterun
Savigliane
Savojarna
Schima Bas
Sendhang
Sevendia
Sharktail
Sixty-ninE X
Soldera
South Covello
Southern Palm Islands
Squidroidia
Squornshelan Remnant States
Srednjaci
Starblaydia
StrayaRoos
StrayaRoos Barrier Islands
Sudilia
Talannua
Tecoia
The Cordian Isles
The Finntopian Empire
The Holy Empire
The Jovannic
The Karodin Tetrarchy
The Licentian Isles
The Republic of Covelandia
Tikariot
Tjorl
TJUN-ia
Togonistan
Trolleborg
Tumbra
Turori
United Adaikes
Valanora
Valentine Z
West Barack and East Obama
Wreckeria
Xanneria
Xitizian States
Yakk
Yuezhou
Zeta Reka and Hugeltaldom
Ziwana
Zwangzug