While
Emotional Support Crocodile has drawn attention
to the headline claim in a recent BBC article about rent affordability in the UK, I'd like to look a bit deeper into the story the BBC ties it into.
You cannot make sense of this analysis unless you read
Property guardians move with the times to save cash.
Here are the passages from that article I'd like to draw your attention to:
Kevin [
note: Kevin is aged 55
] is one of the UK's estimated 10,000 property guardians. He pays a property management company a monthly fee to live in what would otherwise be an empty building. Guardians are subject to a monthly licence agreement that affords them fewer rights than a full tenancy - they can be given just 28 days' notice to leave and don't have the right to exclusive occupation of the property.
Properties are subject to health and safety regulations, so should be kitted out with suitable sleeping, cooking and washing facilities, if they don't already have them. They must also have functioning water and power supplies and be clean and safe.
The management companies look after the buildings on behalf of the owners. The thinking is that occupied properties are less likely to attract vandals and burglars. It is also cheaper than employing a security firm and avoids the property becoming derelict.
Demand is on the rise, fuelled by the housing shortage and the cost-of-living crisis. The Property Guardian Providers Association (PGPA), which represents management companies, says that in 2020-21 [
note: the phrase "cost of living crisis" was popularised in early February 2022
], some 32,000 people applied to become guardians. It expects that to rise to 50,000 this year. In fact, the PGPA is warning the sector might not be able to meet demand because of a shortage of owners coming forward. It says they are deterred by having to comply with planning regulations designed for permanent homes when they would only be offering temporary housing...
Graham Sievers, the PGPA's chair, is keen to clear up one common misconception. "The security aspect that guardians provide is simply by being in occupation," he says, reiterating that empty buildings are more likely to attract anti-social behaviour and squatters. "The guardians themselves are not expected to be security officers or patrol the building." He insists guardianship is not a last resort for desperate people...
The property guardian movement originated in the 1990s in the Netherlands, where there are now about 100,000 guardians. But it has yet to break into the mainstream in the UK. Concerns have been raised about living standards. A recent report for the government found that "poor conditions prevail in property guardianship" in England. That's despite efforts by some companies and the PGPA to professionalise the sector...
A spokesman for the Department for Levelling Up, Housing and Communities said: "We do not endorse or encourage property guardianship as a form of housing. We recognise, however, that people have the right to make their own informed decisions about their housing choices and property guardians and local councils should follow
our extensive guidance on their rights and responsibilities
."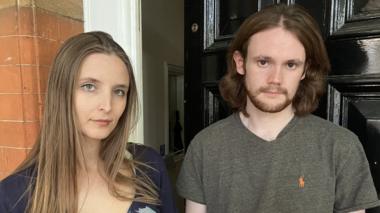 So what does this have to do with
Growing share of under-30s pay unaffordable rent
? I just told you Kevin was in his fifties!
Megan Stephens and Richard Stranks, from London [
note: pictured to your right
], had their rent put up from half their wages to two-thirds of them. "We were not expecting such a big increase... that was the real punch in the gut," said Mr Stranks...
[Megan and Richard] decided to move out of their house-share last June, as they felt like they had no alternative. "My income did grow a little bit, but not by as much as the landlord increased the price," said Ms Stephens.
The couple have now found cheaper accommodation as property guardians of a former local authority office block in Newham, east London. They may have to move out with a month's notice, but they said the move was an easy decision. "It means that I can save, and that's a big thing for me" says Ms Stephens.
(Rather astonishingly, the two articles were published about a day apart.)
I have no problem with this thread being used to discuss all aspects of property guardianship.
For the time being, however, I'd like to focus the spotlight on one question:
Should we be worried about the rise in property guardianship?
My first thoughts are that the BBC appears to be blowing this particular issue (which I hadn't even heard of last Tuesday) a bit out of proportion, almost akin to
their 2019 obsession with Caroline Criado Perez
. But given that there are way more applications than places - a relatively long-running trend - and the successful applicants have unusually great responsibilities anyway, then if people are just applying because they need to save money without considering the necessary upkeep, that is concerning.