BLACKTOP CHRONICLES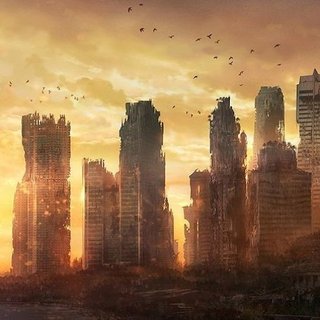 OP = Olthenia | Co-OP = Lazarian
The sun – bright and merciless – rises on a world scarred by radioactive fire.
It's been more than a century since that cataclysm; however, and things have changed since then - in strange, odd, and perhaps not entirely predictable ways. Call it weird science, alien interference, or just straight up unforeseen consequences – but this? Oh, this world is one warped and altered from the one your ancestors knew. And now, you're here – picking at the scraps. Preferably, the scraps of a great, dead metropolis recently discovered out in the semi-radioactive wastes.
All players start with their own band of loveable outcasts, scavengers, thieves and ne'er-do-wells – whether chartered by an outside force, running from what passes for wasteland law, or just plain drawn to the rumors of good salvage. They are men and women not far removed from their primitive origins – but with the potential to be so much more.
---
So! This is basically just a lovely little RP. Some basic things you might want to know about how I'm going to be running it are outlined below.
All crews begin with five members, and I'm only accepting five or so crews. You may (most likely will) acquire more members as the RP progresses, because who can get much done with so few people?
You should expect to make an IC post once every 48 hours IRL, and only one. A nice simple straightforward expectation, no strings attached. These posts correspond to the passage of roughly three months, in-character.
All crews will begin with a set of three "resources", uncommon materials that will be tracked as vaguely important in the "region" where they live. You will be allowed to choose one of these resources, but the rest I will generate. These don't include generic materials like silt, mud, sunburns, and the ever-present sense of fear and paranoia. Keep your assumption of what is generic reasonable - copious amounts of copper wiring, for instance, is a resource, not something you can just assume your crew has. This is the post-apocalyptic desert - even brushwood is a rare and valuable resource!
Crew members should be assigned roles upon starting the IC. These roles, broadly speaking, follow the post-apocalyptic setup called 'Tinker, Tailor, Soldier, Spy'. They are important, and may not be changed, but the acquisition of new members will help you balance out your decisions if you think you have chosen poorly.
Techies
– The wasteland has its wonders too, as well as its horrors. Techies, be they old-school scientists or outlaw mechanics, appreciate those wonders more than most. If there are challenges to be understood, poisons to be brewed, electricity to be rigged or a clever solution needed to an intricate problem? Find a Techie.
Workers
– There's a surprising amount of actual, honest-to-God work to be done in the post-apocalypse. Whether it's putting up makeshift fences to keep bad things out, sewing a new tribal war-banner or doing any of the myriad things it takes to keep a camp running – Workers are your go-to people.
Fighters
– Whether you call them 'mercenaries', 'security specialists', or just straight up 'thugs' with machetes and home-made guns – Fighters are what they are; big, bad troublemakers. When things go bump in the Blacktop night, these are the survivors who generally bump back.
Scouts
– Trackers and trail-steppers. Hunters and trappers. Out in the wastes – be it urban hellscape or irradiated wilderness – these people are the ones that'll get you out there and back again in one piece. For purposes of exploration and mapping, Scouts are your best bet.
Code: Select all

[b]Crew Name[/b]:
[b]Origins[/b]:
[b]Members[/b]:
[b]-[/b]
[b]-[/b]
[b]-[/b]
[b]-[/b]
[b]-[/b]
[b]Starting Resource[/b]:
Now, for a little something special. Your crew is not just a random grouping of vagabonds and loners. They're out here with a purpose. After all - what man would travel to the Blacktop without a damn good reason why?
EXAMPLE
Crew Name
: The Samplonians
Origins
: Unspecialized Survivors
Sam P. LeSurvivor (Worker) [Builder]
John Smith (Worker) [Hunter]
Julie Ceasar (Fighter) [Tough as Nails]
Allie Einstein (Techie) [Knack for Tools]
Lewis Merriweather (Scout) [Stealthy]
Starting Resource:
Fibercorn
---
Accepted Crews:
The Third-Run Blackhearts - G-Tech Corporation
A-No.1 - Beutarch
Children of the Spark - GAmeTopians
Chem Dogs - Ralnis
Blacklighters - Theyra
The Picketts - Lazarian
Field Team BTP-02 - Pragia