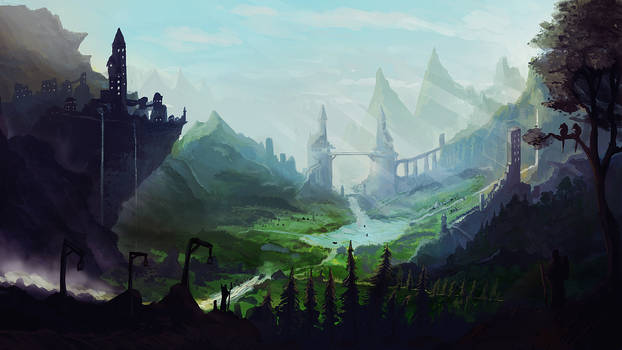 ---
Welcome to the Crags...
---
...a region of jutting, rocky mountains and deep, forested valleys. Several towns and villages have prospered here for centuries, ruled by the families who boast the oldest bloodlines. The center of power for the region lies in the largest town, Hydel, ruled by Lord Titan Madreus, whose family's human lineage is rumored to have mingled with giants.

You have traveled east from the Sword Coast, contracted by a company of merchants who have offered to pay you for your assistance in escorting their caravan. The man who recruited you is called Peter the Bastard. The contract stipulates that they will pay your party a portion of the total now and the rest once they have safely delivered whatever it is they have secreted away in their wagons. The contract forbids you from asking about, let alone peeking at, this item which they guard so closely.

As your party and the caravan nears the mountain pass which is the main entrance to The Crags, your final destination, you try to focus on the final reward which is close at hand, but cannot completely put the strange air of secrecy or the nervous whispers of the merchants out of your mind.
---
D&D can be pretty challenging to play on a forum, so my goal for this RP is more or less to capture the spirit of fifth edition D&D while still being able to run as smoothly as possible. That means the structure will be more focused on roleplay than math, HOWEVER the skills and abilities of your characters will still come into play when attempting to influence the world and the NPCs in it, as well as combat. I will be controlling all non-player characters.
This campaign is something I worked on myself for a group that I play with IRL, and I'm going to adapt it for play-by-post. There is an underlying plot line, but I won't hold you to it. There is a world i've built here, and you're more than welcome to explore it. It is roughly based on the Forgotten Realms, but the Crags is a region that I created within the wider world of Faerun. Play will be limited to this region for now, but its large enough to allow freedom and immersion.
The pace will obviously be slower than tabletop, and we will be a bit looser. You should not ever dictate the effects of any direct action you take to influence the world or the NPCs. This means that if you are attempting to
intimidate
an NPC, you will still roll (based on your intimidation skill) and that will determine the degree of your success, and I will write that out. If you are casting a spell that targets somebody else, or breaking down a door, you will roll for that based on the appropriate skill. I will serve to determine success/failure and operate the world around you.
It will work like this: I will set up the scene, your party will each make a post (or a series of posts if necessary) interacting with the scene. You are encouraged to flavor it up with roleplay, but at the end of that you will declare your actions in parentheses if you are attempting to take an action against or influence the world. After that, I will continue or finish the scene based on what you have done (or not done). I really want to emphasize the roleplay, so don't be afraid to give us flavor.
---
Code: Select all

Name:
Race:
Class:
Backstory:

Your characters will be level 3. The code serves just as a basic character application. The spoilers contain links to basic info about the races/classes in order to help you form an idea for a character
Fill out the code and submit that here, and then use either of
these
links
to build your full character sheet which you will send to me in TG. Or you can use
this sheet
to do everything manually. Whether it's a link or a PDF, i don't care. You may have to make an account for DnD Beyond, it's the easiest, but most limited option. To calculate your stats, we are using point buy, and you can find a calculator
here
.
Your backstory doesn't have to be your entire life story. All I need to know is your reason for, or how you came to join up with the merchant caravan that you are escorting. Basically how you came to be with the party. The common theme will be that you were all recruited by Peter the Bastard to escort his caravan and it's mysterious cargo.
A note on alignment: so, you don't have to stick within the box of a determined alignment. Your characters are free to have their own motivations, morals, convictions, and you are free to conceal them from other players. Try to make them make sense, and I would prefer if you clue me in on any schemes you have going on. Evil characters are alright, but not evil in the sense of disrupting the campaign. A little conflict within the party is fun, but we want to work together and keep the world moving.
If you need help with anything, feel free to ask here or TG me

---
Rule 1
- Do not write the reactions or actions of other characters or NPCs.
Rule 2
- Do not attack your fellow players unless you both agree to combat. I'll expect a good reason for it to occur.
Rule 3
- No chaotic evil characters, or characters who destroy for the sake of destruction/disruption. We want to encourage collaboration and adventure, not wanton murder hobo shit.
Rule 4
- It's like I tell my IRL players. For good or worse, YOUR ACTIONS HAVE CONSEQUENCES!

Rule 5
- Have fun!