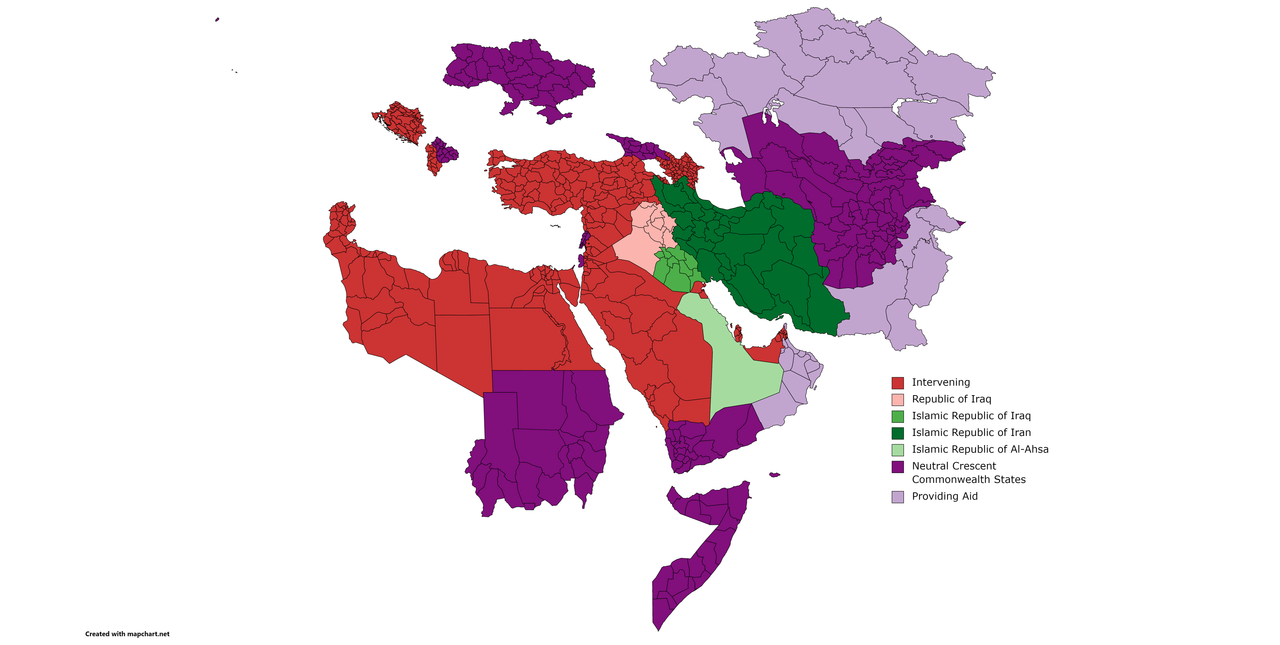 Heart of the Middle-East


IC


A battle for the heart of Iraq to determine the future of the Middle East.
The Levant and the Persianate, the two traditional civilizations of the Middle-East. Once upon a time, these two civilizations once shared the same heart in Iraq; but now it is the borderlands between the modern Levantine Empire, Turkey and its Levantine satellite states, and the modern Persianate, Iran and Iraq. As these two civilizations clash once more in Iraq, the future of the Middle East stands on the brink.

Iraq was divided during the Mesopotamian Water War, a conflict between the Republic of Iraq and the Republic of Turkey over the waters flowing through the Tigris and Euphrates rivers. In fear of Iraq falling to Turkish influence, Iran had swept in to occupy the southern region of Iraq which was Shia-majority and rich in oil; just as it had done so following the collapse of Saudi Arabia, sweeping in to occupy the Al-Ahsa Region. In the aftermath of the conflict, new regimes were set up in both North Iraq and South Iraq, each falling into Turkish and Iranian spheres of influence respectively.

Tensions between North Iraq and South Iraq have been boiling up for decades, and have flared up to the point of war. On April 20, 2069, North Iraqi forces crossed the border and launched an invasion of South Iraq. The South Iraqi forces were able to put up a formidable defense, and have so far repelled and obliterated the invading force. Now, South Iraq launches a counterattack; and with the backing of Iran, invades and seeks to occupy the north. Defenseless, the Northern Iraqi government pleads the Crescent Commonwealth and the international community to intervene on their behalf to resist Iranian influence.

The Crescent Commonwealth as a military alliance is bound by treaty to intervene in the defense of their ally, but technically this was an invasion on part of the North Iraqi government. Moreover, several members of the Crescent Commonwealth have close ties with Iran and are unwilling to risk these relations; causing division and hesitation within the alliance. Turkey, unwilling to let Iraq fall to its main rival Iran, is eager to intervene but yet relents to avoid breaking apart the alliance. Turkey's satellite states and states fearing Iranian influence have also pushed for intervention.

Each Iraq calls upon their allies to defend them, as the North falls back after a failed invasion while the South pushes forwards after a successful defense. The outcome of this conflict may ultimately decide the fate of the middle east, and the balance of power for the next century. Do you support the Turkish satellite state of North Iraq? Or the Iranian satellite state of South Iraq?
---
Rules
---
1. No godmodding.
2. No metagaming.
3. OP's word is law.
4. Modern tech to Post Modern Tech only. Don't bring in Future Tech and call it Post Modern Tech.
Application:
---
Code: Select all

[b]Nation Name:[/b]
[b]Government Type:[/b]
[b]Government Head:[/b]
[b]Intervening:[/b] [Y/N]
[b]Intervention Force(if intervening):[/b]
[b]Providing Aid:[/b] [Y/N]
[b]Aid:[/b]