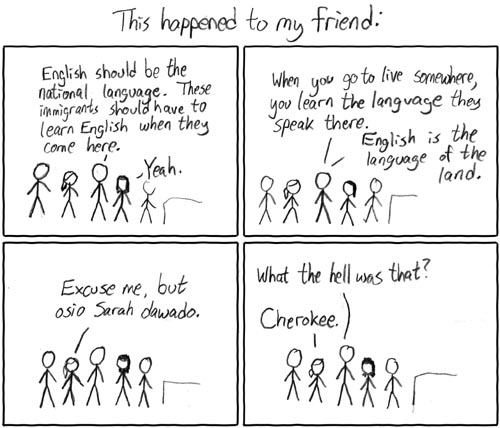 I've never really been sure what to make of immigration.
On the one hand, it sounds pretty mutual, in and of itself, for young immigrants to come to the first world, and make more money than they're used to by working to support the older retirees instead of counting on having kids who'd cost $250000 each to raise.
On the other hand, reasoning like that mentioned in the webcomic has often struck me as flawed, and in turn, as reflecting badly on pro-immigration people as a whole.
A: Doesn't this actually make immigration look like a
bad
thing? It cites a historical example of the migrants destroying the pre-existing cultures of the places to which they immigrated, bringing new diseases with them when they did. Perhaps the idea is that we as their descendants have no right to whine about the same thing happening to us (though quite frankly we didn't choose to be born as the descendants of imperialists) but why would people who supposedly like immigration emphasize its ill effects?
B: If white people all up and left Australia, New Zealand, Canada, the USA, etc... en masse, would there really be any going back to the way things used to be, or have the changes made been too irreversible anyway?
C: What about places to which white people actually are native, like Europe? Is nativism okay there? If so, why is it condemned there as well, and if not, why does anyone feel the need to invoke "white people aren't native to the countries they colonized" reasoning if that isn't really what they have a problem with in the first place?