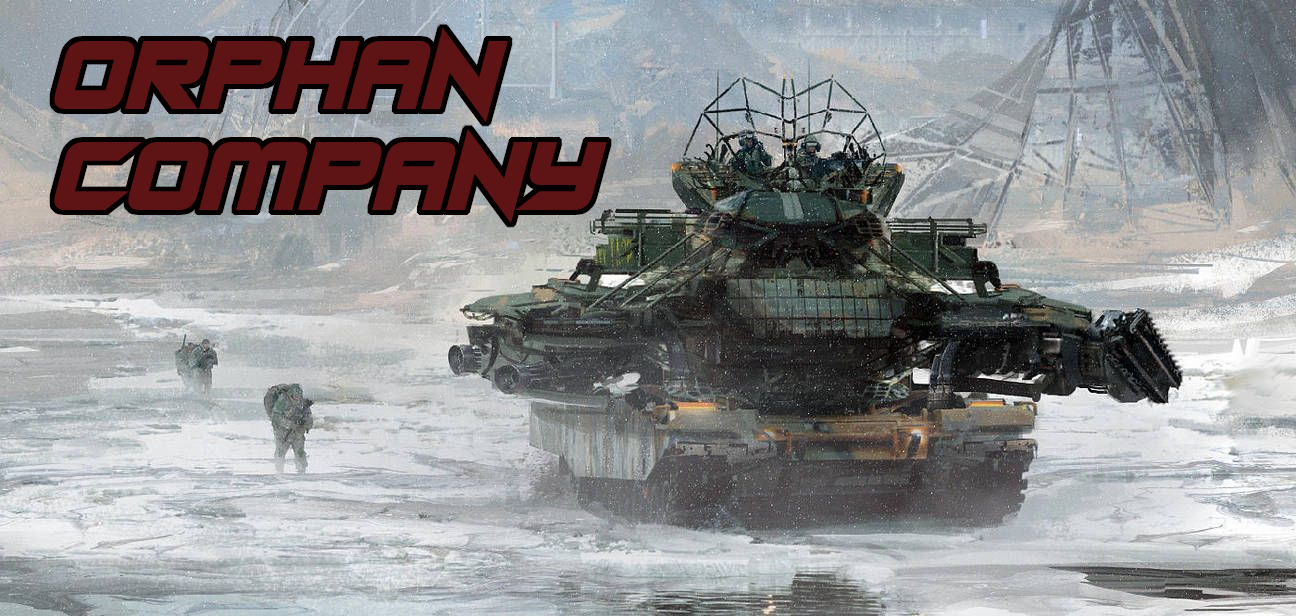 Co-OPed by Arengin Union, Bingellia, Europa Undivided and Khasinkonia
Welcome to Orphan Company, a character RP set in the year 2137. In this RP you will play the role of a one of the few free human survivors in the aftermath of a brutal alien invasion, or one of their friendly alien allies.
Nine years ago earth was invaded and overrun by a seemingly unstoppable foe from outside of the Milky Way, humanity was ill prepared and the few survivors fled underground where a few small settlements have been established in the tunnels under earth's fallen cities. However, humanity was not alone. A coalition of other races, the 'Federation of Civilised Worlds' are resisting the invasion.
While humanity was never a part of the Federation, anyone lucky enough to get off earth has generally ended up in Federation Space where most people capable of lifting a blaster have joined the 'Orphan Company' (actually a Division sized unit, despite the name), a force of volunteers from Earth and other displaced communities who are determined to stem the tide and, one day, take back their homes. Your character is a member of Company A of the 6th Light Infantry Battalion, one of the best in the Federation. For the purposes of your app, assume that your character is a Corporal unless I tell you otherwise: in some scenes you might be on the front lines in command of a fire team of disposable redshirts, in others you might be part of an elite group behind enemy lines with just the other writers. Not entirely realistic, but hopefully good fun!
The RP is set in the Andromedaverse universe, though there is no requirement for you to have read any of it or even have the faintest idea what it is about.
Finally, this RP is open to latecomers. If you want to join a bit late, we'll just assume you are a private soldier who just got a promotion for some act of bravery.
---
SETTING
---
The Vanishing of the

Destiny

and the Wormhole to Andromeda
In 2026, a multi-national mission to mars was launched from Earth on the spaceship, '
Destiny
'. The voyage was expected to last 300 days, though on day 104, abruptly and without any prior warning, the ship disappeared. As far as the Governments of Earth were concerned, the
Destiny
and all her crew were lost. Eventually, it was decided it must have been some kind of mechanical failure, though no sign of the vessel was recovered.
Miraculously, however, a year later a few surviving crew members reappeared between Earth and Mars, piloting a badly damaged though highly advanced alien spaceship. It was through this mission that humanity learned that it was not alone in the Universe. In the nearby Andromeda galaxy a massive war was being fought between alien races including the monstrous, all-devouring 'Ragons'. They also discovered that there was a portal hidden in the solar system, orbiting the sun and hidden to human instruments. The portal was named 'the Wormhole', though in truth nobody knew exactly what it was. In the years following, numerous expeditions were sent to rediscover it with none reporting any success. Over time it came to be believed that, whatever the phenomenon had been, it no longer existed.
The Golden Age of Earth
Over the following century, Earth entered a golden age of scientific enlightenment. While workable faster than light drives eluded earth's scientists, humanity reached to the farthest corners of the solar system, establishing colonies on Mars, Europa, Titan and Enceladus.
The opening of new horizons, however, didn't result in any greater unity for the human species. If anything, the opening of new frontiers only served to fuel old rivalries and divisions between the Nation-states and other human factions. Earth's problems continued to be fought out, but across the solar system rather than on the one planet. Russian and NATO vessels skirmished in deep space. Chinese and Japanese soldiers clashed over land claims on Mars. Brazilian colonists on Titan fought for independence from the Motherland.
The Fall of Earth
On 4 August 2128, however, everything changed. Appearing from the almost-forgotten wormhole came a small fleet of three highly advanced alien vessels which, as it turned out, belonged to the Ragon Empire, one of the races mentioned by the survivors of the
Destiny
, just over a century earlier. The Ragons had won the war and were here to conquer.
The Nations of Earth scrambled to repel the invasion, for the first time in Earth's history, forming a united front. The Ragon fleet was defeated, with only one ship limping back through the wormhole. The Nations of Earth celebrated. For a week.
The three Ragon ships, it turned out, had only been a scout force. On 11 August 2128, a fleet of just over 100 larger and better armed vessels appeared in the solar system. The fleet of the Nations of Earth was utterly destroyed within the first hour. Within the day all communication with the colonies was lost by the 12th. What happened to the people on those worlds remains a mystery.
The invasion of earth lasted about a month, nobody knows exactly how long. Millions of people were killed, tens of thousands devoured by the invading Ragons. A huge number of surviving humans were taken off-world to an unknown fate, though many more have been corralled into huge farming settlements where the few escapees report humanity have been reduced to livestock, feeding the Ragon army as it continues its rampage across the milky-way. A small number of people evaded capture, fleeing into the remote wilderness or into the tunnels under human cities.
Since then, a few humans have managed to escape from Earth with the help of the Federation or escaped/been rescued from Ragon space installations. Their numbers are few, but many dream of one day retaking earth.
Nine Years On
Following on from the initial invasion, the Ragon forces pushed on into the surrounding systems, many of which were controlled by the 'Federation of Civilised Worlds'. Prior to this point the Federation had not seen a major war in three millennia and their military was unprepared and ill-equipped to deal with the Ragon assault. World after world was lost to the invaders.
Despite initially making vast gains, the Federation was not so easily destroyed. It quickly switched to a war footing, bringing it's population and industrial capacity to bear against the Ragons and year by year, Ragon victories have become more costly. The Ragon forces finally pushed on to Greskia, one of the two Federation capital planets, though Federation intelligence indicates many of their units are now operating understrength. They quickly captured key positions and batteries in the Western hemisphere, though they were unable to capture all of Greskia's heavy planetary batteries meaning that their blockade of the planet remains incomplete and Federation blockade runners have been able to ferry in reinforcements, including the Orphan Company.
The war on Greskia has ground on for close to a year, with the Ragons pushing forward bit, by bit, until now they are on the outskirts of Saridat, the capital city where the Orphans, along with two other Federation Divisions have been tasked with holding the city, and it's all-important planetary battery at all costs. If the city falls, the planet will be all-but lost, the Federation's industrial base will be irreparably damaged and the psychological damage will be incalculable. If, however, the defenders succeed in holding the city, the Empire's forces might have been ground down so far that the Federation is finally able to take the initiative.
The Orphan Company
"Better Together"
The Orphan Company initially had nothing to do with humanity. Indeed it was founded a century or so ago, while Sol was (in the eyes of the older races in the Milky Way) a primitive backwater, it's inhabitants incapable of leaving the confines of their system. The Orphan Company was, initially, formed of exiled Inuv warriors who hired themselves out to anyone in need of mercenaries.
After the Ragon invasion of Federation space, however, the sitting General of the Company, Tirnin Shrandat called for a vote amongst his troops. His proposal was that they offer to assist the Federation without remuneration beyond what was necessary to keep his troops fed, clothed and supplied, reasoning that if the war was lost, the Company would be annihilated by the Ragons anyway. The vote was carried and the Federation accepted the mercenary company into service. General Shrandat then threw open the doors of the company to all manner of other 'orphans' who the war had deprived of home-worlds.
Humans have flocked to the Company Banner in large numbers along with numerous other aliens and the 'Company' has slowly grown to a Division sized unit of around 15,000 soldiers. The division has a reputation for ferocity, particularly the 6th Light Infantry, who are regarded as amongst the finest special forces regiments in Federation service.
Amongst the first wave of humans to sign up was an ex IDF trooper named Rebecca Cohen. Cohen currently holds the rank of 'Major' in charge of Company A of the 6th Light Foot and is counted amongst General Shrandat's inner circle. Cohen and Shrandat have concocted a plan to, in the event of a military victory, resettle earth as a heavily militarised, multi-species, unitary state to act as a buffer against any future incursions from the Andromeda galaxy. Their plan for the 'Union of Earth' has been shared widely and while many people see it as an impossible dream, it is something to strive for. If the Federation can hold at Greskia, their dream will look a lot more realistic.
---
LORE
---
As much as I hate threads with huge amounts of lore, a certain amount is necessary to keep us all on the same page! There is also a bit of background on the different species here which you may or may not be interested in.
What is a Ragon?
Technology
As this is sci-fi, there are a number of pieces of technology that will be mentioned in the RP. Here is some info on them:
Skrim Drive
: The Skrim Drive is the basic FTL drive used by all species in the both galaxies, allowing them to phase across to hyperspace where an object can travel faster than light. Opening a hyperspace window requires a lot of energy and several minutes to 'spin the drive up'. Skrim Drives are prone to overheating and longer hyperspace journeys will need to be made in hops. That, along with the speed limitation means that most journeys between stars will take days or weeks and movement between galaxies is believed to be impossible.
Most ships can detect a hyperspace window opening or closing a few minutes before the ship utilising their Skrim drive moves through it.
Translating alien languages
: Translator nanites injected at birth (or later in life for those born on a less advanced world) are the preferred method of translation though not everyone is comfortable with injecting small robots into their brain and, as such, there are also translator earpieces in circulation, though you do need to remember to put these on! It is assumed, unless stated otherwise that your character has been injected with nanites.
Energy weapons (Blasters)
: Most weapons used in warfare are energy weapons. Units that are not connected to a generator (such as handheld weapons) will require a battery pack that usually allows for around 100 shots to be fired before needing to be swapped over. A person struck by an energy weapon can expect serious, deep burns with a high chance of death if the discharge travels through a major organ.
NB: Humans did not have these weapons prior to encountering the other Milky Way species, which is a large part of why earth fell so quickly.
The standard issue Federation blaster (which it is assumed you all have unless you want to take the old version) is the 'Mk LVII'. This is a bolt action weapon that fires a much heavier charge than the automatic 'Mk LVI'. Unlike the LVI, the LVII will always penetrate a Ragon's hide, though it still struggles to go through Ragon body armour.
Shields
: Large ships are always fitted with energy shields to prevent damage from space debris as well as weapons from other ships.
Body Armour
: Body armour is generally light and only designed to protect from shrapnel; to protect from a Ragon weapon you'd need to be armoured like a main battle tank… which, coincidentally, the Ragons are, making them extremely difficult to stop.
The Major Species of the Milky Way
---
But Dyelli, I hear you cry, they are all rubber forehead aliens! Where are the more interesting ones?
Those, dear reader are for you to design. The major species are all rubber forehead aliens to make it easier for you to find original concept art so your characters don't all look the same.
Kylantha has also given people permission to use the Yattun Species.
---
THE RULES
---
And because it seems important to include these, here are a few rules for how to behave on the NS forums, just in case you hadn't figured it out already:
Decisions


My word and the word of any and all Co-OPs is binding. If you don't like a decision, you can, of course, ask for us to reconsider it. Once. If we made a decision you don't like, complaining for pages and pages is not going to endear you to anyone. Not me, not the Co-OPs and not your fellow writers.
On that note, I run my threads as anarcho-communist cooperatives. This is an unnecessarily complicated way of saying that my word

DOES NOT

overrule theirs. If there is an appeal and a dispute amongst the Co-OPs we will take a vote on the matter.

Post Quality


I don't have a problem with short posts but please use proper spelling (I don't care what regional variant), grammar etc.
Ideally also try to include a 'hook' when you write a post, which is to say something that gives other people something to respond to. If your post is something along the lines of 'Bilbo Baggins stayed in his room and read a book while the world was ending', don't be surprised if nobody responds to you.

Posting Commitment


Nothing is worse than making an RP only for it to die. Please take a look to see if there is a place for you to post at least every 48 hours or so. If you find yourself unable to post, please let me know in the OOC thread for an extended period of time. If it looks like you've abandoned a character, particularly in the middle of a fight scene, I might decide to kill them off in a hilarious manner.

Posting Speed


On the flip side, blitz posting can also be infuriating. So, especially during the important scenes, I recommend giving your fellow players a reasonable time to make a reply. We all have real lives. That being said, if someone leaves everyone waiting for over 48 hours, feel free to carry on the scene without them.

OOC thread Manners


Nothing annoys me more than bad manners on an OOC thread (apart from that 'Look at my horse, my horse is amazing' song). Swearing, passive-aggressive sniping or any other rude behaviour are not welcome on the OOC. I will warn you once. If you can't control yourself I will ask you to remove yourself from the thread.

IC thread Manners


Remember, we are writing a story together, not playing to win.

Character Death


Player death is possible in this RP, though will be quite rare and easily avoidable. Please don't write that you have killed another character unless you have OOC permission from the character's owner to do it. Beat them into a pulp or take them prisoner, but don't kill them. Having said that, if someone does something really stupid, I reserve the right to announce your character has got themselves killed. Likewise, if someone goes inactive in the middle of a fight scene without explanation and cannot be raised, I may decide to kill their character off.

Godmodding


If your character is unfairly refusing to take any damage I will write them taking damage for you. You're welcome!

Keep it PG13


Shouldn't need to be telling you this really but keep the erotica and gorn off the thread. Hopefully you all know how to write forum-safe stuff. I will be extremely disappointed if the mods have to pay us a visit.

Banning Players


I really don't want to be doing that but reserve the right to do so if you cannot follow the (hopefully, rather simple) rules above.
And finally, the bit you've all been waiting for...
---
APPLICATION FORMS
---
When filling in an application form, please delete everything in parentheses.
Character App
The only current rules for characters are:
No psychics or similar unless that has been agreed in advance.
No custom weapons that make everyone else's gun look like a pea shooter.
No armour which makes my statements about armour in the lore section invalid.
Also please remember that you are Special Forces. While we won't accept characters who murdered their way through the Ragon forces without a care in the world (in an encounter with one you are always outmatched), similarly we won't accept a character who has no discernible reason to have been allowed into the 6th Light Infantry.
Code: Select all

[box]
[size=150][b]Character Description[/b][/size]
[list][b]Name:[/b]
[b]Species:[/b]
[b]Gender:[/b]
[b]Age:[/b]
[b]Appearance:[/b] [spoiler](Feel free to describe with text or put pictures in here. If you are using a picture, personally, I find it easier to picture a character who is shown in photo/realistic drawing though I'm not going to get funny about anything else. Unless it is your personal stick-man art. I might draw the line at that.)[/spoiler]
[/list]

[hr][/hr][size=150][b]Strengths and Weaknesses[/b][/size]
[list]
[b]Skills[/b]: (Is there anything you are significantly better at than most other people?)
[b]Weaknesses[/b]: (Is there anything your character is really rubbish at? Not essential you put anything in, but can be fun)
[/list]

[hr][/hr][size=150][b]Backstory:[/b][/size]
(the most important bit! How did your character come to be in the Orphans?)
[/box]
Species App
I am going to assume that anyone making a species app would prefer the species be reserved for their use. Additionally, there are a few rules for new species:
You cannot create a psychic race or similar.
Your race cannot be immune to blaster fire.
Your race cannot be inedible to Ragons. This is to maximise the threat the Ragons pose to your character/s.
Your race cannot be allied to the Ragon Empire. The Ragons regard all other species as animals and do not form alliances.
Your race cannot be another great power. This will upset the plot.
If you want to make your race super long-lived, there should be a good narrative reason.
It is preferable for your race to have lost it's home to the Ragon invasion. Not essential, but if you decide not to go down this route you'll need to think up a good reason for your character to be in the Orphans.
Please remember that your species app serves as background for your character, not the other way around. We reserve the right to ask you to go back to the drawing board if the race is underdeveloped or ridiculously overpowered.
Code: Select all

[box]
[size=150][b]Species Description[/b][/size]
[list][b]Name:[/b]
[b]Singular:[/b] (what do you call one of your species on their own)
[b]Plural:[/b] (what do you call a whole lot of your species)
[b]Adjective:[/b]
[b]Appearance:[/b] (If you are using a picture, please include a bit of info on how much variation in appearances there is among the species) [spoiler](Feel free to use a picture here)[/spoiler]
[b]Biology:[/b] (what is special about your species that you can't tell by looking at them? Night vision? Stronger than average?)
[/list]


[hr][/hr][size=150][b]Background:[/b][/size]
[list][b]Home-world[/b]:
[b]History[/b]:(Tell us a bit about your species)
[/list][/box]