The Eagle's Club is proud to present Eagles Cup, a modern era re-incarnation of the historic Eagle's Cup. 16 esteemed nations from throughout the multiverse will compete over 9 Matchdays to lift the Eagle's Cup and earn their place in the Eagle's Club, securing their place as a competitor and potential host in future Eagle's Cups.
Format
:: The 16 nations will be split into two 8-team sub-competitions. Each competition will have two groups where 4 teams will play each other nation twice, once at a stadium of their choosing and once at a stadium of their opponents choosing. The first sub-competition is the Cocoa-bo Challenge Trophy which traces direct lineage to the original Eagle's Cup including the representatives from the Eagle's Club and At-Large entrants. The second sub-competition is strictly invite only, tracing a direct lineage to the Cup of Champions and representing only Major, WCC & Confederation Champions. From there, the top 2 nations in each group table will advance to the Semi-Final round of each half to be held at an official Eagle's Club location. The winners of these matches will receive a special trophy from the Eagle's Club that also grants the nations honorary status with the Eagle's Club for one competition cycle and advance to the Final of their half. The winners of the Eagle's Club Half and Champions Half will advance to the Eagle's Cup Championship match presented by Cocoa-bo where the winner will be crowned overall champion and granted entry into the Eagle's Club. A third place playoff will also be contested back at the Eagle's Club where medals for the Top Three finishers in the overall will be awarded.
Venues
:
Group stage matches are standard Home & Away fixtures
Knockout Round Matches shall be played at an official Eagle's Club location with preference to the Eagle's Club facility of the highest Seed unless no suitable Venue is available
The Final for the Cocoa-bo Challenge Trophy shall be contested at the Eagle's Club in Eelandii, Turori
The Final for the Cup of Champions shall be contested at the
Eagle's Club in Dodoma, Banija
The Final match of the competition shall be the Eagle's Cup Bronze Medal match to be contested at The Eagles Club where all medals will be awarded in a final ceremony.
Transportation support for teams competing in the Eagle's Cup is available through the multinational Logistics and Holdings Company CoCoCo. Cocoa-bo, a primary holding of CoCoCo which heavily leverages the CoCoCo Logistics infrastructure has been signed as the presenting sponsor of the tournament and will have traveling Cocoa-bo booths at all tournament venues.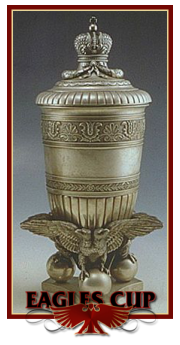 Eligible Participants
:: The bylaws of the Eagle's Club denote guaranteed entry for up to 8 Nations into the Eagle's Cup as follows:
Eagle's Club
Members - Minimum 4 entrants into the Eagle's Cup via the Cocoa-bo Challenge Trophy
Eagle's Cup
Semi-Finalist - Maximum 3 Entrants into the Eagle's Cup via the Cocoa-bo Challenge Trophy
Non-Member
Applicant
- Minimum 1 Entrant into the Eagle's Cup via the Cocoa-bo Challenge Trophy
Should the Eagle's Club contain fewer than 4 active member nations then the Eagle's Club allocation to the Cup shall be reduced accordingly. The Eagle's Club shall fill these slots with Non-Member nations by means of Selection, Invitation or Application as necessary to fill the field.
Should the previous cycles Eagle's Cup semi-finalists include Eagle's Club members, or, should any of the previous cycles Eagle's Cup Semi-Finalists fail to send a delegation to the Eagle's Cup, the Eagle's Cup Semi-Finalist's allocation to the Cup shall be reduced accordingly. The Eagle's Club shall fill these slots with Non-Member nations by means of Selection, Invitation or Application as necessary to fill the field.
Per established precedent, entry for up to 4 Nations each into the
Champions
and
Confederations
Groups may be earned earned via triumph in recently contested World Cup Committee and Regionally sanctioned Championships with replacement nations to be selected at the discretion of the Eagle's Club Committee.
Eagle's Cup IX Semi-Finalists

Græntfjall
Current Edition Participants
:: The Eagle's Club have determined the field for the Eagle's Cup to be inclusive as follows:
Cocoa-bo Challenge Trophy
Eagle's Club
:: The eligibility of Eagle's Club members Eauz, Kingsford and Cosumar are currently in an inactive status. As the once independent nation of Bedistan is now part of the Unified Capitalizt States, the Eagle's Club membership and reserved place in the Eagle's Cup is extended to the Unified Capitalizt States. Temporary Eagle's Club status may also be granted to select non-champion nations based on their final position in the previous Eagle's Cup competition.
Applicant
:: At least 1
Additional slot in the Eagle's Cup is available to a nation selected by the Eagle's Club who has submitted an application to the Eagles Club
. Additional slots may be made available to non-member applicants if selected delegations are unable to participate. As Invitations are sent out, and delegations formed, all participants will be informed.
Cup of Champions
Eagle's Invitation
:: Per defined precedent, the tournament slots in the Champions and Confederations half of the draw will be afforded to, in order:
- World Cup Champion
- Cup of Harmony Champion
- Baptism of Fire Cup Champion
- AOCAF Champion
- Copa Rushmori Champion
- Independents Cup Champion
- Campionato Esportiva Champion
- At Large Champion at Eagle's Club Discretion
::
Group Allocations
::
---
Tentative
Schedule
::
Projected RP Cut-off in Red
~11:00PM EST
Roleplay Challenges
::
Roleplay Challenges will be offered to help inspire contributions that will be both Fun, Informative to your opposition and historically relevant for future usage in your nations World Building or factbooks! Some prompts may be re-used from prior Eagle's Cups. If you re-use content from a prior Cup please expand or improve on the contribution for this Cup. if you missed hte
MD1/2
:
STATUE WORTHY
::
Imagine that you are able to go back into history, and pull every single player who has ever put on the national team colors in this sport.

Who are your best players of all-time? Who would make an all-time starting XI of your nation, and why?
MD3/4
:
MD3/4 RP Prompt:

The beautiful game is always talked about as the ultimate global sport. Specifically- who are the most popular foreign players in your country? What are the most popular foreign teams, both national and club, in your country? Are any players or clubs from opposing squads in your group popular in your country?

Graphic Bonus:

Give us the logo of any domestic media companies that provide coverage to foreign clubs and national teams in your country. Alternatively, an image of any sort of item in your nation that fans would have a foreign athlete sign.
::
MD5/6
:
Location, Location, Location. Some nations have certain parts of their country that are seen as hotbeds for developing top-tier young talent.

What cities and regions produce the most top-tier football talent in your country

, and/or a disporportionately high amount of professional football talent relative to the population? Does your nation supplement that homegrown via aggressive recruitment of dual-nationals? If so, where do those dual-nationals come from?

Graphic Bonus:

Imagery of cities/regions, or symbols of those cities/regions, such as flags or maps or whatever else.
Quarterfinals
:
Picture Perfect.

What is the most memorable moment in this sport's history in your country? Is it your nation earning their first trophy? Is it your first World Cup Qualification? Or is it domestic, being a dramatic photo finish league title win on the Final Day? Give us all the details! The background, the moment, the emotions behind it, the memories people feel now- all the intricate beauty for your country's greatest footballing moment of all time.
Semifinals
:
Fan Culture.

For nations who make it this far, there will be visions of a trophy dancing in their eyes. The Eagle's Cup is unique in the fact that these semifinals double as miniature Cup Finals. So let's focus on those very fans. What is the fan culture around your national team? Are they violent? Are they political? Do they welcome visiting fans as they enter your country? Will Banijan police groan as your fans descend upon their city for the semifinal? Tell us everything there is to know about soccer fans, both national team and club(if you want), in your nation.

Graphic Bonus:

Any sort of banners or instruments fans in your nation would carry/play into the stands or on a march to the match.
Final Prompt
:
Winning.

If you've made it this far, you know that you're good at winning. Your squad is competing for a trophy in these semifinals, and if you make the Final, you will have a trophy in hand as you go to collect your second- the Eagle's Cup. But as is true with all Finals, nerves are at a fevered pitch. What do your fans and players do to calm their nerves before a tournament Final? And if they win, what will the celebrations look like? Will they take to the streets, will they riot? Will players call their mothers for the first time in years? Will players take their winner's bonuses and splurge on a new fishing boat? Give me all the details!
Equipment
::
Tropicorp Sports will be the provider of the official ball used during all Eagle's Cup matches.
Sponsors
::
Cocoa-bo Challenge Trophy



:: Cocoa-Bo Eatery


Cocoa-bo, an establishment taking its name directly from the beloved national animal of Turori, started as a small dessert shop in Kionao. However, it was only after they added chocolate topped drinks to their menu that their popularity started to soar. As more and more patrons scooped up their chocolate flavored pick-me-ups, demand for the Cocoa-bo product skyrocketed and soon new franchised locations were popping up all throughout Turori. Shifting to more of a social 'hang-out' then just a casual place to drop in, get a dessert, and leave, the new locations started adding small foods such as Bagels for the morning, Soups and Sandwiches for Lunch or Dinner and Salads for the entire day.

Cocoa-bo has expanded outside of Vilita & Turori. Their first regional location was opened in Andossa Se Mitrin Vega and Cocoa-bo has opened temporary locations during major internationstatal events such as the World Cup Finals with past locations appearing in Drawkland and Cosumar. Cocoa-bo has a permanent presence in South Covello and is also continuing to grow its presence in Starblaydia, the Equestrian States and the Free Republics. The company continues to further increase its image by partnering with Motorsport teams and expanding the company footprint across Atlantian Oceania and beyond. Cocoa-bo are also the kit sponsor for Mliona-Lpaka AFC in the Vilitan League. Cocoa-bo's largest current markets are, in order, Turori; South Covello, the Equestrian States, Vilita and the Free Republics. Cocoa-bo's most recent major expansion was to the region of Rushmore through its hub in Starksville, Cassadaigua. Cocoa-bo has also entered the business of product licensing and outsourcing after establishing an exclusivity agreement within the Commonwealth of Baker Park for bottling, distribution and local product with the BCEL Beverage Company to maintain a product line of Cocoa-bo drinkables in the Commonwealth.
Cup of Champions

:: Regional Transit Corporation

The Regional Transit Corporation is a privately owned, for-profit corporation from the Kingdom of Banija that builds and operates Public Transit systems in cities and metropolitan areas across the world! Its corporate global Headquarters are in Rosaria, which is the capitol city of Eshan.
** Nations whom have already confirmed participation AND appear in the above list of confirmed delegations may begin posting Rosters & RPs in this thread. **