---
Menuju Kejayaan
---
The Federal Islamic Republic of Cereskia commonly called Cereskia, is a Inoffensive Centrist Democracy in The North Pacific. It is Neighbored by 2 nations on the north by Teostirias and Kanpekina Shima, on the south by Gothgraff and Lilium, Yorkburo by the west and on the east byVolstokn. Cereskia covers 1.828 square kilometers and has has an estimated population of 67.6 Million and counting. Cereskia comprises of 22 Provinces and 1 Island Territory.

---

The first peoples who settled on the lands of the would-be Cereskia were the Oseonesians, that founded the Pagan kingdoms that settled there, when Islam came to cereskia, the sultanates slaughtered the indigenous pagan peoples. The strongest kingdom, the Batawi Sultanate, managed to control 18.7% of the Peninsula, while the Volkish navy struggles to keep what remains of their islands.

---

When the Guilleans came in, they named the land "Nueva Guilleana" and the foundations of the future Cereskian capital were built to house more colonists, the colonial capital was then named Cadiz, the indigenous settlers of cereskia were enslaved to work in sugar plantations, the Guilleans held their grip on the land for 273 Years, until the November Revolution, which gradually expanded to control the whole peninsula by the end of 1952.
83 AD: Oldest recorded proof of Oseonesian Settlement

1601: Rise of philosophy and religion

1686: Spread of Islam throughout Cereskia

1702: Formation of the Timurian Kingdom

1729: Formation of the Sultanate of Batawi

1800s: Colony of Nueva Guilleana

1899: Formation of the Free Cereskian Junta

---
Cities
---
Astrana
---
Astrana is the capital and largest city in Cereskia, located in the mouth of Astrana Bay, the city is sliced in half by the Astrana River.
There are currently 11 Foreign Embassies in Astrana,Astrana is best known for the Merdeka Tower (Right) and the Cereskian Telecom Tower (Left) and the grand Mount Jati.
---
Kedari
---
Kedari is the 2nd largest City in Cereskia, the capital city of Batawi Province, it sits near the Palawija Resevoir (Upper Right) and is best known for it's 21st Century modernist architecture. There are Currently 9 Homes of foreign ambassadors.
---
Berlianpura
---
Named after the rich diamond mines in the late 19th Century, Berlianpura is the 5th largest city in Cereskia, and the regional province of Kaliwungu Province, the Government has proposed a project to provide embassies, homes and offices in Berlianpura instead of the 2 largest cites. Because Berlianpura is the center of industry and commerce of Cereskia, the ambassadors can develop interests in the ongoing infastructure projects.
---
South Astrana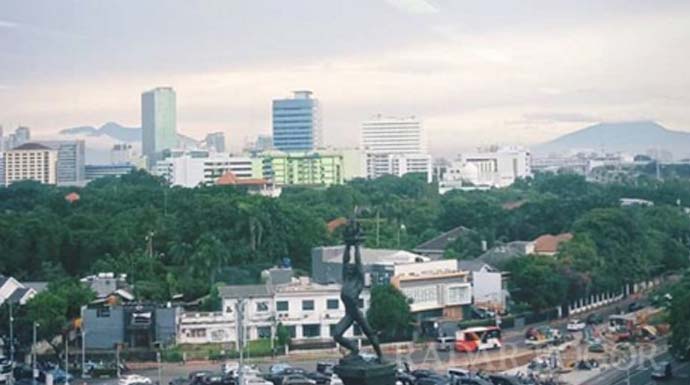 ---
South Astrana is a suburb of the much larger capital, Astrana, same as Berlianpura, South Astrana along with Berlianpura has been chosen to provide embassies, offices and homes to foreign ambassadors, South Astrana is same like Astrana.
---
Code: Select all

[spoiler=Embassy Application]
NATION INFO
— Nation Name:
— Nation Leader:
— Capital City:
— Government Type:
— Minister of Foreign Affair or Equivalent:

AMBASSADOR INFO
— Name of Ambassador:
— Family of Ambassador:
— Gender:
— Age:
— Language Spoken:
— Religious Belief:
— Are there any health or security issues local authorities should be alerted of?:
— Do they possess any augmentations or body enhancements?:
— Are they capable of utilizing supernatural forces?
— Additional Request:

EMBASSY INFO
— Location:
—— [ ] Astrana
—— [ ] Kedari
—— [ ] Berlianpura
—— [ ] South Astrana
— Diplomatic Staff:
— Security Staff:
— Service Staff: (local or home country)
— Number and Type of Vehicles:
— Relationship Focus:
—— [__] Economy
—— [__] Education
—— [__] Military
—— [__] Technology
—— [__] Other (please specify) ______________________
— Please declare any drugs, alcohol, fetish, animals or plants you are bringing into the country:
— Special Requests:

— Do you wish to establish our embassy within your country? if so, please copy the link here:
[/spoiler]