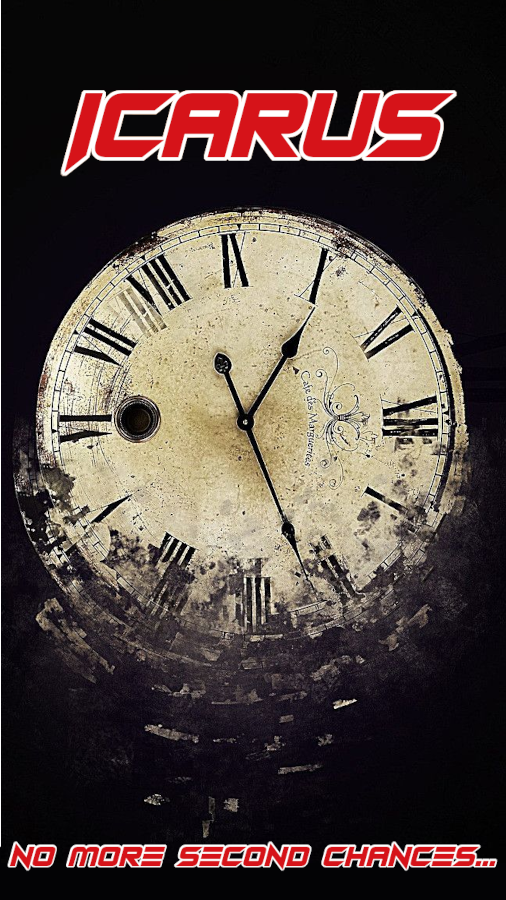 ---
Welcome to Icarus, a character RP centred on a group of people from different time periods who wake up on a mysterious ship: the Icarus. In this RP you will have the option of playing as a person from any time and place in Earth's history (though not a famous figure) with a mission to track down and stop a rogue time traveller from changing human history for his own ends. On a more personal level there is also the question as to how you came to be here and whether you are, in fact, still really you. Will you tread lightly or cause a ripple through time?

This RP is part of the larger 'Andormedaverse' series of RPs, though there is no need to have read any of the other threads to take part in 'Icarus'.

This RP is open to latecomers. If you want to join once the IC has started we will just write that another mysterious pod has opened and you are free to join the action!

If this sounds interesting to you, feel free to pop over to the OOC and make an app or join the Discord to discuss your ideas.
---
Chapter One: Second Life
(Click for some mood-setting theme music)
---
Hannah Brown
Onboard the

Icarus

, somewhere in space and time...
It was, it turned out, pretty lonely in space. The AI had given Hannah the outline of what she was supposed to be doing, given her some instructions for configuring the AI, then promptly reset itself. Getting it set up again had taken the best part of five hours. Five stressful hours; Hannah wasn't entirely sure how well the life support and other essential components would do with no computer regulating them. She managed it though, with nothing major going wrong on the ship. There were a number of voice options. She clicked on one called 'Bruce Campbell' (whomever that was) and left it at that.
She tried to get further information out of the AI for a few minutes, but it was no use, whatever had happened on the ship before she had awoken had wiped the machine's memory and there was nothing she could think of to get it back, leaving her in the dark apart from the small amount of information it had given her before going offline. They were chasing 'Davin Blackmore' and there was a console that would alert her of ongoing disturbances in the timeline. She had sat and stared at the console for a while; nothing.
After that she figured she might be on this ship for a while so went in search of a cabin to call home. There were quite a number. She picked the one with the en suite shower room. There were personal effects in here and clothing though it was for a man whom she guessed was about 6 feet tall... nothing that would fit her. She boxed up the clothing and personal effects, putting it down in storage... which seemed to be full of clothing from different time periods. That could come in handy later.
Next she spent half an hour rummaging through the clothes in the other rooms before finally finding some in her size. She found a grey knit top, cargo trousers and some boots then showered in her newly claimed en suite. It was bliss. Hannah could barely remember the last time she had had access to well pressurised, hot running water. She closed her eyes, letting the water stream over her. Hannah didn't feel the cold, not like she used to, but that did nothing to inhibit the simple pleasure of a nice warm shower, though as she began to relax the memories of the people she had left behind started to resurface and that little knot of sadness she had kept so well contained began to threaten to bubble over; her personal life had just been getting on track...
She switched the shower off, forcing the thoughts back into her subconscious then got out, towelled off and, partly to keep busy and partly because she felt exposed without a weapon, went to fetch a 'blaster' and a shoulder holster from the armoury. It was rather a large room, much larger than she had expected and full of all manner of weapons from bronze headed spears and simple bows through to futuristic direct energy weapons. She had, literally, no idea how to use most of this and the AI had stressed how important it was
not
to run the risk of leaving a future weapon lying around in some random period of history. Might need to practice with some of it... but where to start? She had no idea where, or when, they were going to end up. The blaster would at least give her a means to protect herself from any sketchy characters who might wake up from the pods (if only she'd had a weapon like that back in the 22nd century). The AI hadn't given her any indication of who might be in there and for all she knew there might be some Roman in there who thought she looked especially Carthaginian... or Sabine.
"Now what?" she asked herself as she looked over the weapons rack. The weapons didn't answer back.
Hannah went back to the bridge, her new boots clanking on the metal floor panels. They were a pretty good fit considering she'd looted them from one of the former crew and much more comfortable than the worn-down remnants of footwear she had had been wearing in the 22nd century, when she had died. She stopped, shuddering at the memory, her hand flicking across to the holstered blaster as her heart raced in remembered terror. It took her a few moments to calm down enough to be able to close her eyes and count down from ten, marking each number with a deep, calming breath.
She took the last few yards to the bridge a little faster than she might have otherwise. The AI's voice, she figured would help to keep the terror from creeping up on her again, "Hey Computer!" she greeted it with almost maniacal cheerfulness. She'd only been awake a few hours and the lack of other humans was already getting to her. It probably would have been easier if she hadn't died, painfully, just before waking up here.
"Ms Brown," in the somewhat nasal tone of voice she'd given it, "How can I help you today?"
"Do you have any music programmed onto the Icarus?" she asked.
"We do. We have music samples of the music produced on Earth spanning approximately 7,000 years of human history. The most chronologically -"
"Keep it to the last couple of centuries," Hannah instructed, cutting the AI off, "Since me that is. Call it 2140 to 1940? Not that I imagine anyone was writing music after 2128."
"I have brought up a list on the Captain's console, if you want like a look."
Hannah wandered over to the console, seating herself in the Captain's chair. Was she the Captain? She probably was by virtue of the fact she was the only one here. She looked blankly at the list, maybe recognised one tune in ten. She scrolled through it for a few moments, then selected
something at random
, leaning back in the well upholstered chair as the first few bars washed over her. It really was quite comfortable...
"Ms. Brown?" the Computer asked, cutting through her reflection.
"Hmm?" she answered, glancing upwards. Where were you meant to look when you were talking to a machine you were literally sitting inside?
"You asked me to let you know when other pods are opening." the Computer answered, "It seems a number are opening now."
"Right. I'm on my way," she said, sitting up straight and taking a moment to unbutton her holster before heading back in the direction of the cargo hold...
---
The Cargo Hold
Those waking up would almost certainly be confused. Depending upon what their last moments of their prior life had been like they might wake up screaming, or relatively peacefully. They would each find themselves in a metal box as they woke, it's lid slid back and each was dressed in an almost identical grey jumpsuit; not the most comfortable or fashionable thing in the world. The room they found themselves in was large and dimly lit with dozens of similar pods arranged in neat rows across it, bands of dull strip lighting overhead. To some of the newly awakened, they might appear like coffins. For any from a time far in the future where humanity had begun to travel beyond the solar system, they might seem like stasis pods. Both guesses were wrong.
The room itself was large, with metal walls, a metal floor and a discernible hum coming from somewhere behind them. Were the sleepers to try to speak to one another they would, doubtless, quickly encounter someone speaking a different language, though something had been done to them before they awoke which meant they now understood it, no matter what the language actually was.
There was a single door in or out of the room and there. Someone was there as well; a woman with dark hair pulled back in a ponytail and hawkish features. By the standards of most periods of human history, she wasn't particularly tall, though for those who had woken up from the the early middle ages or start of the late modern era, she might have seemed a little over average height (for an undernourished peasant). She wore a snug grey woolen top and cargo trousers, which was remarkable only in the fact that she
wasn't
wearing a jumpsuit, which meant she hadn't just woken up. Those born in more modern times might also recognise the shoulder holster and shape of a gun under her left arm. She stood well back from the pods and watched the sleepers waking, without initially saying anything; watching to see if any of them looked like they were going to present a menace. Once she was satisfied she had a reasonable read on the people she raised a hand in greeting before uttering a somewhat awkward, "Ah... I know you are probably quite confused right now. I was. The important bit is you're on a ship, called the
Icarus
and you're not dead."
Inwardly, Hannah braced herself for the inevitable barrage of questions...