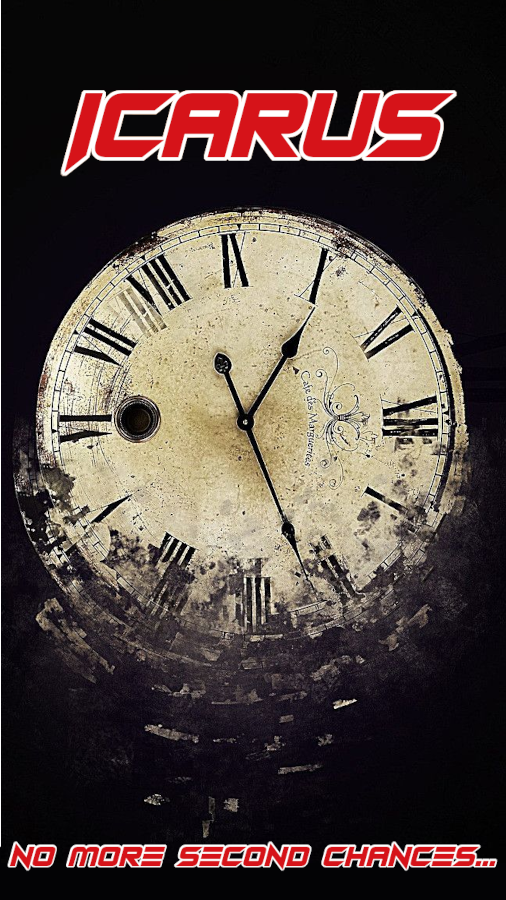 ---
Welcome to Icarus, a character RP centred on a group of people from different time periods who wake up on a mysterious ship: the Icarus. In this RP you will have the option of playing as a person from any time and place in Earth's history (though not a famous figure) with a mission to track down and stop a rogue time traveller from changing human history for his own ends. On a more personal level there is also the question as to how you came to be here and whether you are, in fact, still really you. Will you tread lightly or cause a ripple through time?
This RP is part of the larger 'Andormedaverse' series of RPs, though there is
no
need to have read any of the other threads to take part in 'Icarus'.
Finally, this RP is open to latecomers. Your character will wake up in a mysterious pod, and it will be stated in the first post that not all the pods have opened. If you want to join once the IC has started we will just write that another pod has opened and you are free to join the action!
---
SETTING
---
Waking up from your Pod
You have the memories of an entire lifetime. From childhood, right through to the moment when your vision faded, you took your last breath and… you woke up and drew another. If you were old or infirm, you aren't anymore. Old scars and injuries that you accumulated through the years of your life have been washed away and you are in the peak of health. You are, in fact, healthier than you have ever been (though there will be plenty of time for you to change that).
Wherever it was that you died, you are now lying in a metal pod not much bigger than you, wearing a simple grey jumpsuit. The lid of your one, along with those of several others, has been slid back and there is nothing to stop you getting out, though others remain closed. There is no indication of what lies beyond the metallic walls. You have no idea where you are and no idea how long it has been since the moment you thought you had died.
Other people are waking up at the same time as you. They are unfamiliar, strangers who speak a variety of languages, yet if you focus on them you find you can understand what they say and if you focus a little harder, you can speak the same language as them. They seem to be as confused about how they ended up here as you do.
Whatever your religion or philosophy, the metal walls, the dim strip-lighting overhead, and the dull hum of engines somewhere nearby do not seem like an afterlife. Something very strange is happening here and you are going to get to the bottom of it...
---
The Icarus
The Icarus, that will come to be your home is a compact ship capable of interstellar travel but, more importantly, time travel. It is invisible on 21st century radars etc. though it can still be seen if someone choses to park it somewhere really obvious.
The Top Deck (Main Deck):
contains the bridge at the front of the ship with two corridors running towards the aft. There is a galley/mess hall in the centre, a stairwell leading to the lower deck and crew quarters to either side.
The Lower Deck (Engineering Deck):
Mostly a storage facility, though there is also a gym, a rec room, a medical station, an armoury as well as the entry ramp and airlock.
The Aft Section:
The rear of the ship is where the engines and other systems are housed at the rear of the ship, taking up both floors. A second stairwell in this section allows people to and from the upper walkways and access the top deck.
---
TECHNOLOGY
---
As this is sci-fi, there are a number of pieces of technology that will be mentioned in the RP. Here is some info on them:
Skrim Drive
: The 'Skrim Drive' is the FTL drive that allows the Icarus to phase across to hyperspace, where an object can travel faster than light (if it ever leaves earth). Opening a hyperspace window requires a lot of energy and several minutes to 'spin the drive up'. Skrim Drives are prone to overheating and longer hyperspace journeys will need to be made in hops. That, along with the speed limitation means that most journeys between stars will take days or weeks.
Most ships built in the era of the Icarus can detect a hyperspace window opening or closing a few minutes before the ship utilising their Skrim drive moves through it.
Temporal Drive
: What sets the Icarus apart from 'spaceships' is the Temporal Drive. The exact mechanics of the drive are not understood by anyone on board, but it can shift you to any date in history, near instantaneously.
Making a time jump is an extremely complex procedure and, even with the assistance of the ship's computer, it takes around 24 hours to make the necessary calculations. Jumps must be made from orbit to avoid reappearing inside another object, something which would almost certainly be fatal for the crew.
Translator Nanites
: At some point while you were asleep, someone injected you with nanites which work in your brain to translate foreign languages. If you concentrate hard enough you can even speak the foreign language… A lot faster than a crash course in Ancient Hittite.
Shields
: The Icarus is fitted with energy shields to prevent damage from space debris as well as weapon fire.
Energy weapons (Blasters)
: In the era in which the Icarus was built, direct energy weapons are the main weapon of war. There are some on the ship, though these are there for the defence of the ship only, mostly because maintaining a disguise is important, but also because it wouldn't be great if you left a future weapon at some random point in the past…
---
THE RULES
---
And because it seems important to write these out, here are a few rules for making a better society:
Decisions

: My word and the word of anyone I appoint as a Co-OP is binding. If you don't like a decision, you can, of course, ask for us to reconsider it. Once. If we made a decision you don't like, complaining for pages and pages is not going to endear you to anyone. Not me, not the Co-OPs and not your fellow writers. On that note, I intend to run this thread as an anarcho-communist cooperative. This is an unnecessarily complicated way of saying that my word

DOES NOT

overrule theirs. If there is an appeal and a dispute amongst the Co-OPs we will take a vote on the matter.


Post Quality

: I don't have a problem with short posts but please use proper spelling (I don't care what regional variant), grammar etc.
Ideally also try to include a 'hook' when you write a post, which is to say something that gives other people something to respond to. If your post is something along the lines of 'Bilbo Baggins stayed in his room and read a book while the world was ending', don't be surprised if nobody responds to you.


Posting Commitment

: Nothing is worse than making an RP only for it to die. Please try to make at least one post every 48 hours or so. If you find yourself unable to post, please let me know in the OOC thread. If it looks like you've abandoned a character in the middle of a fight scene I might decide to kill them off if I'm feeling particularly malicious.


Posting Speed

: On the flip side, blitz posting can also be infuriating. So, especially during the important scenes, I recommend giving your fellow players a reasonable time to make a reply. We all have real lives. That being said, if someone leaves everyone waiting for over 48 hours, feel free to carry on the scene without them.


OOC thread Manners

: Nothing annoys me more than bad manners on an OOC thread (apart from that 'Look at my horse, my horse is amazing' song). Swearing, passive-aggressive sniping or any other rude behaviour are not welcome on the OOC. I will warn you once. If you can't control yourself I will ask you to remove yourself from the thread.


IC thread Manners

: Remember, we are writing a story together, not playing to win.


Character Death

: Player death is possible in this RP, though will be quite rare and easily avoidable. Please don't write that you have killed another character unless you have OOC permission from the character's owner to do it. Beat them into a pulp or take them prisoner, but don't kill them. Having said that, if someone does something really stupid, I reserve the right to announce your character has got themselves killed. Likewise, if someone goes inactive in the middle of a fight scene without explanation and cannot be raised, I may decide to kill their character off.


Keep it PG13

: Shouldn't need to be telling you this really but keep the erotica and gorn off the thread. Hopefully you all know how to write forum-safe stuff. I will be extremely disappointed if the mods have to pay us a visit.


Banning Players

: I really don't want to be doing that but reserve the right to do so if you cannot follow the (hopefully, rather simple) rules above.
---
APPLICATION FORMS
---
Rules for Character Apps:
There are a few rules for character aps.
No famous figures from history. However you chose to write this kind of character will cause controversy.
Please don't app to write a child.
If you want to write a character from the future (i.e. who lived beyond 2021), clear it with me first.
However old you were before you died, your body is now somewhere between the age of 20 and 40.
When filling in an application form, please delete everything in parentheses.
Character App
Code: Select all

[box]
[size=150][b]Character Description[/b][/size]
[list][b]Name:[/b]
[b]Gender:[/b]
[b]Appearance:[/b] [spoiler](Feel free to describe with text or put pictures in here. If you are using a picture, personally, I find it easier to picture a character who is shown in photo/realistic drawing though I'm not going to get funny about anything else. Unless it is your personal stick-man art. I might draw the line at that.)[/spoiler]
[b]Original Lifespan:[/b] (what years did they live from/to?)
[b]Biological Age now:[/b] (how old is your body as you get out of the pod?)
[/list]

[hr][/hr][size=150][b]Strengths and Weaknesses[/b][/size]
[list]
[b]Skills[/b]: (Is there anything you are significantly better at than most other people?)
[b]Weaknesses[/b]: (Is there anything your character is really rubbish at? Not essential you put anything in, but can be fun)
[/list]

[hr][/hr][size=150][b]Background:[/b][/size]
[list]
[b]Backstory[/b]:(Tell us about your life)
[b]Cause of death[/b]:
[/list][/box]
---