Operation:
Eve
nt H
ori
zon
A Catnip Plantation Production!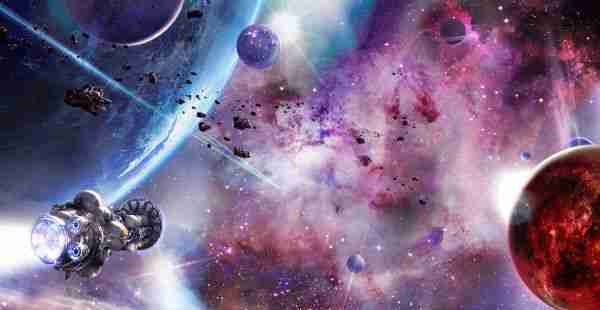 The story of the Galaxy is the story of Man
October 15th, 2230, Tartarus, Hades,
Xia hated the way Tartarus smelled. Maybe people who lived there didn't notice it or maybe it was just disguised by the garbage but there was one clear smell that filled Xia's nose, blood. Tartarus was nothing like her home and even as inland cities went it was unpleasant. Her arms curled against her chest as she walked through the streets and wrapped her cloak tighter around her, trying to not draw attention to herself. There were people on both sides of the streets. Some looked dangerous, others just sad. There were a number of hungry and sick looking people laying on the street, it was clear that they had nowhere else to go. Anger filled Xia's mind at the sight. With all the talk of the powers of genetics and cybernetics, the people here were as sick and impoverished as always. That would change, it had to.
She made her way down a side street until she reached a darkly lit nightclub. She slipped a code word to the bouncer who let her in without question as the sounds and music and smell of alcohol filled her senses. She walked inside passed the dancers of various races including Neriels like herself, who were often sought after and fetishized, until she reached a small set of stairs and headed down into the plain back room with concrete walls. Inside a stocky human in a sleazy leather jacket sat at a table, a cigar hanging from his lips. His right eye was replaced with cybernetics and was zooming across the room as if it was a spinning marble. He was not alone either, he was flanked by two armed guards, one human and one acux.
"Ah, there ya are luv, been enjoying the club have ya? Been waitin' on you."
"I'm here Jarric, let's get to business."
"Very well then, the men you asked for are ready, they're waiting for you to give the command. I also managed to get you this." He said before sliding a suitcase over to her for her to inspect. "No idea what you need it for, but not easy to find. Had to pull this one right out of the head of some hedge fund manager on Titan."
"That's none of your concern." Xia replied coldly before tapping the computer-like device she wore across her wrist as she transferred the man his funds. "We will contact you if we have more work." With that she prepared to leave until the man spoke up again.
"One more thing luv." He stood up, putting out his cigar against the table beneath him. "Heard a rumor about you lot I found mighty interesting. Heard you all were in a bit of a shootout recently. Nasty business that, lots of casualties. I got the feeling tho that you aren't keen on people finding out about it. Am I warm luv, or is that none of my concern too?"
Xia's facial expression hardened as she turned around, her hand rising into the air. The two guards raised their guns, ready to fire if necessary.
"Men like you think you're powerful because you can bully others. You think money, guns, and fancy enhancements make you strong." She raised her hand sharply and the two guns went flying against the wall before a shot could go off. Jarric nearly fell back against the table as he realized what he had stepped in.
"Look I was just messin..." But his sentence couldn't be finished as his head slammed against the table without Xia even touching him. She took a step closer so that she was standing right over him, ignoring his words entirely.
"You're wrong. Strength comes from inside you. It comes from how far you are willing to go to achieve your goals, to survive. Here, let me show you."
Two minutes later Xia exited the club, suitcase in hand and her cloak over her head as she left three corpses and blood stained walls behind her.
October 21st, 2230, New York City
"I'm telling you Ricardo, I don't like this."
UEG Navy General Elijah Hudson sat in his extravagantly large office at the Earth Command headquarters. His chair looked out into the sprawling landscape of New York City, hover cars flying through the air in organized lanes as they passed towering skyscrapers filled with restaurants and fancy night clubs. Outside his office he could hear the faint shouts of protestors. Agitators who were angry about the United Congress' failure to pass the latest Arctisite debt forgiveness bill. He downed the rest of his whiskey before sighing.
"There's no way in hell this works. Just look at this captain they picked, this "Regar Maxirian". He got some of the most elite troops in the Collective blown up. What the hell was command thinking letting those damn aliens choose the captain?"
"They said they provided the ship so they chose the captain." The man sitting across from him said, Ricardo Ruiz was United Earth Ambassador to the Collective.
General Hudson just scoffed at that. "Fuck that, they're lucky we're even working with them. I remember when they were trying to burn this city to ground."
"We have to put that aside. What's going on in the Abyss is dangerous. Someone needs to get a handle on it."
"So we trust these android loving collectivists over our own armed forces? If we're worried about the Abyss, the 5th Fleet is more than prepared to control it.
"Elijah, you know what's at stake here. You want your great grandchildren to be at war? We have a real chance at peace here."
Hudson scoffed at that, "Our hopes for peace are riding on a bunch of mercenaries and rejects? That makes me feel great. Anyway, lets talk about less depressing topics, did you see last night's episode of Simpsons Next Generation? That Noxial they have on the show sure is funny..."
October 22nd, 2230, Helix, Nebra System
Regar Maxirian stood on the deck of his currently empty ship. Although he found ship to be a generous word. It was a glorified trading vessel. That was of course unfair, on the outside the Oriasa looked humble and run down but its interior was state of the art. Its weapons, engines and shields were the best the Collective could provide. But Regar didn't care about any of that. He saw this assignment for what it was.
Exile
.
His once promising career was reduced to ashes and he was left bitterly standing over the ashes. As he sulked and looked out the window at the small human city before him, a larger Elnoi man entered the ship. Unlike Regar who wore simplistic blue armor, the taller Elnoi wore robe-like clothing and a beret-like hat that were both decorated with medals.
"Regar, there you are. Everything's coming along. Your crew have finished arriving and those that haven't moved in yet will do so soon. By tomorrow you will be off to Gaia for your first assignment."
Regar said nothing, and did not turn to face the other man. He was glowering and trying to contain his anger. The other man clearly noticed and placed his arm on the commander's shoulder.
"Relax my friend, this is an important opportunity for you."
Regar recoiled and withdrew his shoulder away. "Do not dress this up as a promotion,
Hyak
(General). Do not treat me as a Shiak (idiot) that cannot tell when he is being humiliated."
The General's face suddenly grew stern. "You forget your place, Commander. You are being offered a chance to redeem yourself. You would be wise to show gratitude."
"I did nothing wrong." Regar retorted definitely. "I couldn't have known."
"The fact that you are not even aware of your failure is proof you have failed! I have no interest in your excuses or tantrums. You will lead this crew or not even your natural talent will save you from a life in a labor colony. Have I made myself clear Commander?"
Regar stiffened but reluctantly placed his fist to his chest and bowed his head slightly, a sign of respect to a superior among the Elnoi. "Yes, Hyak Cezar."
General Cezar nodded as if he was satisfied before turning away. He took a few steps before pausing, "Try to use this as a learning experience. You're a good soldier, but without a team you are just another gun.
Aga Te No'a
(Alone we are nothing)"
Regar sighed and replied, "
Ga-led Te Ro
(Together We Rise)"
With that the Commander of the Oriasa was left alone again looking out into the human colony. It seemed like a peaceful place, a few people were walking along the streets with the occasional human pet he was unfamiliar with. Their lives looked simple but happy. They likely had no idea what was out there, the horrors that went on at the edges of the galaxy where no one bothered to look.
And here I am, their shepherd against the monsters that lurk in the dark. They won't thank me, they won't even know my name.
His crew would be arriving soon, in particular his so-called inner circle. They were the specialists that were hand selected to serve for this mission. He had looked them all over and they were an... interesting group. Regar understood the theme, they were expendable and talented, but replaceable. Regar hated to be a part of such a group but he had no choice. Resigned to his fate, the Elnoi Commander returned to his quarters and awaited the arrival of his crew.
October 22nd, 2230, The Oriasa
It might not have been impressive to others, but for Erina the Oriasa felt like home already. Sure the exterior was plain but even that was impressive. How the Elnoi engineers managed such a feat was nothing short of incredible. Erina carried her modest amount of luggage onto the ship as Roger followed behind her. She had done her best to train him to make his movements look mindless, but she was still nervous around professional military types. Erina had arrived on Helix two days ago and had been waiting eagerly to be allowed to board the ship. She made her way through the deck of the ship, marveling at the engineering as she headed down to the lower deck where she would set up shop. She had originally wanted to sleep in or near the engine room itself but she had been told by the Confederation that that would be unreasonable. She didn't understand why, it was the part of the ship she cared about the most.
"Erina, your heart rate appears elevated, are you feeling alright?" Roger asked her.
She chuckled at that question. "I'm fine Roger, just excited."
The young Sigal had lived a fairly sheltered life so far, her only taste of adventure being her journey to Earth to study there. She realized what she had thought about Earth and humanity wasn't all true. Her family taught her humans were chivalrous, kind and brilliant. All the films and stories she eagerly consumed reinforced this message. However she learned first hand that humans could also be cruel, selfish, and ignorant. Now she didn't know what was true, and she was determined to learn what the galaxy was really like.
For now she settled on exploring the engine room, and familiarizing herself with a place that would no doubt become a major part of her life.
October 24st, 2230, Gaia, The Oriasa
"This mission is simple. We're rendezvousing with the VIP and escorting them into Starlight's custody. We've done recon, this place is quiet. That doesn't mean slack off." Regar said in a commanding but calm voice as the crew's
shuttle
approached the surface of the planet. It was midday by the time they arrived on Gaia and they had spent about two days as a crew traveling. The town they arrived in was a trading hub for this modest farming colony. The type of place that was just big enough to be called a city, but mostly catered to rural types. Regar largely kept to himself during that time, waiting to arrive at their destination. However he spoke to the crew occasionally, specifically his human second-in-command Vincent. He didn't like having his crew chosen for him, but the former cop seemed alright as far as Regar was concerned. At the very least he was competent and that was key.
As they approached the ground however it became clearer that this simple mission was going to be far from simple. The small city beneath them seemed to be in peril. Sporadic gunshots were going off and smoke could be seen rising from a nearby building. Once Regar was alerted he scowled slightly, of course things couldn't have gone smoothly. He stepped forward towards the cockpit to get a view of the city and the situation became clear. They had landed a few hundred yards from the center of town where the police station where their target sat was. In their way however were dozens if not more monstrous
creatures
Regar had never seen before. He smirked,
maybe this will be worth it after all
. He pulled his assault rifle out of its holster and activated his
drone
which spun to life before he headed back to the main body of the shuttle.
"Situation has changed. Unknown hostiles are attacking. Our objective is the same. Fight smart, and don't get killed. Advance Team you're with me. Valstrad, Shuttle Team is yours. Defend this ship, don't let these freaks touch it." With that the shuttle door opened, and revealed the situation to everyone. In front of them were a collection of spread out buildings, the largest of which was closest and also the one that was on fire. Past the burning building was the police station at the center of town as well as a collection of stores and restaurants. Scattered civilians and what seemed to be some kind of militia could be seen throughout, desperately trying to fend off their unknown attackers.
When the shuttle doors opened it became clear that the noise of the landing had caught the attention of a pack of the monsters which started running towards the shuttle followed by the sound of grating animalistic moans.
"Punch a way through! Leave the rest!" Regar yelled to the advance team as he started firing rounds into one of the creatures. It stumbled a bit as the bullets struck its strange flesh but was still in one piece.
"Damn it!" Regar cursed under his breath as he pulled out a different magazine with incendiary bullets and fired them off at the creature. This time it gave a deep howl as parts of its body seemed to melt away.
"They're weak to the elements!" Regar shouted to those behind him. However the flesh that he had destroyed was slowly starting to regenerate.
What the hell are these things?
Hearing they were facing enemies, Erina gripped the pistol on her hip tightly. She had been hoping that she wouldn't have to use it but that seemed very unlikely at this point. She was part of the shuttle squad and stepped towards the opening of the shuttle bay doors as she awaited orders from their second in command. However her attention was soon drawn to screams that seemed to be coming from the nearby burning building. Fear swelled in Erina's mind. Fire was pretty much her worst enemy. The environment suit she was wearing would protect her, but not forever. Plus their orders were to guard the ship, not go running off.
But people were in danger, she couldn't just ignore that right? She took out her pistol and aimed it at the nearby monsters, working up the courage to fire as she thought about her moral predicament.