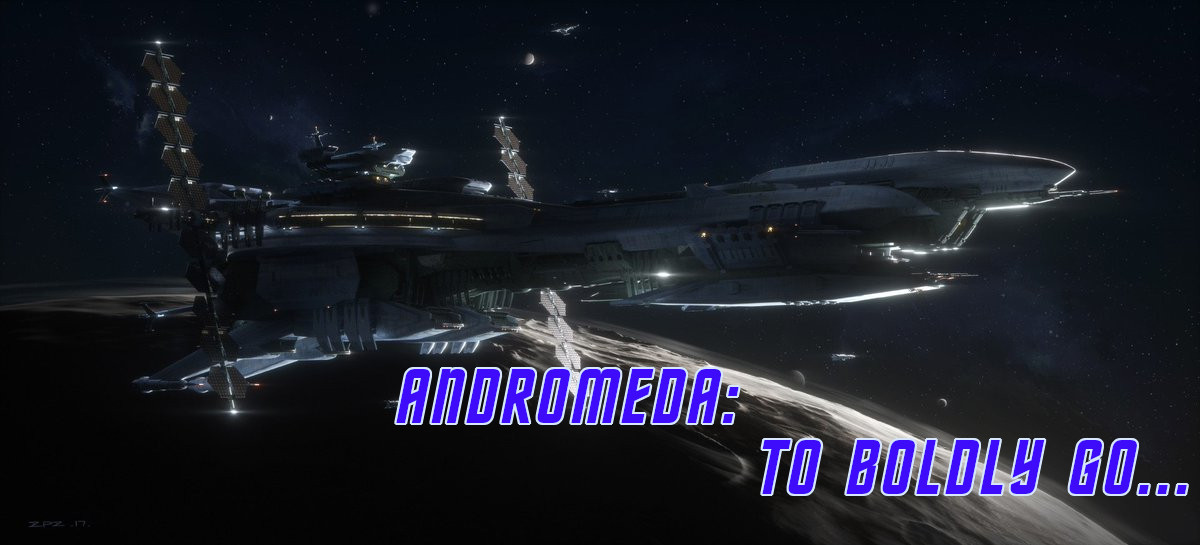 Co-OPed by Bingellia and Khasinkonia
Welcome to Andromeda: To Boldly Go, a character RP set in a future universe very much like our own. In this RP you will have the option of playing a human or one of several alien races who live in the Sol System and who form the officers of the Cruiser
UNS Destiny II
. Your mission is to explore unknown worlds and sectors that have fallen into chaos in the aftermath of an intergalactic war. There will be monsters! There will be hostile aliens! There might even be another intergalactic war! This is not Star Trek though; Earth
isn't
a harmonious utopia and the greatest challenge could be dealing with the different species on the crew...
There will be room for you to write a member of the military, a scientist, a medic, an engineer or any other reasonable role you might think would be on the ship. Everyone you app will be an Ensign, though there is room for field promotions.
This is not going to be a spaceship RP in the sense of big space battles, this is an RP about the people on the ship and will mostly be set on a variety of strange alien planets... although there is scope for missions on the ship.
This RP is part of the larger 'Andromedaverse' family, though there is
no
need to have read any of the other RPs to participate. It is set 150 years after the others. Similarly, if you are RPing in an Andromeda thread, some things in the Universe might seem a little different.
This RP is open to latecomers. The
UNS Destiny II
has a crew of 300, most of whom will be NPCs. If you enter a bit late we will assume you've been along for the ride the whole time, just haven't been part of the core story yet.
If you want to join and are looking for inspiration, feel free to join the Discord. This thread is a sequel to 'Voyages in Andromeda', the tremendously successful RP that we have been running for the last year. There is a strong, friendly, community that has built up around the Andromeda RPs and there are plenty of people who will be willing to help you create a character... or just have a chat!
If this sounds interesting, feel free to hop over to the OOC and put an app in.
---
---
Chapter One: Before We Depart
(With some theme-appropriate music as well)
---
Captain Novak
"She's beautiful, Captain, isn't she?" the Admiral commented as the pair of them stood at the window. Before them, lit by the first rays of the sun as it peeked from behind the Earth lay the Destiny II, connected to the Station by a slender silver docking arm extending from the station out to the hulking mass of the Cruiser. Novak's Cruiser. Looking at it he felt something in the pit of his stomach leap with excitement. This was everything he had ever dreamed of; the chance to set sail into the unknown. To push the boundaries of the map and shine a light into the dark places for the peoples of Sol.
"She is," Novak agreed, in English. While it wasn't his first language, and he carried an accent, Novak had made a point of learning it and it did help to open doors if people didn't always need an earpiece in to understand what you were talking about.
The Admiral was an older man, his hair steel grey, time worn lines on his face, though his dark eyes remained sharp, "I suppose you are eager to take her out. I think should think the exploration of Cluster 1881 should slake your thirst for exploration, though I won't bore you by rehashing the entire mission now," he chuckled, "You may depart as soon as you have your crew onboard."
"With permission Sir," Novak pulled his eyes from the window to face the Admiral, "I would like to spend another day or two in station before we depart. I understand the berth isn't needed for another ship."
The comment drew a raised eyebrow from the Admiral, who had clearly been expecting Novak to be eager to leave, "That surprises me, though I imagine you have a good reason for the request. I don't see it being an issue, if that's what you want to do."
Novak nodded, "Thank you Sir. I've been reading through the personnel files of the crew. They all look like solid soldiers. However, we have every species in the system on that ship and even a few human-dhasath hybrids. There are Earthers, Martians and people from the deep space colonies. While I am sure they will be professional, I want them to learn to learn to trust each other. The success or failure of our mission could come down to the way our crew work together and I don't someone on my crew to die or, worse, the ship to be lost, because someone on the crew has a grudge."
The Admiral considered that for a moment, then nodded, "A sensible consideration, but what do you have in mind?"
"The ship has a VR suite I believe?" the Admiral nodded in response to Novak's query, "The Martians have loaned me one of their VR training programmes. I intend to put the Senior crew through it before we set sail."
That drew raised eyebrows again and a wry chuckle, "You're a cruel bastard Novak. Do I dare ask which one it is?"
---
Lieutenant Aula Cartia
The VR suite was a dark room, with ranks of spaced leather recliners. They were comfortable enough, though that was more for when you woke up. You wouldn't even feel the recliners once they had you in VR. The technician brushed Aula's hair to one side as she attached an electrode pad to her head. Once you lay down and the programme was on, the electrodes would do something Aula didn't really understand, but it made you think you were in the programme the coders behind it had constructed. You could feel everything in the programme as if it were real. You would wake up, completely fine and unscathed, though that was scant comfort when you were trapped in the VI. On earth they used them for entertainment, though Mars had adapted them for military training. She still remembered the Interrogation Resistance programme; every single officer had broken. They always did. Mars just wanted to see how long you lasted. The Captain hadn't said what programme they were being put into, which was pretty standard on Mars as well. You needed to be ready for anything.
"I'm sure it will be fine," she assured one of the Earthers, "It can get bad in there, but remember, you'll wake up fine and -"
"Lie back please," the technician interrupted Aula. She nodded, leaning back on the recliner then folded her hands across her chest, "Close your eyes," the attendant instructed.
Aula did as she was told. There was a brief moment of dizzying nausea and she opened them again. Or thought she did at least. She knew from experience her
actual
eyes were still shut; she just thought they were open. They were somewhere dark. The silhouettes of dead trees were illuminated by the moon above them. It didn't look like Deimos or Phobos. Was this supposed to be Earth? She bounced up on the balls of her feet, feeling the heavy, oppressive atmosphere of the homeworld pushing her down, her boots sinking into thick mud. Definitely Earth. Martian soldiers were trained to fight in this atmosphere, though she was sure she had seen some civilians and, for some bizarre reason, a monkey being put into VR as well. If any of them were Martian or from one of the deep space colonies, there was a strong chance they would struggle under the weight of the place, "I think this is earth," she called, not sure if anyone else was under yet or not, "Is anyone having trouble?"
She glanced down at herself: UNS Marine uniform. She guessed (correctly) that people would be appearing in their role from on the ship. She had a long-arm blaster, though she (again, correctly) imagined only the marines would get that. Anyone else would get a pistol. She felt the pockets of her vest. One spare battery pack. She had about 200 shots which was plenty, provided she was relatively sensible and didn't shoot at every shadow.
Before she had a chance to check for anything else, her earpiece crackled into life with the voice of Novak. She wasn't the only one; every one of the senior crew were getting the same message, "
Right now you will be wondering exactly what you are doing. You will find the rest of the senior crew within a 100 metre radius. Your task is simple. You are to head to the location marked on the map in Ensign Calhoun's pocket. In twelve hour's time, extraction will arrive. Your goal is to get everyone out of the swamp you are in. It's dark and none of you have a flashlight, but I'm sure that won't be a problem to some of you,
" a slight pause then, "
Good luck.
"