An Age of Dragons
A Fire Emblem-inspired RP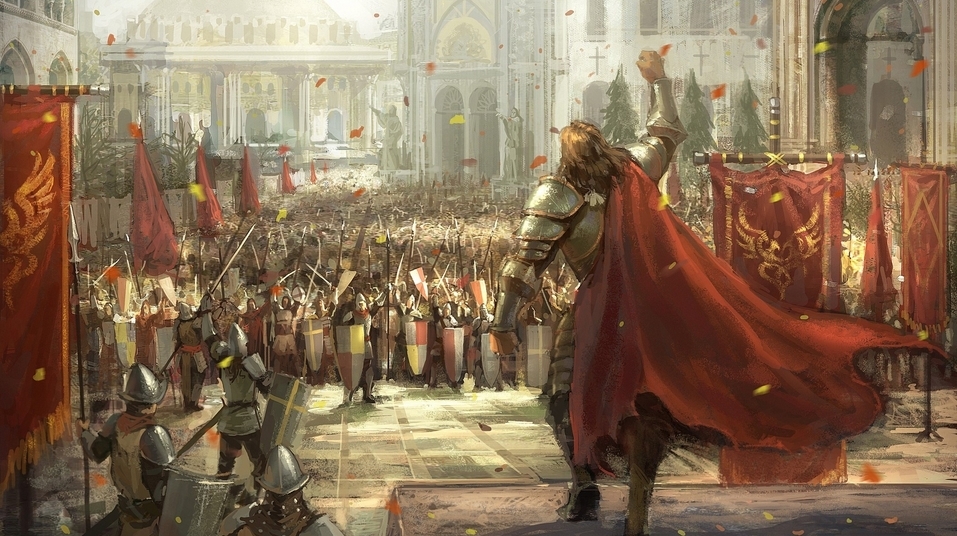 SUMMARY
---
The great Edryssian Empire, named after the very continent of which it ruled, has all but disintegrated. For centuries it ruled over the eastern half of the continent, its influence encompassing even the numerous vassal states outside of its direct control. Under the capable command of its talented and loyal generals, the Empire's might remained unchallenged. Legions of brave knights and cunning mages could be found in every sprawling metropolis and castle in the Empire - a constant reminder of its power to its subjects. Even the envious nations of the west, often seen as uncivilized barbarians by their eastern neighbors, did not dare challenge them.
But the secret to the Empire's power resided not in their armies, nor their seemingly mythical weapons forged ages ago, but in an ancient race of creatures subjugated by mankind in generations past - the Dragons.
The subjugation of the manaketes only served as a testament to the Empire's might. But just as it was the key to their rise, it would also be the root of their undoing.
Throwing off their shackles of oppression, it took mere days for the dragons to undo centuries of the Imperial grandeur. They would lay waste to its grand cities and illustrious castles. Even the Emperor's mightiest armies stood no chance against them. And with the deaths of almost the entire Imperial household and its respective nobles, the great Edryssian Empire was shattered. Even the western kingdoms were not spared the dragons' insatiable rage. And with war shaking the very topography of the continent, many preached that the end of days was at hand...
It is well over a hundred years later, and though much of the remaining dragons have retreated into hiding to lick their wounds, the scars of that great war are still felt all over the continent. To the west, sprawling deserts and vast grasslands lay between the scattered mountain ranges. And to the east, the fertile central plains remain ravaged and barren, and the once lush forests to the south have since been washed away by the rising tide, now replaced by little more than sunken swamps and wildlands. But still, civilization survives. Hardened by their ceaseless fight for survival against the manaketes, new kingdoms have arisen from the ashes of the Empire, eager to expand their influence to their weaker neighbors. Perhaps, in time, a new emperor may take up the sword, and bring order where there is chaos?
Who will you fight for?
MAP
---
Reserved Nations:
Neon Green
INFO
---
Firstly, this RP is largely inspired by the FE-inspired RPs made by Nations United for Conquest back in 2018, but sadly never took off. I hoped to get in touch with them before putting this all together, but haven't found them online at any point in time as I worked on this. All in all, you could consider this a reboot of what NUC previously put together.
But back to the RP itself, it is based primarily on the Fire Emblem universe. But if you've never played the games or even heard of them, you won't be at a disadvantage. The only involvement with the FE universe is a select few mechanics, such as character classes, magic, and the creatures. No characters, events, settings, or anything else from the Fire Emblem series will have a connection or involvement in the RP. Overall, this will simply look like a light Fantasy RP.
Though I hope for players to create nations of their own, this RP is meant to be primarily character based. Your characters can come from any walk of life you choose - From nobles and royalty to peasants and mercenaries, from powerful knights to humble footmen, from master mages to plucky apprentices, the choice rests with you. These characters can originate from any country of birth as well. In terms of plot, there will be an overarching story, which will hopefully bring the characters together if they are not already. But until then, it is ultimately the sum of all of the journeys you lead your characters on, though players are more than welcome to create villains of their own to both create conflict and bring other characters together.
Before I get an IC thread up and running, however, I need to fill in the world. And as you may be able to notice from the map above, the world appears a bit empty. Though I do plan to make a select few nations myself, I feel that allowing players to crate their own nations gives them an opportunity to help shape the world in a way they feel would make for the most interesting experience for everyone - within reason of course!
Lastly, if anyone has any interest in co-OPing for this, don't be afraid to shoot a TG my way to discuss it. Though I've done a fair share of OPing so far, this is actually the first time I've brought it upon myself to create an RP of my own, so any bit of help is appreciated!
---
---
APPS
---
Example Application
---