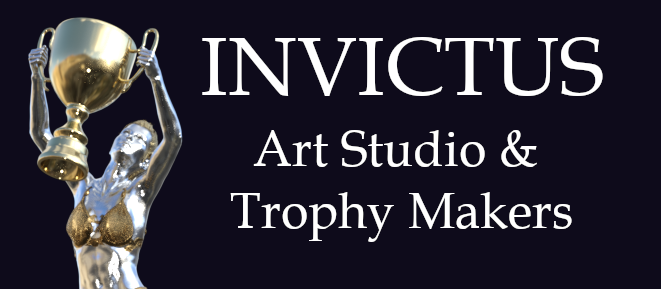 Welcome to Invictus! We are an art studio in Porthaven that excels in bringing your dream to life through sculpture. More recently, we have moved into creating trophies and awards. Whatever it is your celebrating, we can craft a suitable figure, cup, or plate to commemorate the occasion and honour achievement.
Figurines and abstracts

A glass football (soccer) trophy
With a history founded in sculpture, we are able to offer a wider catalogue of options in this category. We offer a wide range of bases, from large solid platforms, to pyramids and fluted columns. Once you have selected a base, choose from our available figures or describe what you would like and we will see if we can accommodate you. For those looking for a sporting trophy, we have a wide range of sport equipment we can add to your trophy. If you would like something more abstract – a crystal pyramid for example – we can do that too.
Cups and Plates
Our cups and plates are made to a basic model, which we can then embellish as you desire. Because of this, you will find less variety in the form of these trophies. However, within these limitations we still have scope to create and make something truly unique.
Materials
We use a variety of different materials. The most common are precious metals, and we can construct your trophy in almost any colour by creating alloys. The most common metals we use are gold, silver, bronze, and brass.
For plinths we use marble and wood. Colour options for the marble are black, jade, blue, orange, and cream.
Another material that is increasingly popular is glass. We have a variety of types, from almost transparent to opaque. We also have textured glass.
Other materials may be available on request.
Figures
While we make our own figures, there are some limitations on what we can reliably accomplish. To help you decide, here is a list of the things we can readily make. Choosing from this list ensures your order can be made quickly. Anything outside the list will be considered a special order and, while we do our best to fulfill your wish, it may not always be possible to do so.
Creatures: Humans, Horses, Dragons, Centaurs. We can also add wings to these figures.

Gymnastics trophy
Silver figure on glass ring

An example of a plate, in silver
Sport Equipment: Balls for Football (soccer), volleyball, basketball, ten-pin bowling, and baseball. Baseball bats, weightlifting dumbbells.
Other equipment: Swords, microphones
Shapes: Stars, globes, cubes
We can pose these figures anyway you like. If you can physically form the pose, we can make it!
Text and Images
To make your trophy truly unique, we can add images and text. These can be either engraved into the surface or applied on in a contrasting colour. Colour options for these are any of our metallic colours, or true colour (i.e. the original colour. Good for pictures.)