The Last Stars
Edge Of Time
Soundtrack
- IC -
Wormhole to OOC
Wormhole to Tech Tread
Starmap
THE PRESENT
- Turn 13 -
A Timeless Signal
For Billions of years, scientists across the cosmos were perplexed by a distant pulsar, its light redshifted almost beyond visibility, Its unnaturally slow, far away from any observable objects, seemingly stationary relative to its neighbors. Many dismissed the mistery as mere measuring error or an artificial signal. Only a few thought of it as an interesting curiosity.

Still, Millions of starships used the pulsar as a useful point of reference. It refused to go away, even after many of her sisters have long faded into nothingness. Some Navigational computers went as far as to designate it as the very center of the universe. And yet, nobody would ever bother to visit.

But as the background radiation was nearing 0K and many galaxies were extinguished by war, The outlines of a star cluster begun to show around the pulsar. It was also discovered the that cluster has an unnaturally strong gravitational field.

Eventually, some species thought the place might be worth a visit, and have sent out expeditions to map out the area. Others thought of it as safe refuge from their pursuers. Noone would hear from them again.

Finally, as the rest of the universe went silent, the cluster became the only visible object in the never ending night.
The last light in a sea of darkness. The last refuge for sentient life. Anyone with a space-faring vessel would set course to...



The Last Stars



-
A Grand Anomaly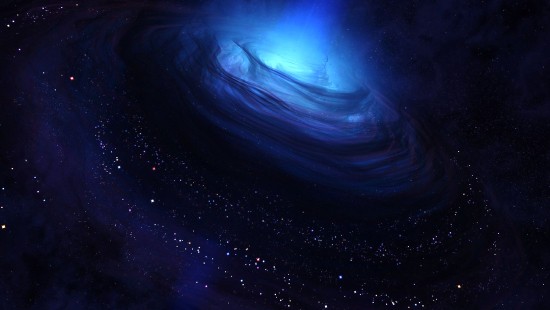 Upon arrival in the Omega cluster, all would find out that it is no ordinary star cluster. It is in fact a giant nebula, shrouding much of the area in a blueish fog, illuminated by the light coming from within. At its very edge lies the timeless pulsar. Its redshift is no more, and its beat and spectrum now fairly average.

Looking back outside, early arrivals would see a bright universe in full motion, absolutely unlike anything seen at near light-speed travel, but the sensation would not last long. All gone, within an hour, replaced by nothingness. They would also be exposed to not insignificant levels of radiation, but nothing to be concerned about.

A general survey of the cluster reveals and outer rim of stars, only partially shrouded. It still takes some effort to locate them, but not as much as if one was to go deeper into the shroud. Once a star is located however, the shroud seems to offer no resistance to travel, save for the occasional cosmic turbulence that comes with traversing nebulas.

Those with the hardware for exploration would be aware of several stars upon arrival, possibly habitable worlds.

Those without would be left in the dark.