The massive junk ship sways in the waters of the Sea of Grass. The captain blows some smoke from his weed pipe and shouts from the top of his lungs "There wretched land-lubbers the great ziggurats of Sho-Battai! From the mists, one can see the ziggurats rising like mountains to the heavens. The sight of these structures fills the hearts of the passengers with relief and joy, adventurers, entrepreneurs and refugees from war-torn lands, they have finally reached the end of their epic journey.
---
---
"Praise the gods we've made it! Our hopes and dreams have been realized!" Some of the passengers said.
The junk ship approaches the capital of the Empire. You notice the largest city in the world is a massive network of canals and islands of floating ziggurats. Strange beast-folk, humans, and other alien-folk alike move through the veins of water on swift boats, and many more traverse the walkways. The junk ship
Bad Tooth
approaches the harbor, it was a long and grueling journey many of the passengers had died from diseases, lack of supplies, and yet you somehow survived. They say if you can make it in Sho-Battai you can make it anywhere.The city is a place of endless opportunity to strike it rich and reach the stars.
The captain raised his chest but Without needing any warning, the people rush of the vessel as if it were about to sink, some knocking each other into the waters below, ahead of you is the Custom House where your journey is to begin
Sho-Battai, the Imperial City. Founded in the First Era by a band of petty thieves, rejects, and hookers on the site of an inhospitable swamp much as changed since the thousand years of its founding. No one knows how this hive of sin and depravity managed to conquer much of the known world but Sho-Battai stands at the center of a global-spanning empire and as grown wealthy from plundering and enslavement of its colonies. Many of the colonies have tried to rebel in the past but dissent is checked by the might of Sho-Battai's elite samurai who have managed to brutally repress any discontent. The empire is 350 years old and at the height of its power.
The city is massive and is divided into many districts each a city in its own right with its unique lore and culture.
---
---
An endless network of docks, shipwrights, and market stalls this is where newcomers begin their journey in the Imperial City.
The poorest district in the entire city, a district where hope and dreams go to die. Home to sprawling industrial districts, the air is choked with ash and debris and the waters of the canals full of toxic waste that's pumped from the factories. An overwhelming majority of the city's population lives here.
Commissioned by Emperor Qun the Great built from the plundered wealth of the colonies the Temple District has grown to a massive size housing tens of thousands of monks. Wealthy patrons and politicians come here to curry favor with the powers that be, donating gold for favors from the divine. The Temple has become wealthy and powerful faction over the years hoarding treasure, and goods from its patrons to fuel its own ambitions.
The deep underbelly of Sho-Battai a den of revelry and sin underneath the ziggurats and grandeur. Home to the oldest shinobi guilds, criminal organizations, gambling houses, brothels, and other reputable places of business. This is the original heart of Sho-Battai centuries of building and expansion has pushed the ancient core of the city to the bottom. Anything can be had here pleasure and bodies.
The smallest district in the city, the strange enigmatic structure made of out of the scraps and pieces of ancient machinery floating in the skies is home to scholars and scientists known to outsiders as sorcerers. The sorcerers are powerful arcane practitioners and are the most advanced faction in the city and perhaps the world. The emperor as begrudgingly allowed them to remain in the city, as long as they pay their taxes of course and don't cause too much of a ruckus with their experiments.
Traders Edge is home to the city's middle class and is the beating heart of the city's economy. Home to many financial institutions, stock exchanges, banks, shopping districts, manufactories, and trade guilds much wealth flows here, the markets burst with goods from the colonies, and banks are flush with funds willing to loan their cash to entrepreneurs and businessmen. Many goods and services can be brought here.
The upper district and the wealthiest in the city. Home to the Emperor who rules with an iron fist, the city's wealthy citizens lives here in massive ziggurats that touch the skies. They have access to the most advanced technology in the world as to offer as well as armies of slaves that toil for them daily. The best elite schools, hospitals, restaurants, and entertainment venues are available here,cut off from the rabble. Here it is illegal to be poor, and anyone too poor to afford to breathe the air here is persecuted with extreme prejudice by the elite samurai guard.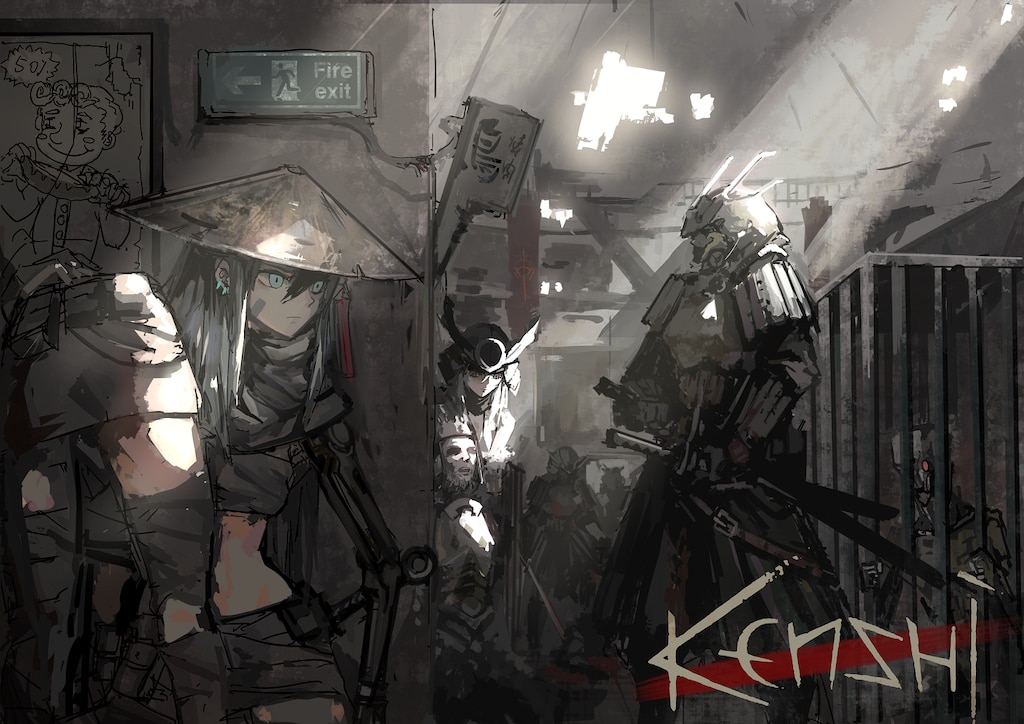 TIME
Each in character day consists of twelve "Sho-Battai hours".Each hour allows a character to perform one of the actions below:
-Explore a district to find new locations.
-Interact with the world however you see fit
-Anything else you see fit within reason
-Respond to events that occur
Players must rest for at least four hours per day, not sleeping leads to insomnia which can lead to bad things happening. Players must also eat which takes thirty minutes and a food item. Going too long without food can lead to consequences down the road.
Morning: 1-3
Midday: 4-6
Late Afternoon/Evening: 7-12
GAMEPLAY
Each player will have an inventory with skills, traits, conditions items, tools, weapons that they may use throughout the game.
SKILLS are factors that can influence gameplay. These can be things such as stealth, strength, knowledge, charisma, etc. These are normally gained by studying and training and are hard to gain
CONDITIONS are the state of your character. This will mostly relate to things such as health, but also the legal state of your character rather he or she is enslaved, or wanted by a faction for a crime.
WEALTH is used to determine one's class. Sho-Battai's society is highly classist. You'll need money to avoid being persecuted in certain areas learn the ways of the world if you are to survive. Wealth can be stocks, bonds, gold bars, and imperial currency.
TRAITS are what define your character. They can be positive or negative, and have a great impact on gameplay and the story itself.
Each character will have
three points
to spend on items below. Deficiencies will impact a character negatively but allow you to buy one more item. Everyone is more or less poor and destitute. Spend wisely.
Each character
SKILLS:
Strong (2)- Your stronger than most folk. You can do jobs that require heavy labor, and being strong also helps with combat situations as well.
Educated (2)- You received an education, and unlike most people in this era, you know how to read and write! You might even know some basic history and maths.
Stealthy(2) Wannabe shinobi. Your good at sneaking around and blending in with crowds.
Agile (2) You quick on your feet and great at climbing buildings and navigating the streets and canals of the city. Choosing this trait reduces stealthy by 1.
Charismatic (2) Your very likable and always seem to know what to say. You have a higher chance of getting away with things and doing things your way.
Artistic (2) Dancing, singing, sculpting, painting, one of these things you are exceptionally skilled in. Your art can express beauty, and speak volumes on the soul.
Attractive (2) Whoa mamma your one fine thang. Your good looks make it easier for others to fall for you and to get them to do what you want. You may even get away with things the normies couldn't even dream of.
Martial(2) You are somewhat skilled in the ways of war. You are better at fighting than most people.
DEFICIENCIES
Fugly (+1): Oh god no, you are one ugly looking fellow you know that? People look down on you due to your unattractiveness (Incompatible with Attractive)
Diseased (+1): Pox, the rattles, cholera, dysentery, pick your poison. The disease is in its early stages but what a terrible way to start the game.
Escaped Slave (+1) You were once the property of the Slaver's Guild and they want their merchandise back. As a slave, you were marked like cattle before you escaped. If the samurai see your mark you're in big trouble (Incompatible with Educated).
No Arm (+1) Well don't know how this happened but somehow you lost your arm. You suffer a penalty to combat situations and can't use certain items.
Sluggish (+1) You are slow and take twice as long to travel between districts. (Incompatible with agile)
Dumb (+1) Your as dumb as a box of rocks. (Incompatible with Educated and Charismatic)
Some deficiencies can be overcome some not so much.
ITEMS
A Kat: the imperial currency of the realm can be used to buy stuff (1)
Gohan Box: Yummy rice, and veggies good stuff man.+1 to Health when eaten (1).
Shuriken: Weapons used by Shinobi! Warning not a substitute for real ninja training.
Journal: Can be used to write things down gotta know how to read and write though (1)
Fork and knife: Used by wealthy people to eat their dainty little food bits instead of eating with their hands like normal people (1)
Phai Sho set: A board game set, that can be played individually or with other players (1).
Axe: Used to chop wood, and other things (1)
Code: Select all

Name:

[b] Age:[/b]
[b] Gender:[/b]
[b] Appearance:[/b]
[b]Place of origin:[/b]
[b]Bio:[/b]
[b] Notable skills:[/b]
[b] Notable deficiencies:[/b]
[b] Items:[/b]