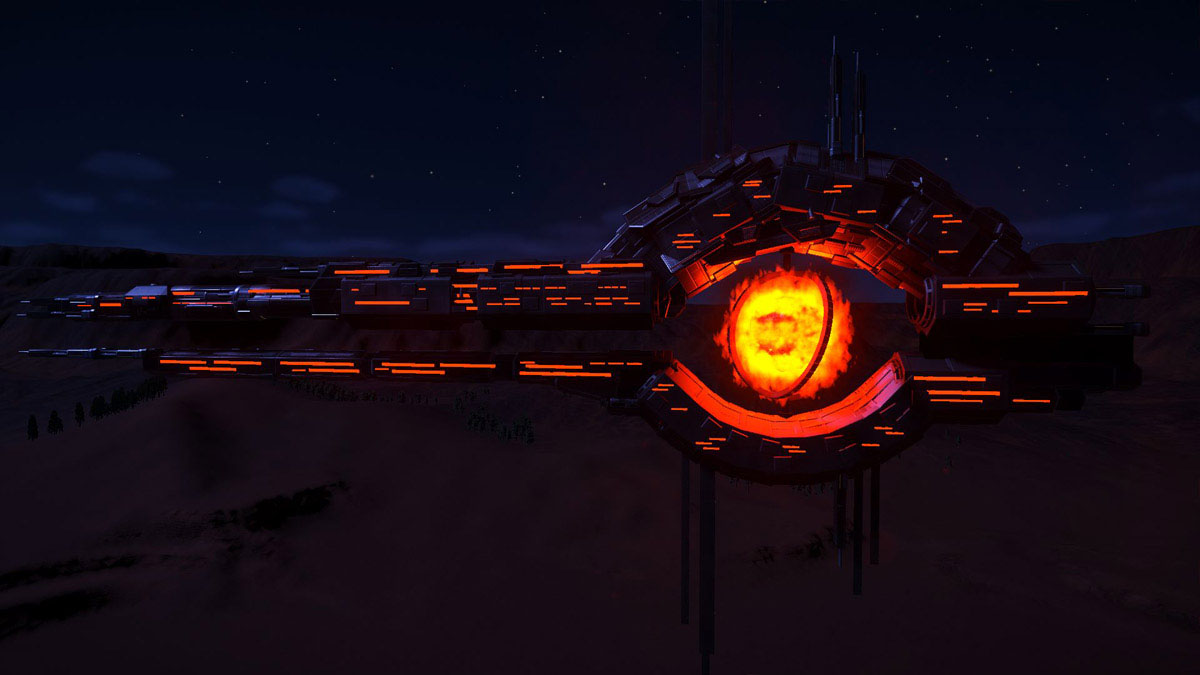 The Mystery of
the Doyle Relay
---
Initially discovered by the crew of the Alliance exploratory vessel Francis Drake in late 2167, the relay was noted to be active and ready for transmitting vessels through space. Following orders, however, the vessel returned to Alliance space without exploring the relay further. It was noted by Captain Anastasia Vassalloglou in the Drake's observational logs to emit an orange-yellow light instead of standard Relay blue, it's exterior lighting across the Relay is red instead of the normal blue, and it's 30% larger than normal Relays. It was also noted that it's direction points to no star system and sits at the edge of the Galaxy, pointed towards the Whirlpool Galaxy, approximately 30,000,000 lightyears away. Numerous pictures and video were taken by members of the crew before leaving the Relay. Those pictures and video were secured by Alliance Intelligence Command officers.
In 2173, the next time the Pelagius System was encountered by the Systems Alliance, the relay was noted to be deactivated, completely shut down and unusable unless restarted. Until this point, the only inactive relays were previously unencountered relays. To see one having been deactivated recently was an astonishing discovery, and led to the construction of Alliance Research Station Oceanus.

Since its completion in early 2166, Oceanus has seen to the study and observation of the Doyle Relay, named for the British mystery author Sir Arthur Conan Doyle.

Currently, it's connections are unknown.

The Reaper War saw to the evacuation of the Oceanus' crew and the deactivation of the station, stripping out most of it's functional circuitry and machinery aside from the exterior cameras in the hopes that the station would be bypassed by the Reapers. When the Station was reactivated in late 2189, the exterior cameras caught an unusual encounter: the relay had been reactivated by the Reapers. For fifteen minutes, the Relay was surrounded by numerous Reaper capital ships, interfacing with it's internal systems before passing through the Relay. Two minutes after the Reapers entered, the Relay shut down. Ever since, Doctor Stewart and the Research Division of Oceanus Station has interfaced with the Relay three times in an attempt to reactivate it. No attempts had been successful. Now, the Systems Alliance has allowed a small team of scientists from the fledgling, semi-autonomous nation-state of the Martian Congressional Republic to assist Alliance science teams in unlocking the secrets that this mysterious Relay is hiding...
---
Alliance Research Station Oceanus, SASS-4458
Deck III: Cafeteria
1209 Hours
Doctor Stewart set his tray down onto the spartan white table, far apart from the various other staff that took their lunch breaks. He preferred only the company of his fellow co-workers that he had become accustomed to down on Deck Six. For nearly eight months, he had grown close to the other researchers, including Doctor D'rasava who'd been sent by the University of Serrice on Thessia. He had grown close to her through their ten hour workdays in close proximity, studying the internal workings of the Doyle Relay, correlating exterior features to it's smaller brethren. She had already been betrothed to another, but that didn't stop Doctor Stewart's advances. The man had only been 36, in better shape than he'd been in a long time, and single. She was always nice about it, though. Let him down gently, sometimes even humored him, but never allowed him to get his hopes up
too
much. The asari was 697 years old, had numerous children and lived more than enough lifetimes to spoil it with a few years dating a short-lived human. His thoughts retracted their grip over his mind as he starred into his pan-fried steak and steamed broccoli, pushing it over on top of itself with his fork.
"Doctor Stewart! Hey!" Chris's eyes darted up to see the dark complexioned young assistant walk up.
Goddammit, not Matt."
Stewart said within the confines of his mind, letting out a light, unheard, sigh. Matthew Baker. New transfer from some underground science facility on a backwater called Xawin. A 24 year old, high-hoped, optimistic, pain in Stewart's ass. Don't get it wrong, Stewart liked the kid, in a
I'm going to beat you with your own data-pad if you ask me another question
way. He knew the boy was just curious about the work being done here, and Matt was full of potential, but this was why he gave up his job at the University of Cambridge back on Earth before the war. He grew tired of spoon-feeding children who only wanted the credit for the class and not the actual knowledge that came with it. Giving answers to questions that would be forgotten minutes after they left the class. He knew better than to think Matt was one of those, but Stewart was tired of it all the same.
"Is it alright if i sit with you? Wanted to run some things by you, things I heard from friends that work on Deck One." He said, tray in hand, an eager, disgusting smile upon his face.
"Things? Things like what?" Stewart said as he motioned for the kid to sit down across from him as he spooned a bite of steak into his mouth.
"Well, my friend on the command deck said that he heard the Commander talk about Martians coming to help us. You know, with the project!" Matt said as he took a bite of a greasy cheeseburger. Stewart couldn't decide which was more disturbing. The fact that he had to note that
Martians
were coming, like they were now their own separate entity that demanded individual demonyms or that this station offered cheeseburgers to their employees.
Stewart sighed, setting down his fork.
"The illustrious Commander Hawkins believe bringing in some duster heads will solve all of our problems? I don't see what they can offer that we haven't already had pass through this station ten times over."
"I guess anything helps, right?" he said as he sat the cheeseburger down and wiped his mouth and hands with a paper napkin.
The station intercom buzzed above the Cafeteria.
"This is Commander Hawkins. Doctor Stewart, please report to Deck Eight. Doctor Hawkins, report to the Flight Deck."
"They must be here." Said Matt as his eyes filled with wonder.
"Would it be alright if I came with you, Doctor?"
"No. Get back to the science deck, tell the others to clean up their stations and get ready for visitors. I'll be there shortly." He said as he got up with his tray, dumping it's contents into a nearby recycling vat and placed the tray on a nearby collection station and made his way to the Flight Deck.