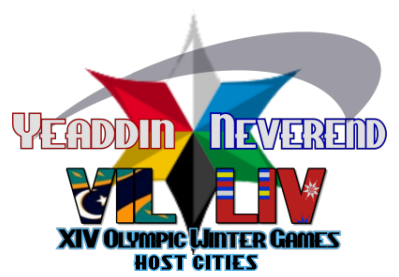 Dear friends,
On behalf of the governments of Vilita and Liventia, and the cities of Yeaddin and Neverend, we would like to take this opportunity to thank you for selecting our cities to host the XIV Olympic Winter Games.

Neverend is no stranger to the Games, having also hosted the VII Olympic Winter Games; for Yeaddin, this is a first. The people of both cities look forward to welcoming you and your athletes to what we are sure will be a wonderful celebration of the Olympic ideal.

For the first time, the Games will be held in two distinct sites in two different regions. With the exception of curling, all non-snow sports will take place in Yeaddin; all other events will be held in Neverend. While we do not wish to set a precedent, we hope the more dedicated resources in each region for the events will prove beneficial to teams, athletes, us as organisers, and the fans.

Once again, we thank you for your trust, and hope you will enjoy the Games.



Jungrii Canopii and Alastiir Surf

Bid co-chairs, Yeaddin

Pearline Jones

Chair, Liventia Olympic Association and bid chair, Neverend
TIMING
The deadline for all entries and alteration of entries is,
with no exceptions
, set at
15:00 UTC 15 October 2019
. The games will start on 16 October and will be approximately 19 days long, including a scheduled off-day on 27 October. The preliminary schedule of events is attached.
INSTRUCTIONS
Please pay attention and read through the following information very carefully. If there is a problem with your sign-up, it may not be entered and you might need to resubmit your entries.
Copy the event list below. Under each event, write the names of the athletes participating in each event. The number inside the bracket indicates the maximum number of entries a delegation may send to an event.
Please

DO NOT COPY AND PASTE AN OLD SIGNUP
as minor changes to event names have been made and this will result in the start list creator not picking up your signups.
If only the maximum number is shown—e.g., "(2)"—it is an individual event, and you must give the name of each participating individual on a separate line. (You may enter fewer than the maximum number.)
If a team event has a specific team size indicated—e.g., "(1 team of 4)"—you must give the name of each team member on a single line, separated by slashes.
If a team event just says "(1 team)", use the name of your nation or delegation, rather than the names of any team members. You may post your team rosters for these events in the roster thread, which will be created near the start of the Games.
Entry into the Luge Team Relay, Figure Skating Team Trophy, and the Alpine Skiing Team events

are automatic, unless you specify otherwise.

The highest rated athletes in each of the respective categories will be entered; if there is a tie, then the first named athlete will be entered. For unified teams, all participants in these team events

must

have the same trigramme.

If you wish for specific athletes to be considered in these events, please note them *at the bottom of your signup*.



The Biathlon Pursuit events are also 'automatic entry' events, and will comprise of the top sixty finishers in the men's and women's sprint events.
The individual or team names on each line should be followed by your nation or delegation's three-letter code and a skill modifier, each separated by a semicolon, as shown in the example entry below.
If you don't have any athletes participating in a particular event, please remove it from your sign-up sheet.
Do not 'tag' or add a post and say that you are going to edit in your entry later as they will be ignored.
SKILL MODIFIERS
A skill modifier is used to determine how well an athlete or a team performs in an event. It is a whole number from 0 to 100: 0 for the athletes just making the qualification standard (i.e. still decent compared to the 'average' person) and 100 for the world's best. A team entry gets a single skill modifier for the entire team, while an athlete participating in multiple events has a separate modifier for each event. Automatic entries do not contribute to the entry average. All medal event entries, as well as demonstration event entries, must average 50 or under.
Submitting unrealistic delegations of extremely high and low values with no spread, or 'min-maxing', will result in a reduced min-max avoidance bonus (MMAB). This may adversely affect how well your delegation does.
ENTRY LIMITS
Each user may enter up to two delegations, with a maximum of 250 entries per nation, and 400 in total per user. For any combined delegations or unified teams, the entry limit of 250 will not apply, so long as any individual user is still limited to a maximum of 400 entries across a maximum of 2 delegations including the unified delegation. All puppets and unified teams should be declared, and puppets should have a different trigramme.
EVENT LIST
CORRECTIONS
If you need to edit your entries after they have already been accepted, you must indicate the changes you wish to make in a
new post
, rather than editing your existing signup post. Corrections may be submitted up until the signup deadline; corrections submitted after the deadline may be accepted or rejected at the hosts' discretion.
LINKS
Olympic Games Discussion Thread (OOC)
Olympic Announcements Thread
Host Bid
Signup spreadsheet (.xls)
Signup spreadsheet (.ods)
(Signup spreadsheets with thanks to original creator Kelssek)
CONFIRMED SIGNUPS