P2TM Graphic Design Workshop: A Help Thread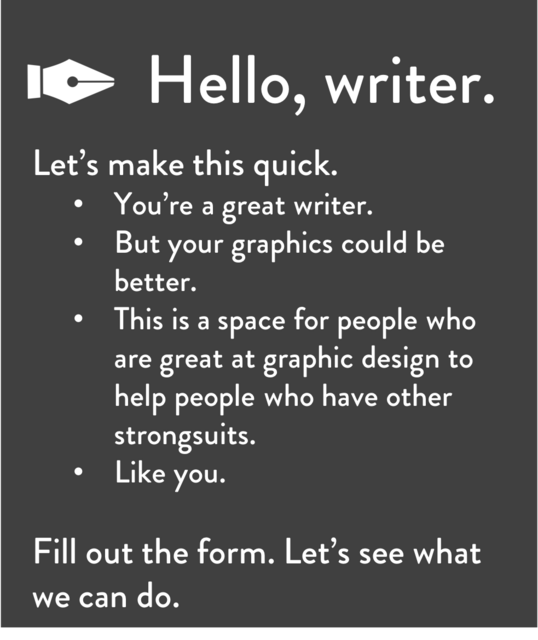 [image text: Hello, writer. Let's make this quick. You're a great writer. But your graphics could be better. This is a space for people who are great at graphic design to help people who have other strongsuits. Like you. Fill out the form. Let's see what we can do.]
I want something designed.
Fill this out and people will try to help you with your design needs.
Code: Select all

[b]My roleplay is:[/b] [name and link if applicable]
[b]I'm looking for:[/b] [a logo, a news article, a character sketch, etc]
[b]I'd love for it to look like this:[/b] [describe the style you're looking for or link to similar designs]

[b]Oh, by the way:[/b] [any additional information, like "I need a title" or "here's what the roleplay's about"]
I want to help design.
Fill this out and I'll link to your application, where you can include a portfolio.
Code: Select all

[b]My name is:[/b] [your NS nation(s)]
[b]I'm really good at:[/b] [what you can help people with]
[b]But don't take my word for it.[/b] [link to or post some of your work, (in spoilers please)]
Who are you people?
In the roleplay system, design based offenses are considered especially heinous. On NationStates, the dedicated designers who help with these vicious graphics are members of an elite squad known as the P2TM Graphic Design Workshop Team. These are their stories.

* Dun Dun *

Vienna Eliot
is really good at
logo design, news articles, and
product design. Yes, that does
include photoshop.

Vanq
knows more than a thing or
two about banners/headings,
mapmaking, and formatting.
He's a clickbait master, too.