MARS 2050
- The Red Dawn -
OOC & SIGNUPS
Shuttle to IC
Blank Map
Resource Map
- PRELUDE -
At the turn of the 21st century, the people of earth have reached unprecedented levels of prosperity and technology. They looked into the future with hope, hope of world peace, clean and sustainable energy along with life extension drugs were just around the corner, only a few of them had doubt, only a few had the courage and information to see the precipice looming in the distance.
After a short era of senseless wars and political strife, the 2020's saw unparalleled worldwide economic growth, fueled by a new global capitalist system reliant on an international electronic currency and the deployment of advanced technologies, robotics, AI, synthetic meat, borehole mining and nanomedicines. Billions were lifted out of poverty, starvation, illiteracy and disease become a thing of the past, but meanwhile, press freedoms and privacy rights were slowly degrading under the increasing power of corporations... but people where too distracted by modern entertainment to care about it.
The issue of Global Warming was also neglected by earth's populace. The UNEA or the "United Nations Environmental Agency" has taken some action in curbing toxic pollution and preserving rainforests, but the the march of global capital seemed unstoppable and CO2 emissions continued to rise, despite wide availability of renewable energy. For most of the 2020's and 2030's, global warming didn't have a significant impact and fossil fuel lobbyist had managed to convince the populace that by abandoning fossil fuels, much of the recent economic development would be lost.
In this era of peace, the Globe's superpowers have engaged in a fierce technology race. After countless decades of costly wars and interventions, the United States had to realize that it is no longer a world leaders in technology and innovation. Both China and India were had a strong footing in biotech and robotics. The EU, Russia and South America has followed quickly in their footstep, while the US public education system and space program was severely underfunded and on the brink of collapse. In 2029, Russia has built the first permanent lunar outpost while NASA was just barely able to stay afloat. Realizing the gravity of the situation, The United States government has decided to finally act, by wholesale privatization of NASA infrastructure and its staff, whilst awarding tax credits and subsidies to innovative companies. The Result was a new wave of private space companies. Energy, Mining, Biotech, Telecommunications and Private Security Corporations have launched their own space stations and lunar outposts and US-based corporations soon became one of the largest shareholders in off-world markets...
Most of the off-world development was focused on earth's moon. Its close proximity and abundant resources made its colonization commercially viable. The only other sector that could show a return on investment was asteroid harvesting from across the solar system. A dangerous, but rewarding enterprise that provided raw materials for orbital factories without the extra cost of having them launched into orbit on a pricey rocket. Indentured laborer from across earth's prisons were also being used by State and Corporate programs alike to further increase profits. Radiation shielding is expensive, and so prison labor was employed for maintenance and construction jobs, who's lives were worth little in the eyes of corporate executives and state officials. Eventually, forced labor and penal colonies became a common feature of space exploration and by the late 2030's thousands of these workers have died in accidents and their captive's abuse. Those on earth didn't care much either about the fate of these sinners, as corporate and state media has ensured that only their side of the story is heard...

---
- THE YEARS OF DARKNESS -
In 2037, the world was brought to a standstill. The international stock markets have collapsed, spectacularly. Over enthusiastic investment in space has caused a bubble, Several space accidents and failed launches has severely undermined space tourism, following that, the Earth-Moon shuttle companies whom amassed vast fleets of spacecraft to handle the cargo shipments and visitors destined to the moon took a significant hit... meanwhile, cheap prison labor on the moon has allowed for entire cities to be built, without any idea of who will live there or what it will be used for. Investors quickly started pulling out and the stocks plummeted. Risky banking practices and large debts held by governments worsened the crisis. After a few weeks of chaos, the global finance normalized. According to the business press, "there was little cause for concern", off-world markets were still relatively small compared to the juggernauts of Earth's MegaCorps and there were still some profitable lunar enterprises to prop up those that failed... but the faith in the economic system was severely undermined.
Irradiated indentured workers returning from the moon have begun sharing stories of their horrific treatment. Rebel media stars operating underground have also uncovered that many of these workers were well educated engineers and astronauts charged with minor crimes like drug abuse or simply framed for crimes they did not commit. Notorious Hacktivists have supported these claims with stolen corporate documents. The Corporate and State-Sponsored News Networks fought back bitterly, purging from their ranks anyone whom would giver credibility to these allegations and pushing pro-corporate agendas. In the end, the Space corps decided to never again allow their prisoners back to earth, which in turn caused riots and across the moon, most of which were quickly crushed violently.
However, upon learning from their underground news sources that they would never be allowed back to earth, The crew of a remote asteroid harvesting vessel have successfully rebelled against their captors and jettisoned their bodies from the airlock. Their plan was now to find the largest asteroid they can and Upon arriving back, threatened the world's governments and Megacorps with hurling the massive rock at the International Space Port, one of the largest orbital trade hubs of earth if they do not finally admit their crimes. Their search lasted weeks, before they found a particularly heavy asteroid with unusual characteristics. Since they were getting low on fuel, they decided to keep it. Upon their return to earth's orbit, Their transmission were ignored and fighters were dispatched to obliterate their vessel. Though not all on board agreed with the decision, out of desperation and anger, the rebel captain ordered the asteroid to be hurled at Washington D. C.. The course was set, there was no turning back. By the time the fighters blew apart the rebel ship, the asteroid had deorbited.
ISA, the international Space Administration was in charge of earth's first line of defense. They did not expect the asteroid to actually reach the city. Though it was large compared to other asteroids, it wasn't quite big enough to survive an atmospheric entry, still, just to be sure, their fired several missiles and lasers at the approaching rock... but it would not disappear from radar. The initial awe at the asteroid's integrity was soon replaced by panic, alarm sounds and radio chatter echoed across the ISA control room, coffee mugs shattered, lines were cut. The president of the United States was quickly informed and the US capital was ordered to evacuate. They had 5 minutes before impact, just enough to evacuate the president, leaving everyone else to die.
The impact had the force of a 50 megaton atom bomb and the Capital was completely obliterated, nearby towns were also damaged in the fallout, minor earthquakes were reported from across the globe. In chaos of the aftermath, global finance collapsed again. The United States declared a state of emergency and decided to temporarily cease its interest payments and focus its resources on damage control and evacuating civilians from the impact zone. US bonds worth over 30 trillion credits were now being dumped by panicked bondholders. Other countries declared a state of emergency of their own, others simply defaulted on their dept. Relations worsened.
Many pointed their finger on the ISA, some believed China and Russia orchestrated the attack... but the real story was never told. Eventually, the conspiracy theories gained ground and old hostilities resurfaced. To make matters worse, what many feared for decades, climate change has finally taken shape. Rapid release of arctic methane has cause a sudden spike in global temperatures. Seas rose, forests burned, harvests failed. Weather became erratic and dangerous. All in the meanwhile, the economy was in turmoil. The means of production were in working order, but the financial system was not. The electronic currency lost its value and international trade suffered. Since many countries had specialized and highly automated industry, they were unable to retool and produce for their own people, and so living standards plummeted.
As coastal cities were being evacuated, the more humanitarian governments of earth had already made plans for evacuating threatened cities and re-settling them in camps and new, eco-friendly towns, while carefully rationed food so as to ensure nobody goes hungry in the future. But their plans were soon undercut by the Superpowers of the US, Russia, India, the EU and China, whom sanctioned each other and barred movement of refugees. A new cold war broke out, and not just between the superpowers but conglomerates of rival corporations, further isolating the nations from each other...
Then, on November 25th 2038, protests broke out across the globe. What was being demanded was peace, and a better life. An end to runuway corporate and state power. In these protests, each superpower saw the other's weakness... one of them decided its time to strike.
Its unclear who started the war, but in the end it did not matter. Billions dead, much of earth rendered inhospitable, Nuclear winter looming on the horizon.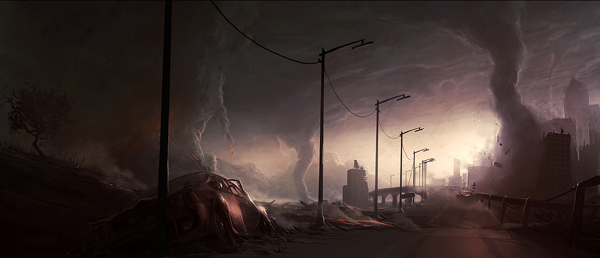 There were no winners, only survivors. 500 million by the end of the year. Give or take a few dozen million, nobody knows quite sure anymore. No nation was spared in the nuclear holocaust, though no nation was completely destroyed either.
From the Ashes, a new order rose. Garnering reputation from the 2020's and 2030's, outspoken UN officials have rallied the remnants of mankind under a single banner. The Republic of Earth was thus formed, its capital in Rome, one of the few European cities spared by the war and climate change. The Republic has begun the work of restoring critical infrastructure and starting some kind of economic recovery, but separatist groups soon begun popping up worldwide, remnants of armed forces still devoted to defending their nation, often led by commanders driven mad by paranoia and religious fundamentalists whom seek to impose a world order of their own. Not to mention former Megacorps, who have prepared well for the Armageddon and sheltered their trained staff and important assets underground. Though the Republic's initial aim was to restore peace and unite earth, it became quickly apparent that the 2 goals are mutually exclusive. In a meeting of the Republic's regional representatives, the conclave, a decision was made, never to allow earth to be split between warring factions again. - "The Republic must be the sole power on earth, at all cost" - They declared.
---
- THE DIASPORA -
With each country stabilized and cleansed of corporate corruption, the Republic itself became corrupted. As time passed, the megacorps of the united territories have begun covertly influencing politics, buying favors, seats, rights. It wasn't long before the Republic became an authoritarian corporatist megastate, not very different from those of the past and many old supporters were disillusioned. The skies were dark and acidic, and so were the rivers and lakes. Everywhere one went, nature was in disarray, or completely dead and lifeless. Most species have gone extinct, save for those most common and those safely harbored in the zoo's of earth's last cities. In these cities, life was still somewhat tolerable. The Republic of Earth has made sure basic needs are met and that the population is content, but, freedoms are few and closely monitored in the name of peace. Most can remember the glory of their past, to which their current existence pales in comparison and remember their dreams of space travel and exploring the universe.
Meanwhile on the Moon... those stranded in space during the nuclear war settle in the half-finished lunar settlements, Lunapolis, they call their city. Freed laborers, asteroid miners, traders, former corporate mercs, scientists and a handful of multi-billionares live here, some having fled earth shortly before the war. The city is run by a cartel of traders supplying Lunapolis with smuggled goods from earth, Mercs protecting the city from itself and scientists, keeping the various hi-tech equipment operational so that the city doesn't go dark. Built underground in a pressurized cavern, Lunapolis is safe from harmful radiation and toxicity and is in many ways more habitable then earth, especially since its citizens are much freer, though also less safe from crime. Still, the city acts as a beacon of freedom in the solar system and is the base of operations for anti-Republic media, hence why the Republic has decided to embargo the Moon, threatening to shoot down any unauthorized spacecraft entering earth's atmosphere.
In the year 2050, for a brief period of time, the Republic's grip on earth's populace loosened. A movement withing the Republic's ranks has called for restoration of freedom and ceasefires with dissidents and separatists, along with an ambitious space program aimed at finding a new home for mankind, or at least, a new hope for mankind. Though many argued such a program would be a waste of resources, the truth was, there were plenty of abandoned spacecraft, fuel and colonization equipment left behind by the space craze of the 2030's. Much of this material the Republic has quietly sat on, plotting to one day invade the moon. Now, this wealth of material is seeking Volunteers for its groundbreaking mission, set by none other then the conclave: COLONIZE MARS. Corporations, adventurers, rebels, former astronauts, scientists and folks from across the globe flock to the rebuilt ISA center for training and volunteer work. Those most talented and skilled, or wealthy enough to buy their way in will be granted a retrofitted colony ship and a team of 100 colonists, along with needed equipment and funds.
---
ISA APPLICATION FORM
Code: Select all

[b]Name[/b]:
[b]Sex[/b]:
[b]Date of Birth[/b]:
[b]Appearance[/b]:
[b]District[/b]: (Country of origin)
[b]Biography[/b]:
[b]Education[/b]:
[b]Current occupations[/b]: (In case you are working for a corporation/government)

Note 1: If you do NOT wish to lead a colony, TG me for a special role.
Note 2: A short faction application form will be released at the start of the IC, allowing players to choose starting equipment, colonists and a landing site. But that doesn't mean your ISA application is irrelevant. Your character alone can have great impact on the technologies and ideology of your people along with your relations to the Republic, the Corporations and the Lunar Cartel.