Thoughtdeath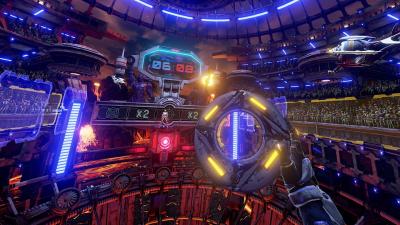 IC Link
Forty years from now, the world has changed drastically. A rising population has lead to soaring crime rates and wars start almost every day, killing millions out of a population so large it swallows that statistic. Technology held the promise to our future, but that bright light faded, choked in corporate greed, and the most recent innovation is just a symptom of the broader corruption of that promise - Impulse Manifestation Spinal Arrays. They, simply, turn thoughts into matter, a breakthrough technology. It doesn't offer humanity much though; only the most strong-willed can use it, and their creations are limited in scope even when working in concert with others. The governments of the world threw it into the rubbish bin of advancement. Realigning atoms with the mind was nothing compared to fusion power and suborbital elevators, gene-engineered pathogens and kinetic impactors. But there were some who saw its promise: the entertainment industry, to be specific. A budding entrepreneur convinced the head IMSA developer to work for him, and out of him was a new extreme sport born: Thoughdeath.

The rewards are huge. A new life, power, fame, enough money to buy a new life... the desperate came from the entire globe to California to compete. Homeless men, ex-mercenaries, crazed psychotics, convicted criminals. Anyone at all, from corporate stooge to everyday Joe, they came to compete, hoping for an elusive redemption. It was something the masses clung to, hope in the mad mad world, and it soon had the largest viewing audience of any sport, ever. A bloodsport played to an epic level, worlds created and destroyed within the Dome. Only the insane competed, and only the truly unhinged triumphed.

And you are one of those madcap competitors. Welcome to Thoughtdeath.
---
Everybody loves exposition. Now, the nuts and bolts.
Thoughtdeath is a turn-based RP game. It is a violent, lethal, turn-based RP game.
You are one of the competitors in Thoughtdeath. Like everyone else competing in the given match, you will be dropped into an arena with only the clothes on your back and your IMSA, at least at first. Matches are either team-based, or free for all, and you will likely die. Frequently, as the case may be. Don't worry though, death is cheap in 2060. You may not win, but you won't be permanently out of things, just the rest of the match; you'll be sent to the In-Between, where you can train, create, and prepare yourself for the next bout with your fellow competitors. Death will not see you to victory though, so you should avoid that.
Without more ado, the app.
Code: Select all

[u]Contestant[/u]
[b]Name:[/b]
[b]Sex:[/b]
[b]Short Bio:[/b]
[b]Personal Color:[/b]
[b]Statistics:[/b]

Every character starts out with 1 Attack, 2 Composition, 0 Resilience, 2 Mobility, and 1 Cognition. They also start out with 5 CP, or Complexity Points, which I'll explain later.
Ah, right, you probably want what all of that means explained.
Attack
is the damage you can inflict on another character, or constructs. Raw output, raw destruction. It can be enhanced by constructs, of course, and is added to all close-combat fighting. Attack can also under select circumstances effect ranged combat. Each point of Attack costs 1 CP.
Composition
is how much of a beating you can take. It plays directly into your Health, which keeps you from being, yknow, dead. Each point of Composition provides 5 Health, and costs 1 CP.
Resilience
is how good you are at taking said beating. It takes a chunk off enemy attack equal to your Resilience score, with a Res of 1 negating 1 point of enemy Attack, though each weapon inflicts a minimum of 1 Damage. If you have a high Resilience, you'll be laughing off small-arms fire, and spitting bullets back at foes, you inhuman monster. Each point of Resilience costs 2 CP.
Mobility:
is how quickly you can get from here to there, a useful feature when facing ranged weapons or simply for being where you want to be. Each point of Mobility costs 2 CP, and allows you to move one more square horizontally or vertically every round, representing walking or climbing. Melee attacks, and various other things, "cost" one movement. You can jump a max height of two squares without paying a Mobility point for that, effectively negating the need for vertical payment. Movement cannot be done through opposition players.
Cognition:
is the fun part; how well you and your IMSA mesh, and what swanky stuff you can do with it. A score of 1 means you can't create much, which kinda sucks, but might be a viable strategy. A score of ten means you're going to be pulling table-sized objects out of mid-air, which can be handy, or a pretty swell bazooka out of the ground. Have fun with that. Each point of Cognition costs 5 CP. Cognition requires concentration though, so don't expect to be able to interface with IMSA when you're under attack or attacking. Also, if you use Cognition in a round, your Mobility is reduced to 1/2 of whatever it was initially. If you could walk two spaces, you walk one, etc.
Any questions, don't hesitate to ask. Note that upon Character Creation all CP must be spent on attributes or converted to Credits.
Mechanics
:
Thoughtdeath is simple - achieve your objective, and be victorious. That objective will change from bout to bout, but essentially you want to move, act, and then resolve. That order means what it says - you'll want to post movement for your character, note their actions, and then I will resolve those actions.
Elevation: Fighting from up high can be beneficial, as can hiding behind cover. Terrain can range from zero height to four height, the height of a man. In melee combat, the contestant at a higher elevation gets a 10% chance to dodge per extra height. In ranged combat, each point of elevation between contestants reduces accuracy by 25%, unless stood directly adjacent to for the shooter. It is impossible to fire at or from full cover of height 4 even if directly adjacent.
Timing: Actions happen with respect to move order - and shooting at a stationary target is much easier than shooting at someone moving. A 5% chance to dodge either melee or ranged is calculated if the moving player posts before the person targeting them, representing the difference between firing at someone slowing to consider their decisions or already committed at speed to a course of action. Of course, if one posts second, an enemy might have come into range that would otherwise be untargettable - these considerations must be kept in mind in Thoughtdeath.
Progression
You get to keep your characters from match to match, allowing you to make them better and stronger. For every kill your character makes, you gain 1 CP. As such, getting kills in each match is important. Additionally, after each match victory the victorious team will receive 1 CP in addition to any they earn in kills; the highest scoring player on each team also receives an additional 1 CP, as does the lowest scoring player on the losing team. Scoring is based on damage, and ties are possible. Certain bouts will award CP differently than this, and such bouts will be noted.
CP can also be converted into 100 Credits, which can be spent at the store, and traded between characters. Credits cannot be converted back to CP though, so spend wisely. CP cannot be traded between characters, though Credits can.
Important note on editing IC posts: request clearance to edit actions before you do so from me, the OP, and ensure I've given you a green light before you do edit. This is to prevent metagaming. If no player has posted after your post, you may edit as you see fit.
FAQ
What can I make with Cognition?
Anything in our Template lists is available for construction. If you want to make something new, purchase a Blank Template at the shop. New Templates will be available to their owner only, though they may be traded.
Why isn't my Construct what my character wanted it to be?
You probably didn't have enough Cognition to accomplish your goal. Complicated objects like tanks and mortars don't just appear out of thin air; it may take you several rounds to refine your creation until you have what you want. Check with me in the OOC before making something if you want to avoid embarrassment.
I died. What do I do now?
Root for your allies, help them plan tactically, peruse the shop, work to improve your character in the In-Between. Even if the Match you died in runs to the time limit, you'll be in the fray again soon enough.
Can I spend CP I gain in a Match immediately?
Nope, that would be silly - CP essentially represents extensive cyber-mechanical enhancement to your character, and can't be done on the spot. You can, however, convert any CP to Credits at any time, and purchase something from the Shop, which will be delivered the following round. The right item at a critical time can be just what you need to secure victory.
---
---
Killblazer's Emporium
Purveyor of Fine Goods and Lethal Paraphenalia to the Discerning Gladiator since 2059
---
Contestants:
Endem | Antony Black - Dark Red
Sinyal | Andy 'Minigun' Stone - Black
Electic | Selena 'Expendable' Rocinante - Golden
Vanquaria | Bu Liao - Crimson
Ralnis | Joe Blow - Edgy Black
Revlona | Samuel Ethan Storm - Deep Blue
North Timeria | Aedyn Mili - Orange