Or rather, what's left of Libya for him to take over. Ever since the introduction of Democracy Most Glorious to Libya by the Obama Administration, things haven't been good. Ethnic cleansing, open air slave markets, constant gunfire, and a sprinkle of ISIS have somewhat dampened the Libyans' enthusiasm for the Birth Pangs of Democracy. But have no fear, for Haftar is here! Who is Haftar?
Like Khadaffi, he grew very fond of Libya's Military, but was part of the units that lost the Toyota War to Chad. Someone's head needed to roll, and so Khadaffi rolled Haftar's head. Prior to that, Haftar idolized Khadaffi, but being betrayed by your idol makes you angry at your idol, and Haftar was not a fan. But ever since he took over roughly three quarters of Libya, he's grown a bit impatient of UN's monitoring of the situation. On the other hand, the pro-Western Government can barely control a twentieth of the country. Ouch. And Haftar, also aided by Ghadaffi's son, Saif Al-Islam, is marching on Tripoli. Why is this so familiar? Something about Contras, Sandinistas, and Nicaragua comes to mind. Anyways, here's a map: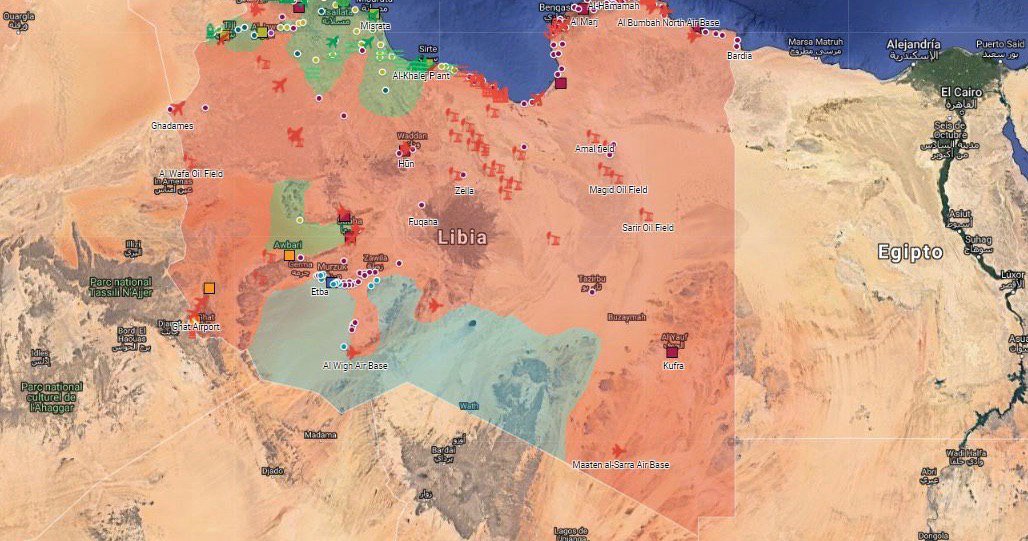 Haftar & Company: Red
UN Recognized Government: Green
Islamists: Different Green & less of it
Indie Fighters: Blue
Others: Other Colors - duh!
And a very strongly worded tweet by the UN Representative:
I am deeply concerned by the military movement taking place in Libya and the risk of confrontation. There is no military solution. Only intra-Libyan dialogue can solve Libyan problems. I call for calm and restraint as I prepare to meet the Libyan leaders in the country.
Remember folks, he's deeply concerned. Al Jazz, sound off:
https://www.aljazeera.com/news/2019/04/ ... 17912.html
CNBC, whatcha got?
https://www.cnbc.com/2019/04/04/libyan- ... o-war.html
Oh CNBC, hate to break it to you, but, erm, that town's been taken. Quite easily. By Haftar. CNN, care to chime in?
https://www.cnn.com/2019/04/04/africa/l ... index.html
Ahh yes, a "renegade" Libyan General that controls about three quarter of the country. I'm guessing that General Grant was also a "renegade" general - never change CNN. Fox News - show 'em how it's done:
https://www.foxnews.com/world/the-lates ... to-tripoli
Hifter? Do you guys not know how to spell over there at Vulpes News? I bet he's not been called that one before. So, what does NSG think about all of this? I say good on Haftar - enough of this incompetent bullshit. The UN, pro-Western Government, and all that jazz had five fucking years to get their act together, and what was the result? Petty squabbling. Enough is enough.
What does NSG say?