BAE SeaHarrier FA-2
Now for export the Seaharrier FA-2, this multirole carrier fighter of Falklands war fame is now up for export. The FA-2 features beyond visual range capabilities and the ability to conduct anti ship missiles. Each aircraft is 1.4 million each, this includes pilot and ground crew training in Englanterra.
The FA-2 has been flying with the englanterra Navy for 25 years and has seen combat in 3 major wars and 12 minor conflicts, with none lost to combat operations. If you have any questions telegram Englanterra.
3 MINUTE SALES VIDEO PLEASE WATCH
https://youtu.be/hox2aghTJTo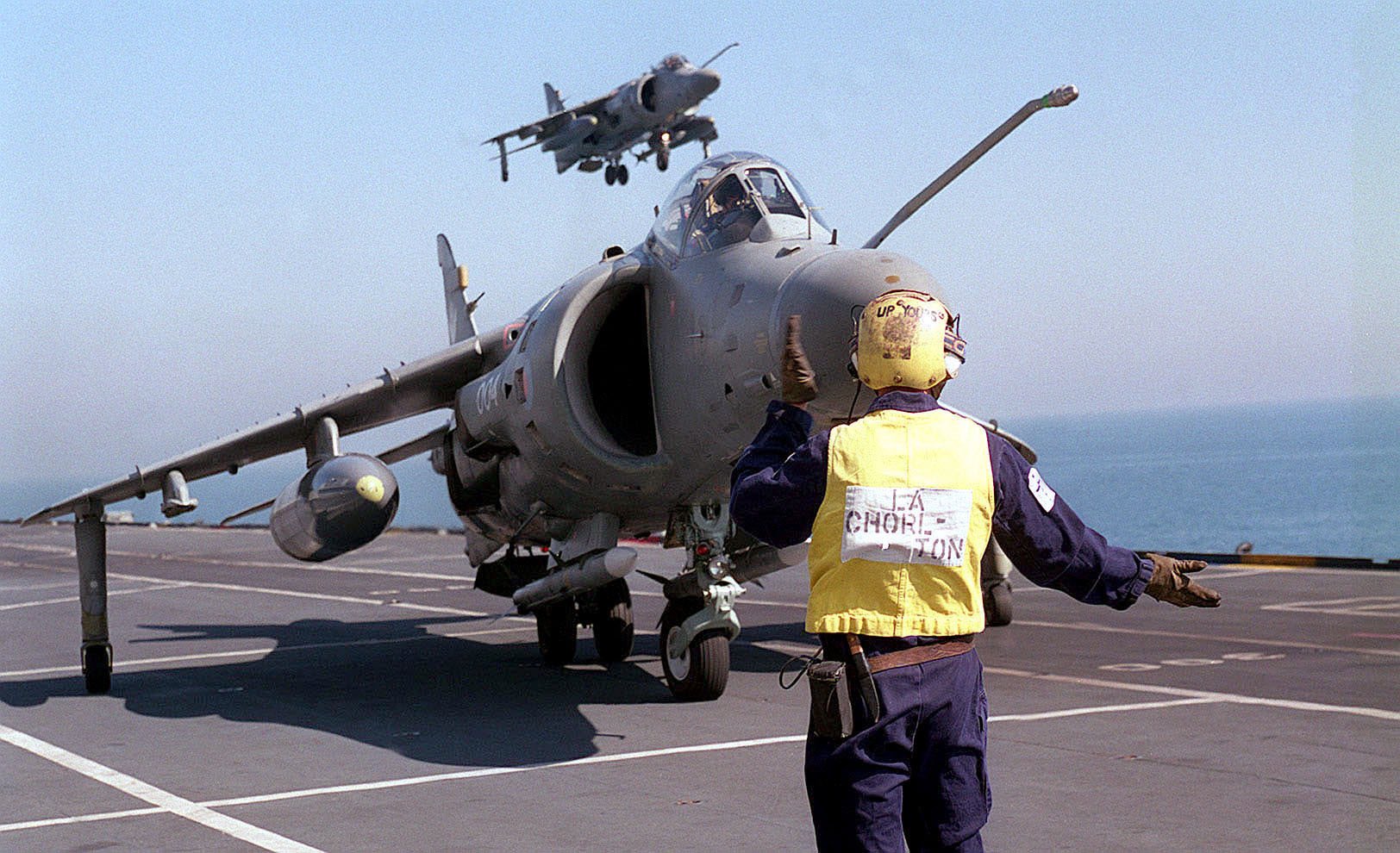 General characteristics
Crew: 1
Length: 46 ft 6 in (14.2 m)
Wingspan: 25 ft 3 in (7.6 m)
Height: 12 ft 2 in (3.71 m)
Wing area: 201.1 ft² (18.68 m²)
Empty weight: 14,052 lb (6,374 kg)
Max. takeoff weight: 26,200 lb (11,900 kg)
Powerplant: 1 × Rolls-Royce Pegasus turbofan, 21,500 lbf (95.64 kN)
Performance
Maximum speed: 635 knots (735 mph, 1,182 km/h)
Combat radius: 540 nmi (620 mi, 1,000 km)
Ferry range: 1,740 nmi (2,000 mi, 3,600 km)
Service ceiling: 51,000 ft (16,000 m)
Rate of climb: 50,000 ft/min (250 m/s)
Armament
Guns: 2× 30 mm (1.18 in) ADEN cannon pods under the fuselage, with 130 rounds each
Hardpoints: 4× under-wing pylon stations, and 1 fuselage pylon on centerline plus 2 attach points for gun pods with a total capability of 8,000 lb (3,630 kg) of payload.
Rockets: 4× Matra rocket pods with 18 SNEB 68 mm rockets each
Missiles:
Air-to-air missiles:
AIM-9 Sidewinder
AIM-120 AMRAAM
Air-to-surface missile:
ALARM anti-radiation missile (ARM)
Martel missile ARM
Anti-ship missiles:
Sea Eagle
Bombs: A variety of unguided iron bombs (including 3 kg and 14 kg practice bombs).
WE.177A
Others:
reconnaissance pods or
2× auxiliary drop tanks for ferry flight or extended range/loitering time
Avionics
Ferranti Blue Vixen all-weather airborne radar
BAE Systems AD2770 Tactical Air Navigation System
Thales MADGE Microwave Airborne Digital Guidance Equipment
Allied Signal AN/APX-100 mk12 IFF