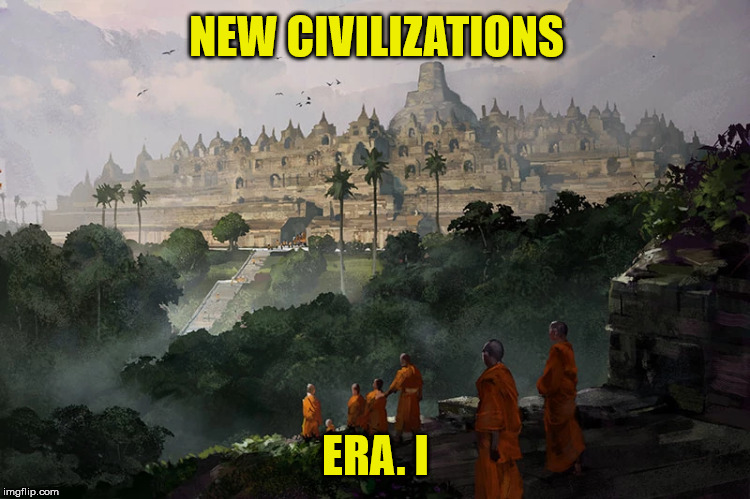 ---
---
---
You're an old soul in a new world. You are given no explanation - no cause of knowing how you arrived here - nor reason for being. You don't know where or when you have landed. You are alone, you are naked, and no one is looking for you.You have come just in time to witness the end of humanities blank slate: the time before history and civilization. Man is finally beginning to understand his real power, and will soon understand his place in the world. You, are the product his quest for knowledge and mastery over the Earth. You have seen the culmination of 5,000 years labor, before miraculously being sent back to the beginning of it all. No reason was given to you for arriving here, so you must make the reason! Why were
you
sent to the beginning of time? How did you shape our journey? The history books are blank once again, and
you
-
you
shall be it's author.
---
---
Introduction
Welcome to New Civilizations! A game, which sends you, either your literal self, or a person very like yourself, back 5,000 years into the past - the dawn of history, and civilization! You've no explanation of how you arrived, or even why you are here. Not only has the world changed around you, but you have changed as well. From the day you arrive in the past forever onward, you will not age. You've become a timeless immortal! What is more, you are able to, unconsciously and instinctively, understand and speak every language in existence. Your body has become immune to receiving or transmuting disease - though you are still able to be killed by other unnatural means. Sent to the past, as a timeless and neigh immortal, you are free to shape history and mankind's journey over the millennia as you see fit - restrained only be your reason, your means, and ( of course ) other authors. Typically though, you are expected to fashion some kind of civilization or culture in this game - though this is an ultimate sandbox game. This being the 5th edition of New Civilization's the original OP, Republic of the Cristo, has given me permission to create and preside over it's newest iteration. This is a complete reboot, so no old lore is needed to be known.
---
---
Limits and Expectations
1
.General NS rules
2
. Your Author is restricted to landing in the old world ( Europe, Asia, North Northern to Sahel Africa ). They can leave this part of the world later in game, but they must land here.
3.
Your Author cannot be someone who just happens to be perfectly suited for the time period. You can't be an expert in metallurgy,A blacksmithing, masonry, and carpentry. Your Author should be an otherwise normal person with normal skills. It is preferred that your Author resemble you as much as possible ( be yourself if you want ), but it is not required.
4.
The people of the year 3,000 B.C., are not stupid - or even that ignorant. They are, in their own way, usually just as logical and reasonable as you are now - you crafting some bronze and making a shovel isn't going to make people think you are a god. What is more, these people aren't going to make you chief of their village simply because you killed the old chief in a fight. That'd be unreasonable today, it'd be unreasonable then. Treat the NPC's like they were actual human beings with fully functioning brains.
5
. You arrive in this world naked - literally. You come in with nothing.
6.
There is no set rule for time skips. At opportune moments in the story, I will do a small global skip forward into time. Every participant will be warned ahead of time of when this skip will happen. Prior to these skips, try not to jump more than a year ahead in your character's development.
7
. You are free to write the reactions of NPC's as you see fit. On occasion, I or a CO-OP might intervene simply to make the story more interesting. You are limited in reacting for the NPC's of another Author's civilization by what that particular Author will permit ( if allowing you to react on their behalf at all ).
8
. You will arrive in this world, after having awoken from sleep.
9.
Your Author should not just instantly be cool with their situation; some kind of panic should be expected.
---
---
Code: Select all

[size=200][i][b]Author Applicaiton[/b][/i][/size]

[b]Name:[/b]
[b]Age:[/b]
[b]Height and Weight:[/b]
[b]Skin, hair, and eye description:[/b]
[b]( Optional ) Picture:[/b]

[b]Prior Profession:[/b]
[b]Level of education ( specify degrees or note worthy classes ):[/b]
[b]Physique description:[/b]
[b]Useful skills:[/b]

[b]National Origin:[/b]
[b]What were you doing prior to falling asleep and awakening in the past?:[/b]
[b]Description of personality:[/b]
[b]Where in the world are you landing?:[/b]

[b]Autobiography/Biography ( paragraph minimum ):[/b]


( Optional on down)
[b]What are your intentions for this RP, what's the long term goal?:[/b]
[b]What people or places are you taking inspiration from?:[/b]
[b]Why did you chose to land where you did?:[/b]
[b]What vibe should we get from your civilization and it's culture?:[/b]
[b]What are your character's motivations?:[/b]
[b]Theme Song?:[/b]
[b]What do you wanna see in this RP? What would make it better?:[/b]
*
Very important, keep in mind when and where you are landing. Average height of humans was quite a bit shorter during this time ( varying greatly between groups ). The Dead Sea Scrolls ( a little under 3000 years old ), place Goliath's height at around 6'6 ft. So keep your size in mind for when you react with the presumably smaller natives. What is more, certain phenotypes have likely never been seen by a lot of people ( blue eyes, light brown skin, etc ). Depending on where you land in the world, you might look extremely odd.