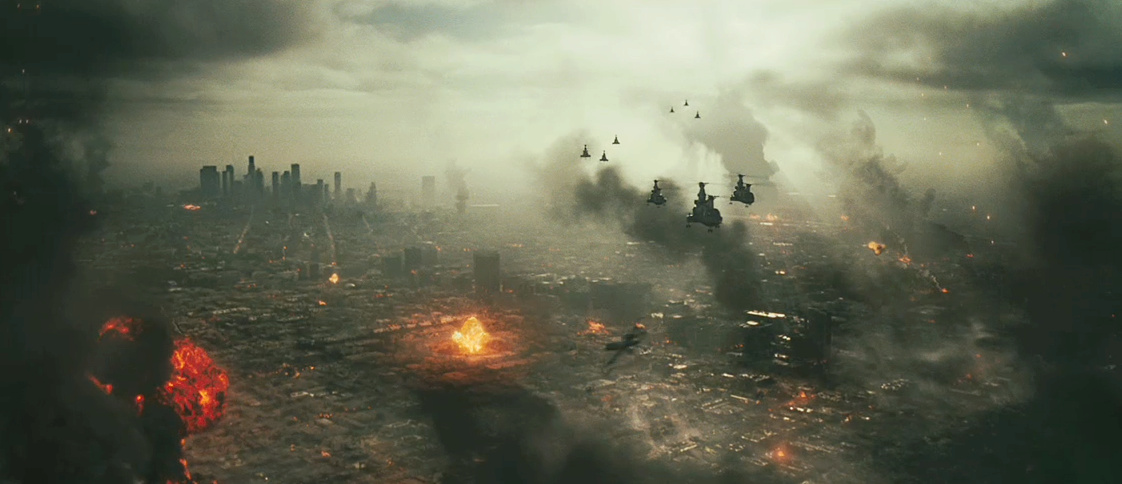 ---
OOC
|
Theme
|
Lore Thread
|
Active Roster
---
"Threat Level upgraded to Class I. Yaldaboth is awake..."
Allan surveyed the slow evacuation progress from atop Floran's back which itself was standing on the roof of a decently high building. So far, everyone was behaving themselves, but that didn't mean the column of traffic was moving anything faster than a snail pace. Argus had mandated everyone in the monster's path to evacuate several miles inland. Less than twelve hours ago he'd received a phone call from Argus, asking for his presence in the area. He wasn't alone, nearly every sanctioned hero that could be spared was at various areas around LA.
Still, with all the preparations, they couldn't move fast enough. The current eta till the big man's arrival was two hours, but how accurate that was, no one knew for sure. Yaldaboth had only popped up a handful of times in the past forty years, this incident making the ninth. The irregularity and infrequency of the attacks had made it difficult to come up with any decent strategy. Currently, the plan was throw the strongest metas at him and see what stuck. "Not that I could be much good at that," Allan muttered to himself. He looked up to see several flying heroes hovering in a tight group, discussing something.
When push inevitably came to shove, Allan would just be a dandelion waiting to get crushed. "Come on, Floran," Allen told his lumbering friend. With the creaking of wood, Foran turned away from the roof'd edge to move into his assigned area. At the Institute they'd trained for Class 1 threats, but being here was like standing in front of a hurricane and hoping to fight it. Since he wasn't strong enough to fight the monster head-on, he was stuck with protecting civilians and minimizing property damage.
"Lets see what we can do." Allan said to no one in particular as he reached out with his powers. Vines and branches began growing from seemingly nowhere, crawling up the sides of buildings and across streets that were vacant of evacuating vehicles. It didn't take much, even a single weed growing from a crack in a sidewalk was enough for an entire forest to spring up. Allan guided their growth, almost weaving the vines in layers. Water was a bigger issue. He had ended up having to break the roots down into a water main. The city was sure to be happy with that, but it was minuscule damage compared to what they were about to be hit with. Ideally, Allan's organic reinforcements, would help hold the buildings together in case Yaldy decided to direct his destructive tendencies in this direction, which was likely. His exact target wasn't clear yet, but most bets were for downtown.
This was going to be a big one.
---
Simmons slipped his arms and legs into a set of sleeve-like rigs that allowed his motion to be translated to the mech he was encased in. This was an opportunity to test his favorite creation against a monster of nearly mythic proportions. With the rig setup complete a holographic map of the surrounding area down to cracks in the sidewalks. "Initiate full control," Simmons said aloud. The Rhodes responded to his orders. Wires lifted him off the floor and the holographic projection shrunk beneath him. He pivoted until he was hanging horizontally above the floor of the mech's cockpit, matching the Rhodes orientation as it flew over the Mojave.
In the distance, his HUD pointed out the airborne heroes in the area, making sure he wouldn't accidentally crash into them. Further out, there were several ships and helicopters in the ocean. Eye trackers followed his gaze with a cursor that settled on one of the ships. "Crew and passenger manifest," Simmons ordered. A pop-up appeared next to the Ship's position and began listing off who was stationed there. It was a navy vessel, a frigate with anti-submarine capabilities. It was busy trying to pinpoint Yaldaboth's location under the waves. There were several Argus personnel on board as well, and a few heroes with psychic capabilities.
"Have they turned up any useful data, yet?" Simmons asked aloud. "
Partially,
" a synthesized voice replied. The ocean was overlaid with a multi-colored map with a core of red surrounded by a fading spectrum of color. "This this Yaldaboth's predicted location?"
"Affirmative. Estimated time until arrival: Two Hours."
Simmons extended his arms from where they were laying at his side. He rotated his wrists and the mech moved to copy his movements, slowly rotating them both into an upright position. Flexing his fingers purposefully, he adjusted the strength of the various jets and thrusters arranged around the Rhodes to make it flight-capable. The post powerful were in the soles of the mech's feet and from the back and front of the main chassis. The rest were for maneuverability. Each finger corresponded to a direction vector in space with his thumbs helping control vertical altitude.
Carefully, Rhodes descended, touching down on the tarmac of LAX. "This is Colossus, I'm on location, and ready for the blobby bastard."
"Simmons! Nice to see you out of your cave."
"You know I couldn't miss something like this," Colossus called back over comms, turning his head with Rhodes moving in turn to see The Eagle flying over to hover in front of the Mech's 'face'.
"This isn't a game, you know," The flying man said with a hand over his ear to activate his comms. "I know that, Spencer," Colossus snapped. "But Rhodes will be the biggest thing we've ever thrown at him. We might be able to end him this time."
"Here's hoping," The Eagle replied, not sounding hopeful in the slightest.
"How many do we have?" Colossus asked, looking up Argus records at the same time.
"Not as many as I'd like. And we have more than a few green's. Some of them are recent graduates from the Institute and some are sanctioned off the street."
"Not ideal, then," Colossus muttered.
Then a siren caught both men's attention. Simmons whirled Rhodes around to look at the water and the wake racing towards shore. "So much for two hours," The Eagle muttered. Simmons looked at the probability map the ships were generating for Yaldaboth's location, and it was rapidly fading. Only the red dot in the center remained, and it was racing for shore.
They didn't have hours, they didn't even have minutes.