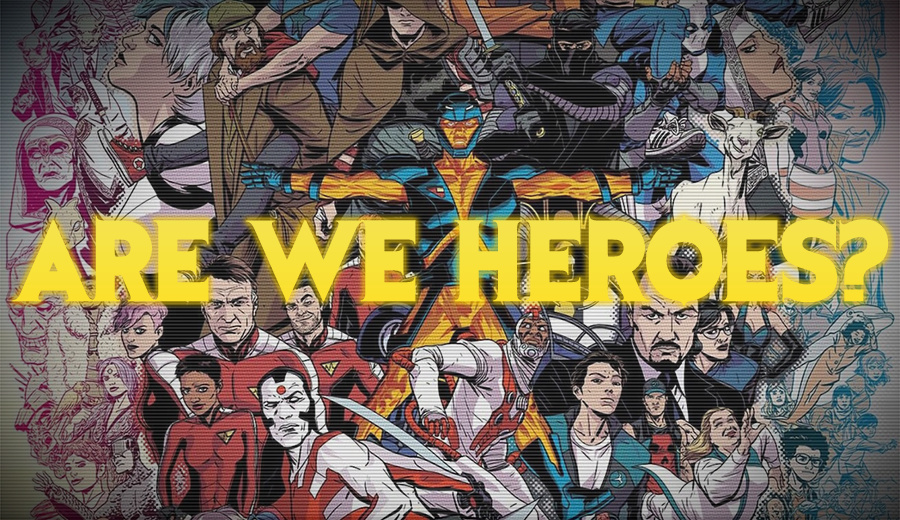 ---
IC
|
Theme
|
Roster
|
Lore Thread
---
The State of Things
Heroes and Villains- the quintessential struggle of good and evil, right and wrong vying for supremacy. Metahumans have been in the public eye since the early Fifties when the world saw overtly for the first time the extreme danger some of them could pose. These seemingly ordinary people with spectacular powers and abilities were thrust into the spotlight, but the St. Petersburg incident that revealed their existence was merely an indication of their growing numbers. If only it had been the virtuous that had been granted such power. However, those that chose to abuse their power became increasingly dangerous. Both the Police and Military, of any and every nation, were woefully under-equipped to deal with such adversaries. Heroes of a new caliber answered the call. They saved countless lives, but the battles wrought untold damage.
The World governments didn't stand idly by for long. Organizations were created to combat the 'meta threat' and calm a fearful general populace. Any and all metahumans were seen as a threat, even the heroes. For the greater part of the Sixties and Seventies they were hunted like animals. Noble heroes were forced underground while villains flourished, not fearing the same repercussions. More and more lives were lost, but a new movement was sparked. Called the 'Second Civil Rights Movement' or the 'M-Rights Movement' by some, This call for the rights of Metahumans gained significant traction in '79 and continued to burn throughout the early '80s. In 1984 the St. Petersburg Accords were proposed as groundbreaking legislation designed to give rights to non Homo Sapiens for the first time in history. It disbanded the organizations that persecuted Metas such as CADMUS in America and the UMTF in Europe. Furthermore, it allowed for the official sanctioning of Heroes under a new specialized agency of the UN: ARGUS. It would monitor superhuman activity, make sure they were still limited by a rule of law, but still allow them to combat villains that would otherwise be too much of a challenge for normal law enforcement.
Among these great heroes, one eventually stood out from the rest. Cypher rocked up on the superhero entirely unknown. He had gone to extreme lengths to hide his true identity which immediately sparked the interest of ARGUS and fans alike. Before long, he assembled a team which called themselves the Regents. It didn't take long for the other heroes, and more importantly the villains, to recognize Cypher's extraordinary effectiveness. His powers weren't flashy or immediately noticeable: he possessed superhuman intelligence, potent enough to comprehend things beyond that of anything else on Earth. The smartest man alive. With his aid, the hero teams were able to systematically eradicate several infamous organizations, chief among them, the Tarot who had claimed the lives of dozens of heroes over the years.
Cypher's renown reached its peak when an organization calling itself the Ouroboros attempted to destabilize several world governments. They made a grand demonstration, their success at hand. But Cypher showed his face and gave them an offer to stand down. They refused. In a single instant, before the first shot was fired, the entire Ouroboros was destroyed.
Global crime rates plummeted, especially those related to metahuman activities. Most heroes began to rest on their laurels, and some of the more seasoned ones to retire. Still, regardless of their apparent success, the cynical crime fighters knew that the Villains weren't done yet. With a drop in hero numbers, Cypher gathered leaders of the still strong teams and founded an academy and program to train young prospective heroes. They seek out the best and most promising young metahumans who have the highest potential to become heroes to take the place of the old guard.
---
---
Welcome
Hello, and welcome to AWH: Rekindled. It took me a while to get back around to it, but I have returned with another AWH iteration. In this RP you will play as a student (instructors will be reserved for co-ops, sorry) enrolled in the William J. Nantz Institution. You will be trained to be a hero, learning how to use your powers effectively and work on a team among other things. If you're returning to AWH, welcome back! This will be a timeline independent from past iterations, so please don't reference things from past threads. If this is your first time joining us in AWH, we're glad you're here and hope you have fun with this universe shaped by something like six or seven versions now, giving it a very rich world and cast of characters.
This will be an academy style RP, but we'll have several excursions into the world to also put this firmly in the superhuman genre.
---
---
The Institute
Named after William Nantz, a hero who fell in the line of duty under the name of Paladin. The School is located on an artificial Island which sits roughly fifty miles off the coast of Delaware. All students live in housing on the island, but students will regularly be sent on missions with established heroes for some more hands-on training.
---
---
Rules
I, The Cyberiad Council, am the OP and my word will be the deciding factor in disputes should they come to the point of needing arbitration
Respect the word of our co-ops who will be playing various students and instructors. Our 3 co-ops are Okayanos, Skyggeheim, and Valloria
There is a discord so we can increase coordination for the plot and to aid in the writing in scenes heavy in dialogue or back and forth exchanges. You will receive a link to the discord in your telegrams after your application has been reviewed and accepted
It is YOUR responsibility to be aware of the plot and what is happening ICly. If your post contradicts what has already been established, you will be required to edit your post to fit.
It is YOUR responsibility to find things for your character to do. There will be bountiful opportunities for your characters, but getting them in there is your job, not mine or the Co-ops
However, if you get your character involved in the action and your inactivity is holding things up, I as the OP and the other co-ops reserve the right to take control of your character temporarily
See the Character Creation section for banned character elements and powers
Play responsibly and realistically. Your character may have superpowers, but make them a believable character as much as you can. If you make a jerk character or have them do outrageous things, expect realistic consequences. If you take on a villain team full of killers on your own, expect to die.
DO NOT godmod or metagame. Be aware of what your character can do with respect to other characters, and be aware of what your character can logically be aware of. If a tree falls in the forest, don't have your character know about it unless they were A) there, B) told about it, or C) have power that allow them to know about falling trees
Breaking and/or not being aware of the rules is grounds for your character being terminated and you being asked to leave the RP
---
---
Character Creation
Alright, now lets get on to the fun stuff. After talking with my Co-ops, we've come up with several things that we do and do not want to see in the RP. I am not going to enforce/suggest these things for no reason, granted some of them come down to personal preference but I promise I am not trying to take away your fun whatsoever. If you can't abide by the rules above or by what follows, I encourage you to look at the Multiverse community and either find somewhere that has what you're looking for or make your own space to include it. I do hope, however, that you decide to stick around here!
Powers
: A very important element of superhuman rps is obviously the powers. In my experience in RPing, there are some powers that just really aren't fun to play against, or that unbalance things. I have also seen powers abused and twisted from their original interpretation. For that reason, I wanted to set aside this little portion to talk about them and help you understand what powers I will and won't accept for your character to have. The first banned power is Time Manipulation and similar abilities. If your character can stop time, there is literally nothing any other non-time manipulating character can do to stop you from killing pretty much everyone. So your character may not stop time, freeze time, slow time, accelerate time, or time travel either forward, backwards, or sideways (timeline hopping). The second banned power is super speed greater than 100 mph. Speedsters present much of the same complications that time manipulators can cause, namely the ability to kill other player characters before they have a chance to defend themselves sans metagaming or godmoding. The third banned power is precognition. This is only partially due to 'cogs ability to metagame with an IC excuse, but they can ruin plot twists (if the op allows them to by telling them what is going to happen) and/or they can state things and say 'well, my char has precog'. So I am going to avoid all that by banning precognition for player characters. The forth banned power is direct mind control and similar abilities that take control away from other players (note this is basically the general theme for the other banned powers; they take away other player's freedom or lessen it).
What I would like to see are more innovative abilities alongside the old classics. Try and be creative with your powers and abilities if you want, but don't make your character over powered. I'll talk more about balancing in the next section, but even if you say 'I won't abuse that power' I don't care: if your character has an ability that can be exploited to turn into something op, I won't allow it despite how many times you cross your heart and hope to die.
Weaknesses, Drawbacks, and Limitations
: Balance is very important to ensure things are as fair as possible, and on that notion I want to talk about how to balance your character. Just so we're using like terms I want to define 'weakness' as something that your character has, either physical or mental, that could be exploited by another character to lower their effectiveness in combat. This means that 'being human' is not a weakness, so don't try to pull that as justification for having op powers. Your character does not necessarily have to have a weakness, but if that is the route you choose to go in an attempt to balance your character, there are some things to consider. Firstly, having something like a 'kryptonite' is not really a solid weakness. If its a really rare and obscure substance then how or why would other character's have it? And if its really common, how can you be effective at all? To top this off as a bad weakness, if it is a true analog to Superman's kryptonite, it would make your character basically useless if it is present. Try to have a weakness that is common enough to keep you from super saiyan, but that doesn't turn you into a weak kitten when exploited.
Drawbacks are another way to balance your character that instead of relying on external factors, focuses on ramifications of character powers. Possible drawbacks could include, but are not limited to, needing large caloric intakes or ways that using powers harm your character, like having flame powers that can still burn the user.
Limitations are hopefully self explanatory, but in short they are limits that you put on powers that could otherwise be overpowered. Some limits could be something like being able to fly, but only be able to fly carrying less than 50 lbs of extra weight. Keep these things in mind when making your character to increase the likelihood of your character being accepted.
Species
: Sorry, I'm not allowing aliens or alien hybrids this time around.
Magic
: For balancing purposes, you may not have 'magic' as an ability. Therefore, you cannot have a character that can cast spells. Why? Well, I feel that creates a character that is too much of a 'swiss army knife'. Now, magic CAN be an explanation for powers. that means you can shoot fireballs and call it magic instead of mutant human powers.
Tech
: The tech level for this RP is strictly modern-tech. So if it isn't in current use it is not available to your character(that means experimental tech and prototype tech and theoretical tech is not allowed). The exception to this is having your character be a tinker-type specialized in a particular field of technology or science. This will count as an ability for your character to grant them access to this more advanced technology.
---
---
Application
Code: Select all

[box]
[align=center][size=150][b]STUDENT FILE[/b][/size][/align]

[b]Name:[/b]
[b]Alias:[/b]
[b]Age:[/b] (18-22)
[b]Year:[/b] (If you've not been in AWH before, I'm requiring you to be a 1st year, but returning players can be more advanced years up to year 3)
[b]Gender:[/b]
[floatright][spoiler=Appearance](place appearance description or image link here)[/spoiler]
[spoiler=Suit or Transformation Appearance](place appearance description or image link here for suits or transformation abilities)[/spoiler][/floatright]

[b]Powers:[/b] (please list, do not just put links to superpower wiki)

[b]Drawbacks & Limitations:[/b]

[b]Weaknesses:[/b] (If applicable)

[b]Equipment and weapons:[/b] (please list, if applicable)

[hr][/hr]
[align=center][size=150]BACKGROUND[/size][/align]

[b]Nationality:[/b]
[b]Hometown:[/b]

[b]Personality:[/b]

[b]Bio:[/b]

[align=center][size=150]ADDITIONAL INFORMATION[/size][/align]

[b]Fears/Phobias:[/b]
[b]Skills:[/b] (additional languages, mechanical skills, etc)
[b]Theme:[/b]
[/box]