Deep space, 2167.
Prelude IC
Planet IC
Soundtrack
Silently drifting through the void for almost a century, The U.N.E. Harmony shines in a majestic golden color as it passes by the red dwarf known as Lalande 21185 whilst performing a gravity assist towards its final destination...
The Harmony, the first interstellar starship built by mankind to escape their dying homeworld carries 13,000 souls on board in cryogenic sleep. They hope to awaken on the bright blue horizons of the Trappist-1 systems several promising terrestrial worlds. Renowned Scientists and Engineers, Industrialists, Political and Financial Elites, Media Moguls, Superstars and Royalties are accompanied by thousands of passengers selected from the earth's population in a grand lottery of young, skilled individuals on this journey across the stars. But not everything would go according to plan...
As the Harmony approached the dwarf star, A chain of unexpected failures in the reactor's coolant systems were reported by sensors, setting the emergency protocol in motion.
Solace is awakened, an artificial intelligence designed for emergencies. She assesses the situation and quickly realizes that the ship is off-course and dangerously close to the dwarf star. The heat shielding has almost completely evaporated and radiation levels are above safe limits. She immediately takes evasive maneuvers the costing much of the ship's remaining fuel...
Having escaped the sun's gravity well, Solace finds that a faulty script, or a virus in the navigation computer is trying to wrestle control of the ship. With the sun left safe behind, the virus has now ordered an optical scan of the system, searching for planets. Several rocky planets are found, one of which is almost dead ahead. In the star's habitable zone, with a thick atmosphere, potentially oxigen rich and unmistakable blue oceans. The nav computer plots a new course towards the planet, a collision course...
With Solace locked out of the navigation systems, she is left with no other options then to awaken the passengers, before the virus completely takes over.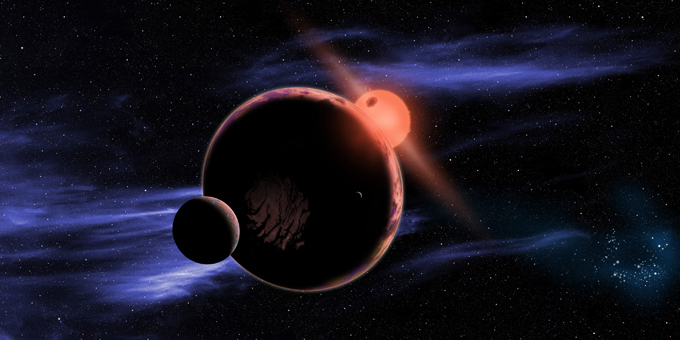 The awakened climb out of their pods and cough up the cryogenic fluids from their lungs. They look around the dimly lit cryodecks and watched on as the pods around them open in waves. -
"We made it..."
- a man whispered. The rest of them stood in silence, their memories still shrouded by the effects of stasis. Moments later, Solace makes an announcement through the loudspeakers:
"Warning: Collision with Laland 21185-b imminent in T - 25 minutes. Security breach detected on command deck, navigation systems corrupted. Requesting manual override to avert disaster.
The captain and the top-ranking officers were the first to realize what's going on and rushed to the bridge. As they made their way to the closest entrance, they found that the doors were remotely locked. Manual override didn't work, so they decided to break through with a plasma cutter...
As they made the final cut, the door disintegrated and officers were blown through the next hallway by a stream of gas rapidly expanding into the low-pressure environment on the other side, towards the cracked windows of the observation deck, which could not withstand the extreme heat of the sun allowing for most of the air to escape. As the heavy cutter slammed into a damaged glass, it shattered into a billion pieces, and the officers were blown into the vacuum of space... they were reaching back for the ever distant Harmony as their consciousness faded. In his last thoughts, the captain prayed for the thousands still on board...
"WARNING: rapid decompression detected on deck 8 - Main corridor. Sealing all connections in 5... 4... 3... 2... 1..."
- Another friendly AI voice announced. -
"Error #009: Access denied. Requesting manual override."
Shocked and confused, the passengers begun asking questions -
"What the hell is going on?" - "Where did the Captain go?" - "Decompression?"
"WARNING: rapid decompression detected on deck 7 - Engineering. WARNING: rapid decompression detected on deck 6 - Gene banks. Initiating Protocol - 020. Alert all crews: Seal bulkheads immediately, equip space suits. Secure oxygen tanks."
- The friendly A I continued its reports through the loudspeaker.
A small gust of wind swept through the cryodeck. The pods kept on opening in rapid succession.
"Attention all passengers of the U.N.E. Harmony. This is your captain speaking. You have just awakened from cryogenic sleep. Remain calm and stay were you are, everything is under control. We will soon arrive at our destination, the Trappist system.
- A third voice spoke through the loudspeakers.
"Finally!"
- A man screamed. -
"Don't know what was all that about."
"Wait, That can't be true!"
- Another man shouted from the top of his lung. He climbed atop his pod and continued speaking -
"We are not in the Trappist system! Look at the displays of your stasis pods, Its still only 2167! We were supposed to arrive in 2291!"
"So, we arrived early?"
- A third man asked from the distance.

Warning. Collision in T - 22 minutes with: Class-T planet Lalande 21185-b. Fuel reserves: minimal. Reactor temperature: critical. Captain Northbank's Life signs: none. First officer Tokomo's life signs: none. Commisioner Chausiki's life signs: none. Recommended course of action: Evacua... Colony pods are equipped with retrograde thru... cognitive err...
Panic and hysteria spread across the ship like wildfire. - "The captain's dead hell do we do now?" - As the passengers made their way to the other decks, they begun realizing the magnitude of the situation. The virus have caused malfunction in most of the ship's systems. Flickering lights, malfunctioning bots and error screens awaited them on every corner, and the drag caused by decompression became ever stronger as the still functioning life support systems sought to replenish the atmosphere with compressed air.
Chaos erupted, as people rushed to board the colony pods. Although there was enough of them to safely land all the colonists, they were not all the same class. Some had significantly more provisions then others, luxurious interiors and housing modules, while the rest were cramped and lacked basic amenities. Naturally, the high-class pods were being boarded first. This has sparked conflict between those who payed for the seats and those who didn't. Class and rank no longer mattered in this dark hour as brutal fights broke out over the pods. Some have gone so far as to break into the armory and obtain weapons from the decks above, gunfire and swearing echoed across the ship.
Factions were being formed in the struggle for the best seats, while some pods were damaged or destroyed in the battles fought over them. Some more sane passengers have made it their duty to manually seal doorways to combat decompression and rescue valuable items and scientific archives from the ship to improve their chance of survival on their future planet, about which they knew very little. Engineers procured Industrial equipment and biologists seeds and genetic samples for their pods, most of which were simply designed to land the colonists in safety and provide shelter. However, there was very little time to prepare.
12 minutes before impact, The virus have completely taken control of the ship, and was now opening airlocks across all decks, ejecting passengers, supplies and equipment into space. The virus also managed to prevent the pods from leaving. The planet was now close enough to be visible, and approaching fast. Its colors were quite unique, exotic and eerie. Clouds, large oceans and continents made up the surface. It shared some similarities with earth, but was at the same time quite alien.
"Attention all passengers of the U.N. - your captain - remain calm and stay - everything - control The - ompression - at our destination, the Trap - system, system, system, system...
- The AI voice spoke again, with varying pitch and speed. -
Decompression detected across - levels. Reactor temperature critical.
Suddenly, a massive shockwave swept through the ship, causing serious damage. Moments later, the lights are gone.
For a second, there is silence. People cease fighting, or even moving, nobody dares whisper.
Slowly, the power comes back online, and the emergency AI speaks again -
"Warning: Reactor meltdown Imminent. Warning, Collision with Laland 21185-b in T - 8 minutes. Warning: Computer systems corrupted by unknown intrusion. Rebooting Operating System. Operating System Online. Top priorities: Reduce impact velocity. Seal airlocks. Evacuate population."
The shockwaves continued to hit, as the ship turns around and fires its main engines. -
"Last call to all passengers. Proceed immediately to evacuation pods on Deck 3: Docking"
There was no more time left for petty arguments. People took what they could and left the ship behind, before it blows into pieces. Not everyone could make it in time... many were left behind while some pods left at half capacity.
The planet's atmosphere was significantly thicker then that of earth, leaving time for the pods to slow down and alter their course towards dry land. Massive parachutes are deployed to lessened the impacts. Some do calculations, others brace for landing, many pray, most are terrified, all stay silent.
The readings quickly come in.
Code: Select all

Atmospheric Composition:
9% O2, 8% O3, 50% N2, 19% He, 8% Ne, 3% CO2, 3% HC4,
Outside Temperature:
-51 °C.
Pressure:
0.2 PSI
UPDATING
Atmospheric Composition:
15% O2, 52% N2, 18% He, 10% Ne, 4%, CO2, 1% HC4,
Temperature
-15 °C...
Pressure:
5 PSI
UPDATING...
[i][b]- ESTIMATED SURFACE AVERAGE -[/b][/i]
Atmospheric Composition:
21% O2, 50% N2, 18% He, 8% Ne, 2%, CO2, 1% HC4,
Temperature
8 °C
Pressure:
15 PSI

App:
Code: Select all

[b]Part I. [/b]
[i]Faction Leader[/i]:
[i]Faction Leader Appearance[/i]: (optional)
[i]Faction Leader[/i] Biography: (should include date of birth)
[b]Part II. [/b]
[i]Faction Name[/i]:
[i]Faction Color[/i]:
[i]Faction Ideology[/i]: (the more radical, the better)

HARMONY DATABANKS
-
Welcome to
Planetfall
In this roleplay inspired by
SMAC
(and the outworld NS RP), each one of us will take command of a tiny human colony on an alien planet. There will be some game mechanics to back up the RP, but have no fear, It won't be hard to get a hold of it.
I promise?
Some other stuff:
Governor App:
Code: Select all

Faction:
Base ID(s) to govern:
During turns:
Governor type:

Governors to choose from:
- Industrialist: Focuses industrial growth.
- Militarist: Focuses Army, Navy and Air Force buildup and will stockpile munitions and fuel.
- Philanthropist: Focuses Improvement of your people's welfare.
- Technologist: Focuses Technological Development.
- Environmentalist: Focuses cutting back on pollution/building up renewable energy.
You can also combine Governors for special aims.
Governors will not modify relations with other factions, nor will they give orders to units.