---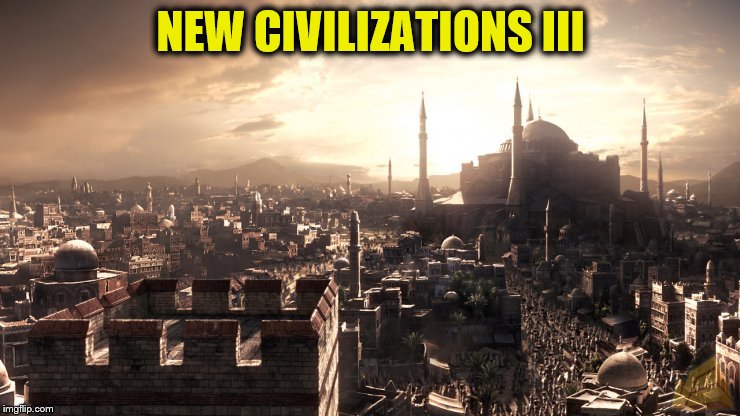 ---
Legend
Scarlet - The Imperium of Man | Viktor Nemtsov
Deep Blue - Norsca | Connor Monroe
Taupe - Holy Scythia | Isaac Dueringer
Purple - League of Helios | Amadeus Mulcahy
Pale Green - Ego | Jeb Goodfellow
Mint - Sheba | Donovan Warren
Pink - RyRytopia | Riley Soto
Pale Red - Yekrenia | Koba Luka
---
The year is 2938 B.C. - 62 years ago, the next 5,000 years of human history was for ever changed with the arrival of men and women from the far future: The Authors. The Authors were average men and women from the year 2016 swept up by unknown and supernatural forces to be sent back 5,000 years, and granted timelessness ( they would never age ). With knowledge of the distant future, the more apt and adaptable Authors used their ability and their wits to craft for themselves a new life in this time long forgotten. As the decades have progressed, the primitive villages which they once inhabited have now become civilizations in their own right! These civilizations were the product not of the organic and natural flow of time, but by the intervention of the Authors - New civilizations! This is not human history as we know it, this is the new history - formed by immortal, yet very human men. The story has been changed, in 5,000 years time, what will the history books say - who shall be it's Authors?
Hello and Welcome to the third iteration of New Civilizations! If you didn't understand the premise of the OP, unless you are bringing in your character from the previous RP, you shall be playing as you ( yes, actual IRL you ) swept through time and space back to the year 2938 B.C., somewhere in the world. You shall be playing as yourself, or someone very similar to yourself. Your Author cannot know things that you do not know in IRL prior to your being transported back in time. Your Author is immortal, in that they are timeless; however, wounds and physical damage can still kill you ( you will be immune to disease, but not to bacterial infection ). Your Author, mind you, is most likely going to look quite different than most people from this time. The average height of a European man at this time was between 5 "5" and 5 "7". Average height of a European woman was about 5 "2" to 5 "4". The average height of an east Asian man was about 5 "1" to 5"3". The average height of an east Asian woman was about 4 "11" to 5 "2". In addition to this, most people during this time had some form of disease or permanent physical ailments. Despite their smaller stature and physical ailments, pound for pound these primitive people are more than likely going to be stronger and faster than you. In addition to being immortal, your Author is also capable of speaking any and every language in existence instinctually, changing automatically depending on whom it is you are talking to. Now keep in mind, that depending on where you land, you may land somewhere with a history very different from the one you may be familiar with. You could land in say Eastern Germany and find yourself surrounded by soldiers totting cross bows and wearing chainmail - or you could land in southern Russia and find yourself in a silkroadesque trading city. Certain parts of the world are under the control of Author Civilizations from the Previous games. Most of the world is still in the late Neolithic era and unaware of Author Civilizations, and if you intend to create your own civilization I would suggest you land there.
NEW GAME FUNCTION
: Once the year reaches 2900, the tribes living around Author Civilizations will reach the status of nation-state, and will have adopted some of the technologies and governing styles of the Civ that they border.
In regards to game play, you will have essentially total control over your story arc ( until you meet another Author Civ that is ). You will be permitted to simulate the reactions of those living in or around your community ( with human realism kept in mind ), and you will be free to start what ever ( realistic ) trends you wish in your new found home. In regards to contact between other civ's though, you will only be permitted to simulate the reactions of members from your own Civilization. Until inter-civilization battles become a thing, I shall leave that part to be finished later. Time will pass 6 months every page.
*** A good way to see if your posts are realistic, ask yourself, " If I were one of these primitives and I saw such and such happen, what would my honest reaction be? " ***
Rules
:
1. General NS rules
2. Author parameter's are as stated above - unchanging unless further noticed
3. Time skips can be postponed for reasons such as dialogue or important meetings.
4. Posts must be no less than 4 paragraphs in length - dialogue being the exception.
5. Realism people! They were ignorant, not stupid! They are not just going to make you a king or declare you a god simply because you crafted a wheelbarrow.
6. Questions regarding the role play should be directed towards myself or one of the appointed Co-ops, whom shall be appointed at a later date.
7. Immortality - it can be shared once by each Author to one other person, but only one, and it cannot be revoked or altered.
Active Authors/locations and Active Civilizations:
Isaac Dueringer - Scythia - Republic of the Cristo | Op
Connor Monroe - Denmark - Kelmet
Koba Luka - Japan - Yekrenia
Viktor Nemtsov - Austria - G-Tech Corporation | CoOp
Randall Murphy - Oklahoma - Asturial
Oliver Parsons - Perth - Labstovka
Edward Tomlinson - Rome - Holy Tedalonia
Donovan Warren - Yemen - Oudland
Amadeus Mulcahy - Georgia - Conwy-shire
Jeb Goodfellow - Michigan - Ulls
Author app:
Code: Select all

Full name:
Age ( for already established authors, give age which they first came here as ):
Appearance ( description or picture ):
Height and weight:
Religion:
Field of Expertise ( this section is optional. If you are extremely knowledgeable about a certain field of study or subject, then please place down here - but only IRL ):
Skills and strengths ( Optional ):
Weaknesses ( Optional ):
Where in the world are you landing?:
Would you like to be Co-op ( 5,000 post minimum or previous Author )?:
Sample ( not if you are a previous Author ):