---
Washington
The

US Political RP
---
---
"A lot has been said about politics, some of it complementary, but most of it accurate."
Eric Idle
---
The race for power continues. Candidates vie for the highest office in the land, gazes set on the oval office-while all around them, new schemes hatch, and plans are made. Statesmen seek to change the future of the country, politicians cut their deals, while the media will do anything for a prime scoop. In the core of a nation divided is a city always alight with ambition, where anyone has a shot at their dreams-and anyone can see them dashed.

Join us, then. Senator or Representative, Governor or Mayor, Broadcaster or General, all are welcome. Fight for your bills in Congress. Pander your way to electoral victory. Wrap the public around your little finger, as you fight to form the city in your own image.

A new generation of leaders, pundits, and politicians. Make your own, original character, join in the ever-changing landscape-and we'll see just how far you get.

All are welcome. All that is left is to fill out the application, and take your place in the Great Game.

The nation is ready for you. Don't keep her waiting.'
Rules
1- OP is Lord
and the Co-OP's are the princes. Their word is law. Follow it.
2- No RL characters
Or at least no celebrities. That's no Donald Trump. I knew you were aching to play Trump, but that's no-no. On this note, RL politicians post-Reagan do not exist, or have been replaced with generic stand-ins. Records and history are the same, including statistics, save in the places where player-characters have brought about a change.
3- Good quality IC and Frequent posting preferred
. We know you are busy, and RL concerns come first-but make sure if you join, that you will stick around. A post per week or more is preferred, and try to keep them of good quality-one-liners will not go far.
4- Respect your fellow players
. Play nice. If you don't have friends, you won't have fun.
5- No godmod/flawless/perfect characters
Give them from flaws. No one has fun when everyone is perfect.
6-No cheat-edits
Typos are one thing, but don't try to change what was done IC because you don't like it. You can appeal if you want to, but don't try to change what already happened.
7- If you are not sure if something is legal, ask OOC first.
Always better to check-and there is limited leniency for things that are obviously bad.
8-No assassination attempts.
You can probably look for a loophole there-don't. In essence, no use of extreme physical force against another player, or anything like poison. If you and another both agree, contact an OP, and it will be discussed-unilateral action is strictly forbidden.
9-No spite characters.
You may hate Democrats, and want to make a Senator who will have scandals on them-don't. Complex characters are fine, but having your character actively sabotage their own party/demographic out-of-character is forbidden.
No metagaming.
This takes two forms-first, using OOC knowledge that you have but your character could not in the IC, and second, attempting to "engineer" a character specifically to do something in relation to specific aspects of another character or a situation. Hiccups aside, keep OOC and IC separate. Similarly
11-Keep OOC comments out of the IC
. We have a whole thread set aside just for that reason. Putting and leaving OOC comments in parenthesis degrades the quality of the RP, wholly OOC posts in the IC are right out. Bring up any issues in the OOC, or TG the OP.
12- Have fun!
Misery is illegal.
Applications
Code: Select all


[align=center][img]https://upload.wikimedia.org/wikipedia/commons/thumb/4/4b/Seal_of_the_United_States_Congress.svg/170px-Seal_of_the_United_States_Congress.svg.png[/img]
[hr][/hr]
[b]Character Information Sheet[/b]
[/align]

NS Nation Name:
Character Name:
Character Gender:
Character Age:
Character Height:
Character Weight:
Character Position/Role/Job:
Appearance: (Photo preferred, not required)
Character State of Origin:
Character Party Affiliation:
Main Strengths:
Main Weaknesses:
Biography: (Minimum 1-2 paragraphs)
Other Info:

Do Not Remove: 84721
Republican Final Primary Delegate Count
Mr. Calvin Reed-1,619
Sen. Matteos Egazarian-433
Sen. Eric Gonzalez-295
Sec. Jay Garestaer-65
Sen. Troy Wilson-38
Rep. Henry Hutchinson-15
Gov. Gerald Drumpf-7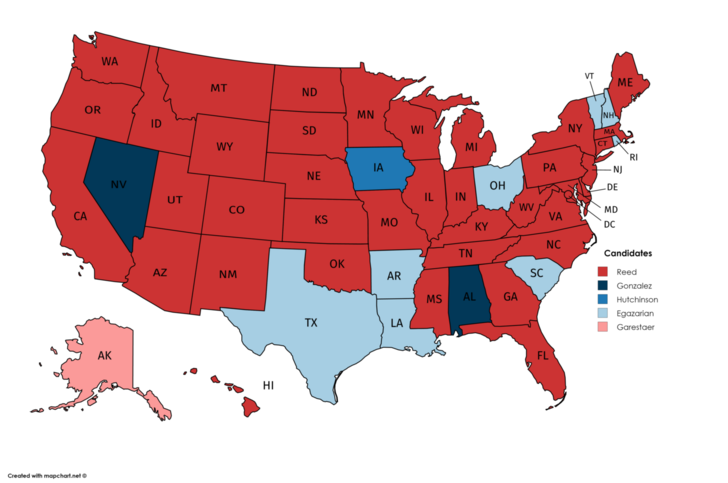 Democratic Final First Ballot Results
Gov. Irina Kuznetsov-1737
Sen. Gianna Carrollton-1107
Gov. Robert Danders-951
May. Jeremy Beaumont-573
Gov. Kailen Murray-282
Sen. Anthony Conti-113
Mr. Dick Kirk-44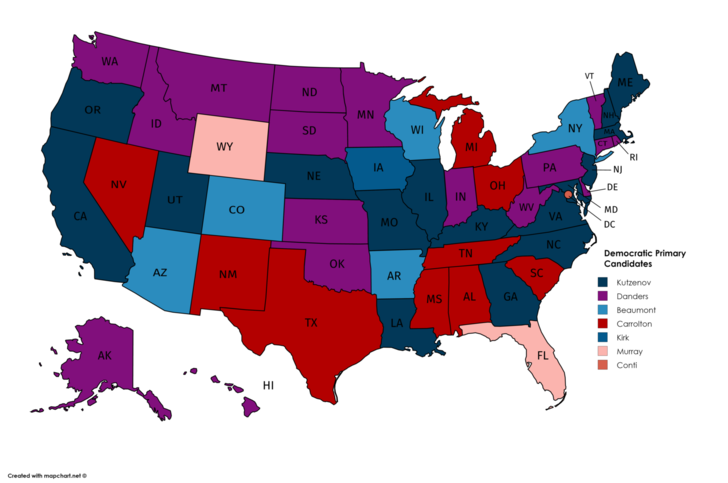 Initial Final Libertarian Pledged Delegates Count
Ms. Anita Flores: 300 Delegates
Gov. Martin Longwood: 120 Delegates
Rep. Gerald Breckinridge: 107 Delegates
May. Sherman Paulson: 46 Delegates
May. Victoria DeLucca: 6 Delegates
Ms. Cassandra Arumb: 3 Delegates
Other Candidates: 8 Delegates

Uncommitted Delegates: 75
Latest Presidential Polling
September 6
Calvin Reed (R)-66%
Ellen Walton (P)-28%
Robert Danders (D)-5%
Vice Presidential Debate-October 11
National Convention Speakers
1. Declaration of War on ISIS
2. S.J. Res 69
3. WHIP
3. Comprehensive Immigration Reform Act of 2016
4. Medical Marijuana Legalization Act
5. War on ISIS Bill (Passed House)
6. ACTS Act
7. Yieldful Efforts Encompassing Horses Abundant in the Wild
8. American Penitentiary Reform Act
9.
Recognition of the Ottoman Genocides Bill
10. Resolution to Declare Bashar Al-Assad a Dictator
11. Alaskan Drilling Act
12. Domestic Business Protection Act
13. POWER
14. RAFALE
15. RIDE
16. Kinder America Act
17. CARE Act
1.
Bill To Restrict Unnecessary Negative and Detrimental Medically Relevant Collections
2. DEFACED (Passed Senate)
3. SOLDIER
4.
Taylor Force Act (Passed Senate)
5.
Defense and Restoration of Independent Domestic Nation Rights Bill
6.
SHIELD Act
1. Women's Alternative Choices Act
2. Safely Neutering Illegal Persons Act
3. Second Amendment Originality Defense Act
4. Restoring Local Authority to Services Act
5. American's Safety Act
1. Sexual Assault Categorization Act
1. Yieldful Efforts Encompassing Horses Abundant in the Wild
2. SOLDIER Act
3. ACTS Act