It was founder's day for New Colishi and they were singing their national anthem.
(
This
)
Singing proudly as the proud men and women they are celebrating their split to Vulkata and accepting Communism.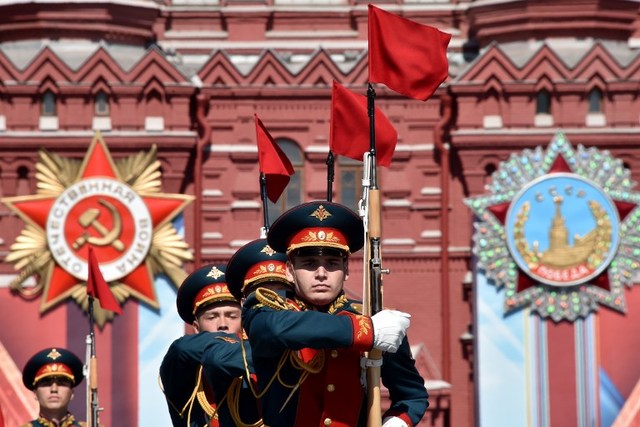 Marching until the parade have reach Commie stadium, the biggest stadium in New Colishi and when they finally reached it the soldiers went separately to take their seats amongst the crowd while ten soldiers went behind a stage and in front of them were a man in a tuxedo with electric guitar players next by him wearing tuxedo's as well and the lights of the stadium closed and spotlights and then the band began to sing.
(This
song
)
And when the man in the tall microphone shouted the TV screens that was featuring the man a few seconds ago changed into a live picture from what looks like a small Kremlin and one of the towers launched causing the crowd to have a frenzy of cheers and a satellite image of how far and fast the first nuke went and showed a live broadcast of the nuke going off in the water but the TV broadcast changed again revealing the tiny Kremlin had no towers anymore and then switched back to the ocean live broadcast revealing to the crowd that the 5 combined nukes exploded in the water.
The crowd cheered but the Vulkatan's did not.
Rules
1)Vulkata and me are OP(and the same person)
2)Nukes aren't allowed, the nuke New Colishi launched is just for declaring war purposes
3)Don't whine if your frigates loses
4)Prepare reinforcements by sending it to me TG I'll check and approve if it's alright(Maximum of 400 men,women and tanks)
5)Have fun
(IC:http://forum.nationstates.net/viewtopic.php?f=5&t=379740)
Code: Select all

Nation Name:
Side of Nation(Vulkata or New Colishi):
Orbat:(Maximum of 3500 without reinforcements and reserves)
[spoiler][list]
Troops here[/list][/spoiler]
Reason of joining(IC):
Reason of joining(OOC):
Are you part of the Union for Common Interest?(Not mandatory):
List of members
Vulkata:
Asigna
Esgonia
Neo Philippine Empire
Whiteshore
Ardertia
Zouhran
Republic of Hasgriu
Chkalovsk
New Colishi:
Pillowlandia
Topkekkia
Altito Asmoro
The Socialist Global Union
Seevil
Victoriala
Bahtar
Rizipolja
Third parties:
Common Territories
-Weapons seller
Bulanesia
-Peacekeeping