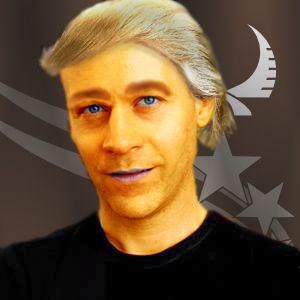 Look, Nationstates has a problem. Illegal regional immigration. I'm not saying all invaders are terrible people, but I am saying most of them are multis. Sure, some guys coming into your region, they might be decent. But most of them are griefers. You know what I mean? Raiders crash our communities. They ruin our home regions. They have no respect for anyone's rules. Raiders just barge in and trash the place. It's terrible. It's just terrible. They keep saying raiding is good for Nationstates. Who believes that? Nothing good has come from it! Nothing at all! Look, this is a serious problem. It's a problem that needs a real fix.
What's the current World Assembly leadership doing about it? You know what? Nothing! They're a bunch of liberal clowns. The World Assembly doesn't have the guts to make the hard decisions. This is a problem that needs a real fix. All the World Assembly does is talk! What'd they do when raiding radicals attacked Portugal? When they attacked Atlantis? Or how about St Abbaddon? I'll tell you what they did. They did nothing! The World Assembly did an absolutely horrible job. The World Assembly should be ashamed of itself. Liberation proposals? As if that's going to fix anything! Every day raiders attack more regions. Those losers in the World Assembly aren't stopping it. It's terrible. Raiders have been caught with WMDs. Look, they're using these things, right? People can't defend against it. The World Assembly needs to do its job and stop this.
So how will I stop it? I get asked that a lot. By a lot of people. It's really simple. We need to stop the immigration into regions. It's easy. We know their strongholds. We need to keep them in their regions. They can't get to our regions then. You know what I mean? We need a wall to keep them out of decent regions. It's expensive? Programmers aren't cheap? You know, we shouldn't be the ones paying for it. Invaders have been coming into our regions. You know? It's time they paid for it. We stop them from coming to our regions. That stops their attacks. Easy, right? They pay for it. We benefit. You know what I mean? What if they don't want to pay for it? A lot of people ask me that. Look, they're not going to want to, they're raiders. But I say we take the fight to them. Take out their delegates. Take out their founders. See how much they want to attack us then! We should take all of them out. Take out their regions I mean. Take out their friends' regions too. Make them think twice before attacking our regions. It's easy. Take out the source of the problem, you know?
Vote for me and I will make Nationstates great again!
Express your support below!