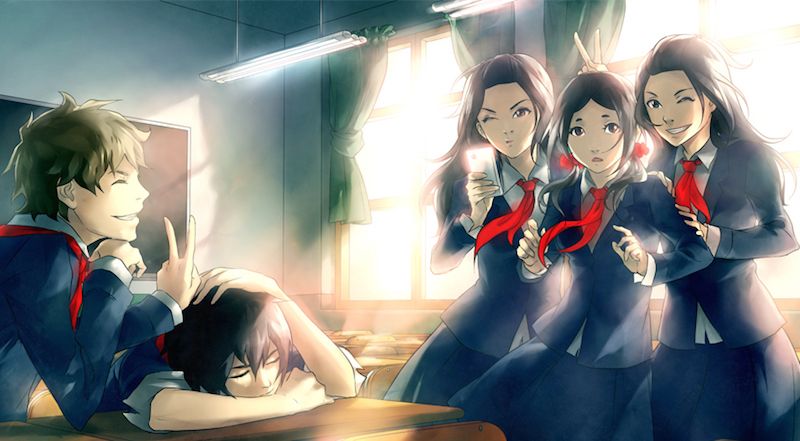 Hey everyone, went ahead and made my first RP. This is a "high school" RP that will focus on trying to keep an atmosphere similar to animes of similar subjects, where as we won't focus on school at all. So this is aiming at being a mostly light-hearted RP about the interactions of the members of the school's community service club. I want to divide it up into episodes, with each episode being a different project done by the club. So I hope you will participate, I ask that you be kind with me. This is my first time trying this, so any and all help is greatly appreciated. So let's get to this...
---
OP:
The Warriors of the Sun
Co-OP:
Scamvidia
Welcome to Sakurasou Academy, a prestigious boarding school in the industrial city of Seikōjo. If you are a returning student I hope you had an enjoyable, yet productive summer break. And if this is your first year, I just want to let you know that you will enjoy it here as long as you engage yourself with your peers and schooling. To help students ensure that they participate in school and mingle with their peers all students are required to join at least one club. And it seems you all have decided to join the still young Sakurasou Academy's Community Club. This club was started last year, but yet still so many have joined. We hope you surpass our expectations for this club and have a fun time doing it as well. I also want to give thanks to those who helped me figure out this idea in the ol' interest thread I started and also say...
This RP was created with the help of The Council of the Multiverse RP group. Click me to find out more!
So if you haven't already got it, you all will be students at a boarding school. You will also all be members of the Community Club whose "mission" is to improve the community both in the school and the city. Now, being that you are required to join the club it is fine making a character who doesn't want to be there. This is a fairly new club as it was started a year before and was very small the year before only having six members, three of which have graduated. So keep in mind most of you should be new members of the club. However, on that note I am looking for two others to also play returning members, preferably people with a bit of experience and time to commit to this to help me out. If I ever get Co-OPs these are the roles I would like them to be in.
Other bits of info to know...you all will be wearing the uniforms in the picture above all of this. And since this is a boarding school, you all will lives in dorms, having roommates is optional. And females and males aren't allowed to have rooms on the same floor. You are allowed off campus to journey through the city, but must check in with your floor advisor in the dorms before nine at night. This RP will be doing an episode format, with each episode having some focus or them behind it and generally a big event to mark its end. For example: this first episode will be about meeting new people in the club, adjusting to school life, and will be finished with the election of club officials. So I think that cover general info so here are the rules...
1. Godmodding:

The rule everyone on here should know, don't make your person godly which should be impossible given the subject. And most importantly do not roleplay someone else's character without permission. If you have permission, let me know.


2. OPs and Co-OPs:

Follow what they say, OP can change a verdict given by a Co-OP, but until done assume Co-OP word is law. On that note, I really would like a Co-OP or two to help me out with my first time running an RP


3. Violence and Death:

So this shouldn't come up. But if for some reason a fight does break out, don't be too brutal. This is a school, not a maximum security prison. And well death, this is a school, don't die...please.


4. Romance:

Allowed and encouraged. I love reading love stories, they make me feel all warm inside and give me hope. However, don't turn this into some erotica, anything sexual should NS safe or just implied.


5. OOC Etiquette:

Be nice to one another and try to keep off-topic chatter to a minimum. Doesn't mean you can't chat a little, but I don't want to have to wade through a five-page discussion on who your waifu is. I don't want to miss important stuff or spend an hour reading something that isn't relevant.


6. IC Expectations:

Try to put effort in your posts. I know it may be hard if you are in a conversation, but still, give it your best shot. I always like the idea of a one paragraph minimum.


7. Inactivity:

If you are going to be inactive please let me know ahead of time so I can attempt to work around it. If it seems you are not active without warning I will TG you and if I get no response I will likely transfer your character to some silly public school


8. Fun:

Gotta have it! Not really, but try. If you are having issues let me know and I can see what I can do to help.


9. Contact:

You can always TG me with questions or anything. May not respond immediately, but I will eventually.
And finally the application...remember to delete anything in parentheses so your application looks nice.
Code: Select all

Character Name:
Character Gender:
Character Age:(should be somewhere from 14 to 18)
Class Year: (Freshman-Seniors)
Year in Academy: (Are you starting your 1st to 4th year at this school?)
Image:(this is required, I need an image and it needs to be an anime/manga image)
Physical Features:(This is for what your image doesn't cover such as height, scars, etc.)
Personality:(probably the most important part, what is your character like? What does he like? What does she dislike?)
Background: (your students in high school, I don't expect much...but if there is something important or really cool your character did feel free to put it in here)