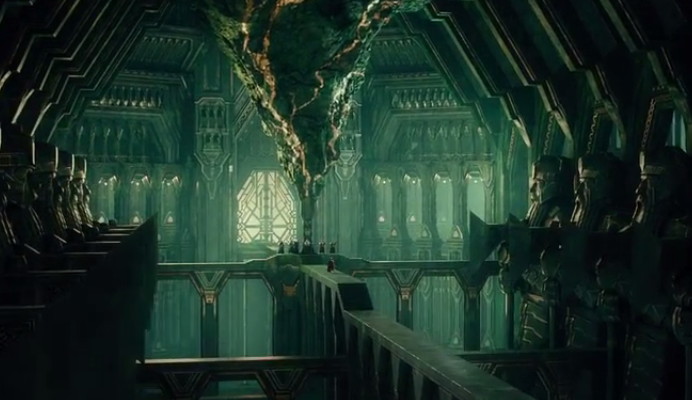 Erebor
Dáin had returned home, he thanked the men of Dale for their help, and before they returned home he asked them to to urge King Brand to prepare for war. Dáin felt that it would not take long before the east would start to move.
Once at Erebor people started to applaud Dáin, for his victory in the Withered Heath. Dáin, not really that proud, just walked in quickly.
The large Dragonskull was hung above the throne, making a fearsome impression in the great Kingshall. The smaller ones where poured into pure gold and they where set upon the gate, with torches in their mounths. 7 small skulls, one for each Dwarven Kingdom, Dáin though. Only one of those small golden dragonskulls did not got a torch, the middle one, the biggest one. The one representing anciant Khazad-Dûm.
The scales that they brought where to be melted into great armours for the 500 dwarves that survived, aswell as a new armour for Dáin. Dáins armour was finished after seven days of hard work, it was a great piece of smithing, an armour that had never been seen in this world. On the helmet, all the way on top, there was set a part of the "mane" of the dragon, sticking out. From the inside everything was made out of the best quality of steel they could get, from the outside, everything was Dragonscales. A mask had been attacked, fearsome for those that saw them coming. It was a true piece of art, and Dáin only wished that he had been able to defeat more dragons. Dragonscales where as tough as Mithril, wich meant that no Arrow in the wide world would go through, no blade that had a chance of penetrating, These armours where going to safe the day when the war had arrived.
Dáin had other buisness however, he knew his defenses made the enemy like water, smashing onto rocks. But it was not enough. He orderd to create a safe bank, surrounded by only the Mountain and the Water that poured out of the front gate. It would take some time to complete, but when it was finished Dáin would have a comfort zone to play around in when a battle would occure.
The Brownlands
Bifur and Bofur had rode ontop of their ponies for nearly four days, they almost reached Rohan and therefor also Gondor. They where planning on offering help with the defenses of the Anduin, a river wich would become the crucial point. The Brownlands where empty lands, full of rock, rock and more rock. The ponies needed to eat, but there was nothing to be eaten from. Bifur and Bofur desided to wal alongside the ponies untill the reached better grounds. It would become a long and boring trip after all.
---