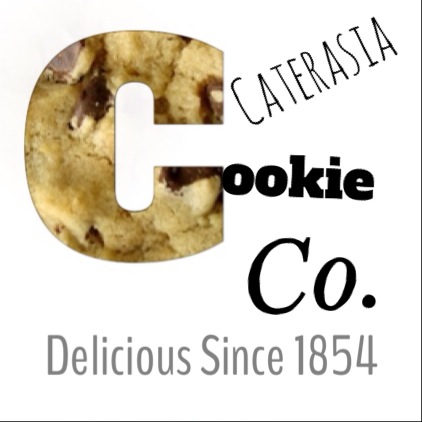 Welcome to Caterasia Cookie Company!

We are a group of dedicated bakers who want to spread the world with icing! Just kidding! But we are a group of incredibly talented and dedicated bakers who never use any preservatives! We do bake certain gluten free, milk free, egg free and peanut free for those with allergies. All of our peanut free cookies are made in a separate facility, as we do produce cookies including peanut butter.

Caterasia Cookie Company was founded in 1854 when our founder, Marisa Jones made some cookies for her children: Genevieve, Larson and Marie. They loved the cookies and begged their mother to bake some more. She agreed to bake some more, but only after they'd eaten all their dinner. That night, once the children were asleep, Marisa's husband Mark Jones came back from work. He was drunk and had lost a majority of their money gambling. In her time of distress, Marisa Jones began to make more and more cookies. The next morning she sold all of them at the market. They were a huge success! With the help of her husband they founded the Jones Cookie Company, now called the
Caterasia Cookie Company!

We Promise to
Never use artificial sweeteners
Never do anything to intentionally harm the environment
Donate 10% of our sales to protect rain forests
Put love and care in each in every one of your cookies!
Provide great customer service
Always handle our peanut free cookies in a separate facilities than our cookies that contain peanuts!


if you have food allergies please specify your allergens on your order form. We will do our best to provide you with an amazing tasting cookie, without your allergies spiking up.
Below is all of our cookies available:
ORDER HERE!
Form to order cookies:
Code: Select all

Nation name:
Company:
Allergies:
Cookies:
Quantity:
Additional Notes:
We Supply For:
http://forum.nationstates.net/viewtopic.php?f=6&t=293956
Apply for a partnership:
Code: Select all

Nation:
Company:
Why You are better than your competitors:
What you do to protect the environment:
Additional notes:

I would love to supply cookies for your company!
Just send us a friendly message!
Thank you for taking the time to check us out! I hope to hear from you soon!
Thank you!
From
Cate Batel CEO of Caterasia Cookie Company!