Maulet III
Maulet III SERIES
The Maulet III (Armored personel carrier) series is an actualization of the Maulet I and II series to overcome XXI century battlefield challenges. Following the experiences of peacekeeping missions in Bosnia and Kosovo.
Made by Catalonia Aerospace Land systems Company. The Maulet III APC is can be built in a 6x6 or 8x8 configuration.
made in a monocoke compact modullar Design with inverse V hull bottom for antimine protection. it's dimensions in 6x6 version are: 5,7x2,5x2m. (6,9x2,5x2 in 8x8) It provides a confortable ride for 2+8 (6x6 and IFV 8x8) or 2+12 passengers or 2+3 strechers depending version. Protection levels are STANAG level 4 depending on all model. It's weight is limited to 18 tm, 6x6 STG4 tm, and 21tm 8x8 STG4. in the bàsic model to 21tm in the recovery model (24tm 8x8).
The basic armour package is designed to protect against 7.62 to 14.5 mm armour piercing rounds (customers choice) . The vehicle is designed to be air transportable in a Lockheed Martin C-130 Hercules transport aircraft. The driver is seated on the left at the front and the engine is to the right. The driver is provided with a single piece hatch cover as well as three day/night periscopes, allone of which can switch to pasive mode by a for night missions. The vehicle is fitted with a two stage synchronized distribution gear box for both road and cross country use. Improved suspension will be fitted for optimum cross country mobility.
their basic design allows several variants sharing circa 90% of components: troop carrier, cavaldry/scout, Command, Mortar Carrier, Ambulance, Antitank or Recovery.
Preproduction example with a CWI LG40A 40mm grenade Launcher. Production examples use RCWS
Scout: RWS. plus Spike Missile Launcher Attached. and added armour. New prototype model.
IFV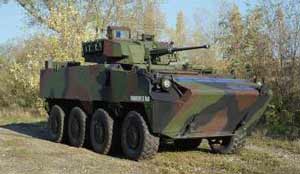 Technical Specifications:

8X8 6x6

Weight: combat weight 21 tonnes-24 (6,9x2,5x2.1 in 8x8).15 Tm to 18.6(combat weight)5,7x2,5x2.1m in 6x6.

Length: 6.87 m 5.70 m

Width: 2.55 m 2.55 m

Height: 2.13m to roof 2.13m

ground clearance: 45 cms.

Crew Capacity: 8x8: 3+12 or 2-5 strechers 6x6: 3 + 8 passengers or 2-3 Stretchers

Comfort: Air conditioned/Heating units installed standard
Maneuverability
Road Speed: 105 km/h 30 reverse
Cross Country Speed: Max 60 km/h.
Endurance: 600 km up to 700 with dettachable extra diposits
Vertical: slope 63º
Horitzontal: slope 36º
Amphibious: Yes, Max 12 km/h speed on water.
Water obstacle Fording: yes, (1.5m Without preparation).
Trench Fording: 2.20
max vertical obstacle: 69 cms.
Antifire protection: yes
Max vertical obstacle 0.65
turning radius:
9m 8x8 and 6.6m 6x6. It's 4x8 and 4x6 wheel drive. Can be costumized 8x8 and 6x6 wheel drive.
Long range mobility
: The Maulet III fits in a C130 size aircraft cargo compartment without further preparation.
Is easyly transportable by sea, rail or being wheeled they don't require flat bed trucks for moving long distances.
Main armament
a 12,7mm M2HB in APC versions in a Taurus Defense: Coltell, externally manable girostabilized RCWS (It includes FCS, day/night cameras and rangefinder.)allowing precise fire on the move, also there is the costumer choice chance in 8x8 version of choosing a turret with a 12,7mm and 40mm GL other RWS avaible from Rafael industries, Kronsberg and BAE/SAAB.
Command and not direct combat roles feature a 7,62MG In Taurus Defense: Coltell RCWS Mini.
Coltell RCWS
Command, control, and targeting gyrostbailized Remote weapon system screen let's the commander training the vehicle's machine gun from a computer training modules inside the vehicle. without exposing to enemy fire.
The Taurus Defense Coltell RWCS has thermal and Night Vision system for aiming in bad visibility conditions.
Coltell holds 300 rounds for ready use and is easyly rechargeable from inside and outside the vehicle.
sensors
Extensive computer support helps soldiers fight the enemy while reducing friendly fire incidents. Each vehicle can track friendly vehicles, and share info, with other friendly vehicles and HQ in the field as well as detected enemies. The driver and the vehicle commander/gunner have day/night periscopes that allow them to see outside the vehicle without exposing themselves to outside dangers. The vehicle commander also has access to a day-night thermal imaging camera which allows the vehicle commander to see what the driver sees. The vehicle commander has almost a 360-degree field of vision; the driver, driver has frontal 108 degrees view, plus rear and side view cameras in MK2 version onwards, troops can see what's going on too.
CAE Land Systems/ Taurus Defense, SA support pack provides constant developing and feedback for Power and Data Management Architecture and computer upgrades for users in their services and maintenance packages during vehicles operative life.
All versions use two sets of 6x 76mm (8 Mk2 onwards) Catalan Defense Industries smoke grenade Launchers on OWS base or Turret sides.
Engine
Engine: Ebre IVECO, 8-cylinder turbo-charged diesel able 270 kW at 2400 rpm. Fuel capacity 270 l and provision for 45 more L in dettachable diposits. That allow a range of 700 km and a max speed for 105 km/h road speed and 12 km/h in water. It has demostrated it's reliability in temperatures of -35 Celsius and +50 Celsius.
At customer choice engine can be changed for a 335 kw/450 hp Ebre engine.
Maulet III is fitted with two mechanically driven water jets and a hydraulically operated trim vane mounted at the front of the chassis. The driver operates the controls to erect the trim vane from his position at the driver's station. The vehicle achieves a speed of 12km/h in water.
The vehicle is equipped with a Ficosa 6G 602C fully automatic transmission. Automatic drive train management system.
Ground clearance 430 mm
It's stability allows to deal with slopes over 60% and Cross Slopes of over 30% can cross 2,20 m trench obstacles and vertical obstacles: of 0,60 m and it's fully amfibious.
Protection:
NBC pack: The crew compartment can be fitted with air circulation and heating, an NBC protection system and fire detection and suppression, Inverted V hull, laser detection warning system and IED jammer.
passive Protection: Aluminium/composite armour offering all round protection against 155mm splinter at 100m and 7.62mm AP shells, 14.5mm AP shields against the 60º frontal arch at 100mts. An CAE factory welded armor can raise it to 14.5mm all round and 20mm in the frontar arch at ranges of 200mts.
Additional Chimera reactive armor or anti RPG Slat armour can be added. It increases price by 75000 Ns$. It weights less than a tonne.
The vehicle has an intermediate floor and the seats along the sides of the cabin are suspended from wall and ceiling mounts rather than floor mounted to increase crew and passengers survivability.
Active protection:
Laser Warning System and IED frequency blocker. 12 76mm smoke grenades. It can be fitted with a laser detection warning from mk2 version. IFV/FSV version can be fitted with a Escut self-protection system from Mk3 onwards.
confort
The troops are able to rapidly embark or disembark through two doors in the rear of the vehicle. A rear power-operated ramp can be fitted instead on customer wish.
Maulet III crew and passengers have A/C and heating inside the vehicle. From Mk2, There are USB port for charging troop's electronic devices.
Model configuration
M96 6x6 APC M97 6x6 IFV
M98 8x8 APC M99 8x8 IFV
Variants
APC
: troop carrier armed with an 12,7mm in Taurus Defender a RCWS or a manned turret also we have been working in a turret holding a 40mm Grenade launcher and a 12,7mm MG.
MOT
Mortar Carrier Version: Armed with one 120mm CARDOM or 81mm L16 mortar weights 18,0 tm (6x6) STANAG 4. and 21,6 tm in 8x8. one M240MG for selfdefense.
ATV
ATGM version: is armed with 2 externally mounted SPIKE LR or TOW2 and 4 missiles inside the hull. pintle mounted M240 RWS/Manned for local defense.
VCC
Command, Control, and Targeting version: radar, tent, mast, etc.
Equiped with: Doppler radar, Electro-optical subsystems: CCD camera, FLIR and laser distance measurer and target tracker, laser designator, GPS.
Battle Management System software, UHF/VHF radio station and integrated electric generator. Armed With a pintle mounted MG FN M240.
VER
: Radio station, signals Vehicle, satellite communications.
VCE
Scout: Similar equipment to command version but only carries 6 scouts in 8x8 and 2 on 6x6 features an Taurus Defense OWS with a 30mm Mauser gun and an optional double Spike missile LR Launcher. And an optional Battlefield radar in a extensible mast.
VRM
: Recovery and maintenance Equiped with a power pack and crane. armed with a pintle mounted M240 MG.
VEM
: Combat engineer vehicle, it can be fitted with bulldozer blades, trench digging equipment and attachable anti mine equipment.
IFV
: With IFV M90A2 30mm and 7,62 coaxial MG: turret with the Mk-10 fire control system by Olympus Defense optics (or optionalSchywz OBZ450); which has a full solution digital ballistic computer, day channel, thermal channel and laser rangefinder. The A2 version and all later versions with the MK-10 systems were also fitted with Olympus optics VC2 commander thermal imager and Datalogic Defense Battlefield management systems. and an optional double Spike missile LR launcher.
NBQ
NBQ surveillance and descontamination vehicle.
ADV
2x30 mm Catalano-Suissa M801 guns and a Esparver radar and 4xMistral missiles or Cròtal 2 missiles.
AMB
- Ambulance variant
VSF
Fire support version With M90LT turret holding either a L7 105mm gun or a Rheinmetall 120/44 gun. improved armor capable of dealing with 40mm shots on turret front. With the same M90LT electronics avaiable.
Price
M96 6x6 1,2 NS$M to 2.4
M97 6x6 SCOUT 1,8 NS$M
M98 8x8 1,8 NS$M to 3,0M
M99 8x8 IFV 2.4NS$M
600000 NS$ for crew simulator by Datalogic defense industries CAE.
Depending on version Price includes full support package, including trainning, spares and 10 years waranty.
For 400000 NS$ more there is the chance of increasing support increased to 30 years and the chance of incorporing new upgrades.
Purchase Order Form:
Code: Select all

Nation of origin:
Contact:
Agency or Ministry contact represents:
Product desired and quantity of each:
Total Cost of order:
Other customization requests, concerns or Questions: